Letter from the Chair
Greetings,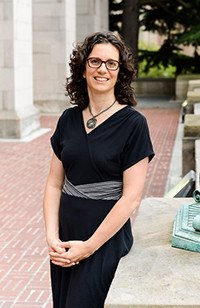 Cheryl Kaiser
This academic year has been like no other. The global pandemic has affected every aspect of our department including our teaching, research, therapy, and community outreach. And simultaneously, the longstanding pandemic of racism and the need for dismantling of racist practices has implications for all aspects of society, including our department practices. I'd like to share how Psychology is responding to both of these pandemics.
When the magnitude of the coronavirus pandemic became clear, we rushed to deliver final winter lectures and exams online, and spent spring break overhauling classes so we were ready for the thousands of students who would soon join our virtual classrooms. Faculty, staff, and students alike learned to manage new technologies, multiple time zones, lack of childcare, loss of lives, illness, economic devastation, and the uncertainty and distress that characterized our spring. Our philosophy was mutual compassion and grace, and along the way, we found opportunities, including increased access to classes that were often unavailable due to limited physical classroom space. Psychology of Human Sexuality was offered to 1,200 students, creating the largest class offering in UW's history. Our training clinic adopted telehealth approaches to serve clients, and while much research remains halted, some found pathways to new approaches to continue research projects. We shifted major events online, and most notably, honored 500 Psychology graduates this spring in a virtual graduation ceremony. UW psychology members also had an unusually strong presence in the media, with commentary and advice for coping with the pandemic. Although plenty of challenges remain, our resilience and creativity were remarkable, and will serve us well as we continue to face uncertainty in the coming academic year.
Diversity, equity, and inclusion (DEI) are core to our mission, and these values require active engagement in recognizing and dismantling racist practices that disadvantage communities of color, and in particular Black and Indigenous members of our community. Psychology spent much of this year advancing DEI in our department, and the protests this spring served to underscore the significance of these initiatives and the work ahead of us to better center the needs and perspectives of community members of color. Anti-racism is all of our work, and you will learn more about our initial efforts in this newsletter.
At the start of fall quarter, Dr. Chadwick Allen, Associate Vice Provost for Faculty Advancement, led our faculty through a workshop that focused on DEI best practices in faculty hiring. Dr. Allen has been a vital resource in supporting our faculty searches and department. This winter we received a UW Diversity Seed grant (described in this newsletter) to support a series of inclusive teaching workshops for our faculty. We gathered virtually this spring to learn about creating more inclusive syllabi and classroom practices, and we will continue with two additional workshops focused on microaggressions and disrupting bias, including a participatory interactive training with UW's Theater for Change. Our graduate student led Diversity Steering Committee (DSC) will evaluate our progress, with a baseline syllabus audit and post-treatment assessments, along with consultations to increase the inclusiveness of our syllabi and classrooms.
The DSC has shown phenomenal leadership (see the DSC update in this newsletter), from providing community building events such as coffee hours and writing sessions (in person pre-pandemic and now virtually), to developing resources for our community and holding our faculty and leadership accountable for inclusive practices. The DSC has several initiatives underway, including inviting faculty speakers of color, auditing departmental processes (e.g., who gets department awards), identifying strategies for diversifying our department, running a climate survey, and supporting students of color. The Chair's Office meets regularly and collaborates with the DSC leadership, and offers at least 220 hours of funding each quarter to support the work of this committee and provides a discretionary budget to support the committee's activities.
Our faculty are educating each other and forming workgroups to address how we can be more anti-racist in our research, mentoring/teaching, clinical training, and outreach. Faculty have been centering the requests by Black and Indigenous People of Color (BIPOC) members of our department for the changes they would like to see and how we can make those happen. These workgroups range from adopting holistic practices in our undergraduate and graduate admissions, to creating bias reporting channels, to diversifying our department, improving clinical training, and supporting our students and staff.
The Department's Strategic Planning Committee (the department's policy setting body) created a Diversity Advisory Committee to support our faculty search committees' use of evidence-based fair hiring processes with the goal of actively recruiting more BIPOC faculty. The Strategic Planning Committee also added a voting faculty member to the committee to represent DEI perspectives, including the voices of graduate students of color, in department policy setting. All committee members share a responsibility to advocate for DEI, and the new position dedicated to this perspective helps hold us accountable to these goals. This new committee member was nominated by the graduate students on our Diversity Steering Committee.
Over the past years, we have also approached departmental practices with an eye toward enhancing equity. Our faculty, staff, and alumni have fiscally supported a food gift card panty for graduate students. For the past two years, we have provided all incoming graduate students with a $1000 relocation payment to support their move to Seattle. We have also increased the amount of annual travel funding provided to graduate students and created additional departmentally and donor supported fellowship quarters to support students. This spring, we created an emergency fund to support graduate students facing fiscal distress from both the pandemics of the coronavirus and racism.
It is important that we continue to support our DEI initiatives and students of color, and I invite you to join me and my family in directing your annual gifts to the Psychology Diversity Fund. This fund supports DEI efforts and serves as an emergency resource for graduate students facing financial hardships that can disrupt their studies and careers. We know all too well that the burden of economic inequality is carried disproportionately by communities of color, and these funds provide an opportunity for a safety net to support our students, and in turn promote racial diversity in our discipline, including future generations of professors, therapists, and employees across a broad range of psychology-relevant fields. If you have the capacity to give, please consider supporting our Psychology Diversity Fund.
We are committed to this anti-racism work and welcome any ideas that you have about our initiatives. We have work to do as individuals and as a department, and we invite you to hold us accountable to our vision.