President's Medalist: Grace Woodard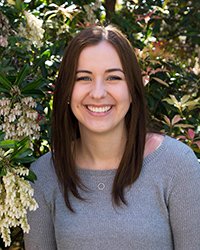 Grace Woodard
"I am completely indebted to the women in my research lab who challenged me, supported me, and befriended me. Not only are they all amazing female scientists, but they are mothers, friends, partners, and wives, which inspired me to pursue my Ph.D. knowing it is possible to maintain a healthy personal life and be a scientist."
- Grace Woodard, Graduating Senior in Psychology and 2018 President's Medalist
Growing up in Eastern Washington, Grace Woodard notes that it was not always easy to be a Husky fan. Thankfully, Grace's father, a UW alumnus, not only taught her to be a fan of the Dawgs but, as her high school AP Psychology teacher, helped to ignite her passion for the discipline. Fast forward to the present and Grace is doing her father and her department proud as she was recently awarded the President's Medal. This award is presented annually by the UW President to two graduating seniors who have achieved the most distinguished academic records in their class. Grace is only the third Psychology major recipient of the award since it was first given in 1932 (others were in 1951 and 2004).
In addition to finding inspiration from her father's class, Grace's interest was sparked by the role she played as a caregiver to a young cousin who was being fostered by Grace's family. "I dove into the world of developmental psychology, child resilience, and trauma exposure in order to help her as best I could," recalls Grace, "and I knew that I wanted to attend a school with a world-renowned Psychology department to study trauma exposure and resilience to honor my little cousin." As a UW freshman, a Facebook post seeking student research assistants caught Grace's attention. The following two and a half years would see Grace engaged in honors research with the UW Center for Anxiety and Traumatic Stress, directed by Psychology Professor Dr. Lori Zoellner.
Along with her honors research project, Grace has engaged in a number of volunteer, internship, and leadership positions both on and off campus. She has served as a members of the ASUW Mental Health Working Group, a member of the First Year Programs Advisory Board, and a Peer Mentor in the UW Interdisciplinary Honors Program. Off campus, Grace volunteered as a tutor/mentor at Garfield High School, working with aspiring first generation college students, with the charity Construction for Change, which focuses on maternal health around the world, and held a competitive internship at Seattle Children's Hospital. She has also taken on a number of leadership roles both within her sorority and the greater Panhellenic Association.
Grace advises future Psychology majors to seek out opportunities and jump on them when they present themselves. "While you learn so much from professors and TAs," says Grace, "experience is the only way to test the value of your knowledge in the real world." Grace plans to work in the field of research and mental health for the coming two years prior to beginning a Ph.D. program in Clinical Psychology.
Read more about Grace's President's Medal here.