Letter from the Chair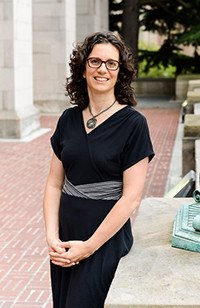 Cheryl Kaiser
Greetings from UW Psychology! The arrival of winter provides an opportunity to reflect with gratitude on the many accomplishments of this year, as well as plan for the opportunities ahead of us in the coming year.
The past year has been an exciting time for our department. Our undergraduate program continues to offer outstanding opportunities to our students, in the classroom with an array of exciting new courses, and in faculty labs with hands-on-opportunities to engage in research and community outreach. Our undergraduate major is thriving, and we have record numbers of students seeking to study in Psychology. We welcomed a new cohort of graduate students this fall, and with support from our community, we were able, for the first time, to offer every student a research development quarter to take a break from their teaching assistantships and pour themselves into their studies and research. This new investment in our graduate students helped us attract the most promising students to our department. You can learn more about the incredible undergraduate and graduate student achievements in this letter.
We also welcomed two new assistant professors to our department this fall, Drs. Ariel Starr and Kate Foster. Both are building their labs, teaching new courses, and settling into our department and city. We are thrilled to have them here, and we look forward to building our junior faculty cohort in the coming years with several new hires as we rebuild following record a number of recent retirements. We are hiring two new assistant professors in clinical psychology this year, with numerous additional hires in the coming years. You can learn more about our faculty, including Drs. Starr and Foster, in this newsletter.
Later this winter, we will share updates on our Allen L. Edwards Public Lecture Series. Our own Drs. Geoffrey Boynton and Nicole McNichols will pair with a colleague from another university and provide lectures on human neuroscience (Boynton, May 6) and human sexuality (McNichols, May 20). Dr. Boynton is leading Psychology's initiative to become the College of Arts and Sciences first MRI center, which will be housed in Psychology's new 75,000 sq feet of renovated space in Kincaid Hall, opening in 2021. Dr. McNichols is a well-known presence across campus as she teaches UW's most popular undergraduate course, Human Sexuality, regularly attracting classes over 700 students, with long waitlists. Stay tuned for more details on these exciting events.
Our undergraduate and graduate alumni continue to make us proud, and we take great joy in their accomplishments, both professional and personal. We are engaged in our first graduate student alumni campaign in which we aim to deepen our relationship with our former students, connect our current students with professional opportunities, and continue to build momentum in providing stronger support for our talented graduate students. As a public university, it is a challenge to compete with elite private universities for the strongest students, and resources to support our graduate students make a major impact in our success recruiting the most talented and diverse cohort of students.
In closing, I'd like to express my deepest gratitude to those who have long supported our department as well as those who have recently made their first gifts. Your investments in our students, faculty, and initiatives is critical to our success and impact in psychological science, the classroom, and society.
Please consider making a gift to the Friends of Psychology so we can continue to advance our educational and scientific mission, and make advances that benefit our local, national, and global communities. If you would like to discuss how you can play a role in supporting our department, my door is open.