Undergraduate Internships and Community Outreach
Junny Kim gets to have an amazing experience in psychology—she gets to see it in practice. Junny volunteers at the Evidenced Based Treatment Center of Seattle, where clients receive treatment for Borderline Personality Disorder (BPD) and Obsessive-Compulsive Disorder (OCD). She finds Dialectical Behavior Therapy, the treatment developed by UW Psychology's own Dr. Marsha Linehan, "absolutely fascinating—I learn more each day about different areas of psychology because of the hands-on exposure that I get through doing an internship." This field experience has the potential to turn into a job for Junny when she graduates in June 2009 with her BS in psychology. The clinical and research experience she's gaining will also give her an advantage when applying to graduate programs in clinical psychology.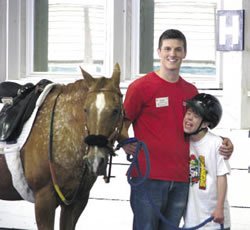 Psychology Major, Skyler Leonard
with one of his students
Another psychology senior, Skyler Leonard, has been interning at Little Bit Therapeutic Riding Center where he works with adults and children with developmental and physical disabilities. He has learned a great deal about people with disabilities, their families, and the obstacles they face, and has gained a tremendous respect for all of his students. Most importantly, says Skyler, "I have made friendships that will last a lifetime." Skyler's work at Little Bit confirmed his interests in education and developmental psychology, which he'll be pursuing next fall as a corps member in Teach for America.
Junny and Skyler are two of the 52 lucky students who are participating in the Psych 497 Internship/Fieldwork program this winter quarter. Through this opportunity, students can partner with campus and community organizations to serve as interns. Students have the chance to gain valuable training and work experience in the fields of counseling, social services, criminal justice, education and human resources. In conjunction with the field experience, the Psych 497 program helps students to further define their educational and career goals by encouraging the exploration of larger academic questions which relate to the work they are doing at their internship sites.
Psychology majors are working in such diverse community based settings as Ryther Child Center, The Children's Museum, Crisis Clinic and the King County Prosecuting Attorney's Office. Students also volunteer through UW campus organizations such as the Experimental Education Unit and the Pipeline Project, both of which allow volunteers to work with children in formal and informal educational settings. In just winter quarter 2009 alone, these students are volunteering and interning a total of 1220 hours.
"absolutely fascinating—I learn more each day about different areas of psychology because of the hands-on exposure that I get through doing an internship." – Junny Kim (Psychology major) If you are interested in working with a UW Psychology student intern, please contact Tracy Maschman Morrissey in psychology advising at: tmasch@u.washington.edu or (206) 543-3365