Led by Prof. Randy Kyes, Program Director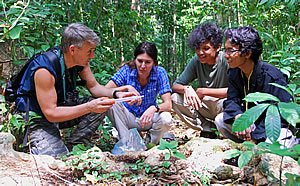 Photo: Randy Kyes and student researchers conduct field studies on Tinjil Island, Indonesia.
The International Field Study Program-Indonesia (IFSP-Indonesia) is an interdisciplinary study abroad program established in 1995 in collaboration with the Pusat Studi Satwa Primata (Primate Research Center, PSSP) at the Institut Pertanian Bogor (Bogor Agricultural University, IPB) in Bogor, West Java, Indonesia. The program is designed to provide field-based educational, training, and research opportunities for students interested in Conservation Biology, Animal Behavior, Primatology, Environmental Science, and Global Health.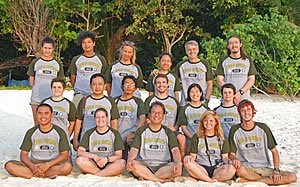 Photo: The IFSP-Indonesia program cohort, along with director Randy Kyes.
This annual program takes place on the remote Tinjil Island which is located off the south coast of western Java, Indonesia. Tinjil Island was developed as a natural habitat breeding facility for free-ranging longtailed macaque (Macaca fascicularis) monkeys and has a current population size estimated in excess of 1200 monkeys. This island facility offers an excellent setting in which to gain field study experience and conduct field research. During the program, students, staff and professionals from IPB and other Indonesian institutions also participate in the program courses.
This joint participation offers a unique opportunity for cultural exchange and awareness, and enables further development of foreign language competency among the participants from both countries.
The IFSP-Indonesia provides an excellent opportunity for participants to experience firsthand the demands and rewards of living and conducting research in tropical field conditions. This program is emotionally and physically demanding and requires strong commitment and motivation on the part of the participants. Individuals with a sincere interest in research and an appreciation of foreign cultures should find this program an exciting and challenging experience.
More information about the IFSP-Indonesia can be found at the program website: http://depts.washington.edu/cgfs/ifsp/index.htm