Undergraduate
"Since I joined Psi Chi, I have not only made a lot of awesome new friends, but it has also allowed me to get to know professors outside of the classroom."
- Lucy Dong, Psi Chi Social Media Chair


With an active group of officers at the helm, the UW Chapter of Psi Chi is off to a great start this academic year. Psi Chi is the National Honor Society of Psychology in the United States, and one of a few international psychology honor societies. The purpose of the UW chapter is to encourage excellence in scholarship and to provide community building opportunities for undergraduate students of psychology.
This year's group of student leaders includes eight officers who work toward carrying out the Psi Chi mission under the guidance of Psychology Department Academic Advisor Vicky Hansen and Principal Lecturer Laura Little. "As an officer for Psi Chi, I have a great time planning events and thinking of new ways to build a stronger psychology community," says Social Media Chair Lucy Dong. Events are open to all undergraduates interested in psychology.
Over the course of this academic year, Psi Chi will offer a variety of opportunities for psychology majors to come together for both academically focused and purely social activities. So far this year, students have been invited to participate in a movie night, a lunchtime pizza with the professor event, and a mindfulness study break that aimed to take the edge off of finals week. "Psi Chi chapter events provide valuable opportunities to get to know professors on a personal level and to meet students with similar interests," says Scholarship Chair Junting Yu.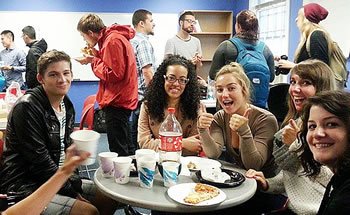 Membership Chair Shane Snyder concurs with his fellow officers with respect to the core value of the organization, noting that events often provide "a good way to ask questions or foster relationships to shorten the distance between students and professors." He looks forward to upcoming events that will include more pizza with the professor lunches, lab tours, movie nights, and a graduate student panel.
"My first quarter here at UW has been very exciting but also very challenging!"
- Claudia Linares, Psychology Junior and Martin Scholar
Photo: Claudia Linares


Claudia Linares is someone who rises to a challenge. Having just completed her first quarter here at UW, Claudia has already taken part in a community volunteer opportunity via her Psychobiology of Women class, has joined the UW TRiO program, has been hired as a tutor at the Odegaard Writing Center, and was admitted to the psychology major. It's no wonder that this bright and engaged young woman was awarded a Martin Family Foundation Honors Scholarship upon transferring to UW.
The Martin Scholarship Program enables community college students in Washington State to complete their undergraduate degrees at the University of Washington. Scholars are chosen for superior strength of character, intellectual ability, leadership, community service, and sense of purpose. While a student at Highline Community College, Claudia volunteered as a mentor with the organization Communities in Schools, worked as a writing tutor, and was a member of the Phi Theta Kappa Honor Society. She also volunteered in the Emergency Department at Saint Francis Hospital, in Federal Way.
It was the experience at Saint Francis, coupled with a sudden illness in her family, that refocused Claudia's academic interests toward the field of psychology. During her first year at Highline, Claudia's mother was hospitalized due to a stress induced illness. "This experience, of course, was very painful for me," recalls Claudia, "but it also served as an inspiration to not only help my mom cope with stress, but also help others to do the same." Post-UW plans include pursuing a graduate degree in health psychology.
Now facing a new range of both opportunities and challenges here at UW, this daughter of immigrants from El Salvador is ready to see what's next. She also has good advice for other students who are about to make the transition from community college to the UW. Claudia urges her fellow students to take advantage of all of the resources UW has to offer, to form study groups, and to make as many friends as possible. "Your time is precious," she urges, " so manage it effectively and wisely!"
Phi Beta Kappa
Students invited during fall quarter to join Phi Beta Kappa are: Natali Coronel, Hannah Davich, Meyer Gorelick, Alex Kale, Mitchell Krawczyk, Shu Ying Sharon Lo, Carol Nishikawa, Leah Ogier, Yingxue Rao, Lauren Selby, Victoria Slaven, Kelsey Wallach, Mitchell Walton, Jasmine Yip, and Vera Zaytsev. Congratulations to all of them!

The 2014 Guthrie Prize Winners
Adair Cardon and Alex M. Kale are the winners of the 2014 Guthrie Prize.
Adair's paper, "Copy Number Variants, Gender, and Perinatal Complications within Autism Spectrum Disorder," was sponsored by Raphael Bernier, Ph.D., and won in the Best Empirical Paper category. Alex's paper, "Evaluating the Empirical Basis for Claims that Trichromacy in Primates is Adaptive," was sponsored by Steven Buck, Ph.D., and won in the Best Literature Review or Conceptual Paper category.
Named for the late UW Psychology professor Edwin R. Guthrie, the Guthrie Prize is a high honor for any undergraduate student. The prize was established to encourage excellent writing about psychology that is broad in scope and accessible to the non-specialist.
Congratulations to Adair and Alex!
Martin Honors Scholar
Claudia Linares is a Martin Honors Scholar. Claudia began her studies here this fall quarter after transferring from Highline Community College. The Martin Family Foundation Honors Scholarship Program enables Washington community college students of exceptional ability and outstanding achievement to complete their undergraduate degrees at the University of Washington Seattle campus. Read more about Claudia here.