Happenings
SAVE THE DATES for the 10th annual Allen L. Edwards Psychology Lecture Series!
Join us for our 10th annual lecture series that will bring notable experts to the University of Washington to co-present with faculty from the UW Department of Psychology. This public lecture series is made possible by a generous endowment by Professor Allen L. Edwards, who was affiliated with the University of Washington Psychology Department from his arrival in 1944 as an Associate Professor to his death in 1994.
This year's series will explore The Psychological Science of Inequity & Inequality. Our three featured UW faculty include: Anthony Greenwald (Feb. 18), Shannon Dorsey (Feb. 25), and Kristina Olson (Mar. 4). Together, they will discuss the latest research on the core factors that shape intrinsic biases toward underrepresented and non-majority individuals, especially within the public domain such as in education, the courtroom, and in mental health care.
Online registration will open in January of 2015 at UWalum.com/psychology. We hope to see you there!
This fall has proved to be a busy season for events in the Department. Below are some of the highlights!
In September, we welcomed Lawrence Steinberg from Temple University. Our guests braved the traffic of new students moving in to learn more about the psychology of adolescents and discover what the Department is doing that area. Dr. Steinberg's presentation was a fascinating look inside the workings of an adolescent brain. The Department's own adolescent expert, Dr. Kevin King presented his work and that of colleagues in the Department. It was a one of a kind overview of the depth and complexity being studied in the area of Adolescent Psychology.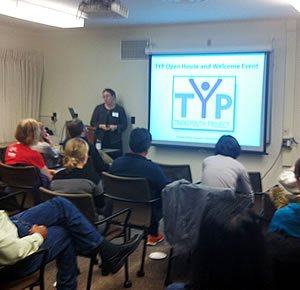 Photo: Trans Youth Project

November brought two opportunities to learn more about Department happenings. Early in the month, guests braved a blustery night to learn more about one of our newest projects – The Trans Youth Project (TYP). Dr. Kristina Olson has launched the first ever longitudinal study on Transgender Youth. TYP is quickly becoming a go to resource for families starved for information about how to best parent their children. To learn more about this groundbreaking new work, visit their website at http://depts.washington.edu/transyp/.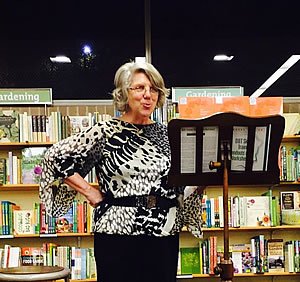 Photo: Marsha Linehan

It was cold outside on November 12th, but the reception at University Bookstore was incredibly warm for Marsha Linehan and her new book. It is a long awaited accomplishment and a much anticipated publication! The manual includes many new skills in each module and detailed teaching notes are provided with many more examples and suggestions on teaching the skills. These life changing skills are now accessible to everyone.
Finally, in November, in conjunction with the Evergreen School, we were pleased to welcome Dr. Walter Mischel. We had a full house in Kane Hall and where Dr. Mischel delivered a great talk entitled Understanding and Mastering Self-Control. The audience gained great insight into ways to help ourselves and others with developing the cognitive skills necessary to increase development and use of self-control.
Since the last newsletter, members of our faculty have been all over the news - it's a great accomplishment and we are very proud of their work. If you'd like to see a full list of all the times faculty has been in the paper, on the radio, in magazines or on television, please follow this link. It is updated weekly throughout out year.
Below is a recap of the professional honors and grants received by faculty since June.
Andrea Stocco & Chantel Prat
Andrea Stocco (PI) and Chantel Prat (co-PI) in collaboration with Rajesh Rao (co-PI) from CSE were awarded a prestigious grant from the W.M. Keck Foundation for their work on human brain-to-brain interfacing. The grant, entitled "Advancing Human Brain to Brain Communication Capabilities" was funded with an endowment of $1,000,000 to be used for direct costs over 3 years. They have also been awarded a grant entitled "Training the Mind and Brain: Investigating Individual Differences in the Ability to Learn and Benefit Cognitively from Language Training" by the Office of Naval Research's Cognitive Science of Learning Program. They were awarded $510,000 total costs paid across 3 years.
Mavis Tsai, Ph.D., Department Research Scientist and Director of the Functional Analytic Psychotherapy (FAP) Specialty Clinic within Psychological Services & Training Center, has received the Washington State Psychological Association's 2014 Distinguished Psychologist Award in recognition of significant contributions to the field of psychology.
Professor Emeritus Ilene Bernstein was awarded the Gantt Medal from the Pavlovian Society. This award was established by the Society following the death of W. Horsley Gantt in 1980. It is awarded to individuals who have made distinguished lifelong contributions to the fields of psychology, physiology, behavioral neuroscience, psychophysiology, mental health or medicine within the confines of Pavlovian conceptual models.
Congratulations to Professor Wendy Stone, who received a new 5 year ($4 million) grant from the National Institute of Mental Health to improve services for children with autism spectrum disorder (ASD). This project will implement and evaluate an innovative healthcare service delivery model designed to promote earlier access to specialized intervention for toddlers with ASD. Four communities across Washington State will receive specialized training in ASD screening and intervention, as well as telemedicine consultation. (for more information see https://www.facebook.com/pages/UW-READi-Lab/198594377005824). She is also the recipient a NIMH grant for A Screen-Refer-Treat (SRT) Model to Promote Earlier Access to ASD Intervention. Learn more about it here- http://www.nimh.nih.gov/news/science-news/2014/new-grants-fund-cross-lifespan-services-research-for-autism-spectrum-disorder.shtml
Congratulations to Corey Fagan - she was named 1 of 10 new members to the Presidential Entrepreneurial Faculty Fellows (a two-year program designed to spark more entrepreneurial activity at the university). This honor is in recognition of her work with Jon Hauser to create the Owl Outcomes mental health tracking system (http://owloutcomes.com/index.html). The Owl Outcomes system was considered a highly valued example of what faculty entrepreneurship can bring to society. Learn more here - http://www.geekwire.com/2014/tech-moves-julep-nabs-blue-nile-operations-whiz-salesforce-com-hires-cfo-etc/
Congratulations to Professor Lynn Fainsilber Katz
and former UW professor Bob McMahon, who received a new 3-year grant from the National Institute of Mental Health to develop a combined emotion-coaching/parent training parenting program for treating oppositional defiant disorder in 3-7 year old children who also have limited prosocial emotions (e.g., lack of guilt and empathy, callous use of others). The combined intervention will be tested in a community mental health center setting to establish the feasibility, treatment fidelity, and participant satisfaction of the new intervention. Co-investigators include Shannon Dorsey, Sue Kerns and Mike Pullmann.
Congratulations to Jaime Olavarria
for his award from the Office of Global affairs to recognizing the importance of his international work and efforts. This award will fund "A Changing Public and Mental Health Care System 2014" Exploration Seminar in Chile. The program was offered in early fall 2014.
This year, our faculty were successful in securing a number of grants to fund their research activities, from both the federal sources such as NIH and NSF, as well as private foundation awards. Three are highlighted below.
Kate McLaughlin, who came to UW from Harvard in the fall of 2013, received an award from the National Institute of Mental Health that will help us understand how violence exposure impacts brain development in children. Specifically, she will look at the influence of child maltreatment on neural structure, including cortical thickness and white matter microstructure, and neural function in Negative Valence Systems, including function and connectivity of the prefrontal cortex and amygdala. She will recruit a sample of 8-16 year olds, half with exposure to child maltreatment or domestic violence and half without, and collect structural and functional MRI data from them. Elucidating these mechanisms will not only build knowledge of how adverse environments alter neural development in ways that might increase risk for psychopathology, but will also suggest possible targets for preventive interventions aimed at reducing psychopathology risk in children exposed to trauma. Dr. McLaughlin's award follows her widely publicized study of adolescents following the Boston Marathon bombings. She showed that data collected before the attacks on how their brains generally responded to negative emotional stimuli was related to the likelihood of their development symptoms of post-traumatic distress afterward. To learn more about Dr. McLaughlin's work, click here.
Husband and wife team, Andrea Stocco and Chantel Prat, working with colleague Rajesh Rao in Computer Science and Engineering, received a $1 million W.M. Keck Foundation. Their work will build on exciting preliminary data showing how one person's brain can control another person's hand motions – with information sent over the Internet from anywhere else in the world. The goal of their project is to refine the methods and science involved in these so-called brain-to-brain interfacing paradigms, increasing the complexity of information that can be transferred from one human brain to another and bringing technology closer to actual applications. Their innovative work will be the first to involve the full arc of information transmission from one brain to another (not merely decoding motor information and translating it into machine action) and will rely entirely on non-invasive techniques which are completely safe for humans. Results could lead to novel learning strategies such as "brain tutoring" in which knowledge is transferred directly from the teacher's to the learner's brain. Learn more about their work here and here.
Wendy Stone, a leading expert in Autism and Autism Spectrum Disorder (ASD), received a $3.9 Million award from NIMH this spring. Dr. Stone's research project addresses the problems of late diagnosis and treatment for young children with ASD: although caregiver concerns often arise by 17-19 months, the average age at which a child receives an ASD diagnosis is 4½ years. The gap is larger in Hispanic than non-Hispanic families. During this delay, children miss out on early ASD-specialized intervention, which can lead to significant gains in children's social, communication, cognitive, and behavioral skills. The new research project proposes an alternative service delivery model – the "Screen-Refer-Treat" (SRT) model – that promotes an integrated system of early detection and preventive intervention embedded within communities. A trial within four diverse communities across Washington State will aim to show changes in provider knowledge, screening, referral, and intervention practices as well as caregiver reports of their own well-being, service satisfaction, and their child's behavior following implementation of the SRT model. Here is more information about Dr. Stone's work.