Perspectives from a Ford Fellow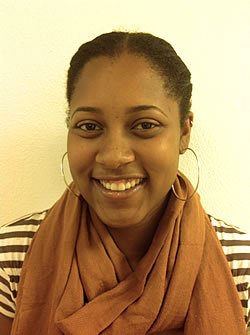 Photo: Arianne Eason
Arianne Eason is a 2nd year Social Psychology & Personality and Developmental graduate student working with Drs. Cheryl Kaiser and Jessica Sommerville. The Psychology Department asked Arianne to provide insight on her experience as a Ford Fellow and as a universal scholar.
Last year, I was awarded the Ford Foundation Predoctoral Fellowship to fund three years of my graduate training. Because of this I had the opportunity to attend the annual Conference of Ford Fellows last month. The theme of the conference was—Knowledge, Community, and Action. In many ways these three words sum up what I want from my academic career, the foundations of which I am laying now in grad school.
Knowledge. The core questions that drive me focus on understanding the factors that lead to the development of racial biases; and how people understand interracial interactions. We live in an increasingly diverse society, but what do these shifts mean for children and adults' reactions in mixed race contexts?
Community. There are a few ways in which community link with my time here at the UW and what I seek to accomplish. First, my research questions are fundamentally linked to a community in which I belong (I am a black female, studying interracial interactions…).
But more importantly, the receipt of this fellowship offered an opportunity to engage/build communities in another way. Within the department of psychology, I am a part of the developmental and social areas, with advisers in each (helping give me access to knowledge in each relevant area). The fellowship has helped to ensure that I can pursue questions that are of interest at the intersection of the two areas. So within the department I have a community of scholars that I frequently interact with in both these areas.
Additionally, because of this fellowship, my community has now expanded to include even more inspirational scholars, both within psychology (at different institutions) and other scholars in different fields. Together these communities inspire me to continue to pursue my goals, and to ask the questions I find interesting and important.
Action. One day I hope that the research I do can affect change by creating means to promote more positive interracial interactions and positive attitudes towards out-group members, especially in childhood.
I am so lucky to be a part of all of these groups, to be a part of a department that wants knowledge to transcend its area distinctions, to have many communities receptive to my interests (including the Ford Foundation, the NSF, and the UW), to have the resources to develop and ask questions that can one day be used to promote change, and to have the time to devote to these interests. For all of this I am so thankful and cannot wait to find out what the path ahead of me has in store…for now I think it will just be amazing research!
Supplemental Reading:
Arianne's NSF research spotlight article from 2012.