Student Champions for Filipino American Health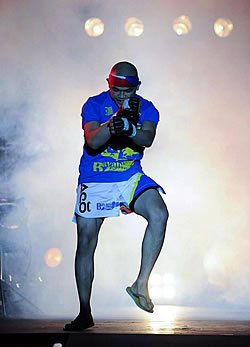 Photo: Andy Paves
Andy Paves, a fourth year student in Adult Clinical, recently received a grant from The National Institute on Alcohol Abuse and Alcoholism (NIAAA) for his project "Coping with Discrimination: Alcohol Abuse in Filipino(a) American Young Adults." His primary advisor is Mary Larimer. A brief introduction to his National Research Service Award (NRSA) is provided in previous article.
Let's start with the basics, where did you grow up and where did you complete your undergraduate and masters degrees?

I'm a Washington native. I was born in Chehalis and went to high school in the greater Seattle area. I did my undergrad work here at UW, as well.

What attracted you to study at UW?

I had a great experience here as an undergrad and knew the clinical psych program was top notch. I took several years working in research to gain some experience, save up some money, make sure grad school was for me, etc. By the time I decided to apply, I was at a point where I felt like I needed to leave Washington and honestly, I didn't expect to get in to UW! Luckily, I had some encouragement to apply and I fell in love with the campus and program again by the time interviews rolled around. Knowing how awesome the program and my advisor (Mary Larimer) are, not to mention being able to stay home, I couldn't say no to the offer.

How do you like living in Seattle?

I know nothing else! Even if I wasn't from here, I would feel very fortunate to study at a place where there's so much to do. And you'll never hear me complain about the weather! In fact, you're more likely to hear me complain about people who complain about the weather!

What is your research interest and how did you get into it (what inspires/motivates you)?

Broadly, it's a cross between multicultural psychology and health behaviors. The study which I got the funding for focuses on the experiences of Filipino Americans; specifically with discrimination, coping with race-related stress, and ethnic identity and potential relationships with alcohol use. What inspires me are disparities in health conditions between different communities and the fact that people who look like me are underrepresented in research and among researchers.

Specifically, what do you hope to accomplish with the funding?

Spend it all in two years...on my dissertation project of course. The purpose of the grant is to cover the research costs associated with my study. So things like participant payments, printing out study materials, etc. It will make recruiting and implementing my study so much easier!

Do you have any publications yet? What would you suggest that someone read to learn about your research interests?

A couple so far, but I think the ones I'm working on now are a better reflection of my interests. Stay tuned!

Why did you apply for this funding opportunity? Was the application process hard? How long did you have to wait after submitting to hear you were funded?

My advisor recommended that I apply. Several students and faculty in our lab had successfully applied previously and it would cover the research costs of my dissertation project. The application itself wasn't too difficult, as it's very similar to any other grant application. The only hard part was grabbing signatures from seven very busy people! Since my sponsor and co-sponsor are from different departments and schools, I had to grab the signature of the respective chairs and deans. The review process was very straightforward, I heard back within two months and luckily had good news!

How did you feel when you learned that your application was accepted? What does it mean to you to have this period of guaranteed funding?

Important, validated, all of the above. It felt great to have my work recognized and rewarded. It means I can pay the people who participate in my study...and that I'm on the clock.

Do you have any advice/tips/suggestions for others who may be thinking of applying for this opportunity? About graduate study in general?

I would highly recommend it, especially if your research that focuses on alcohol or drug use. It's a great resource to cover research costs. If you've already done an NRSA or other grant or research proposal, adapting for this application isn't too difficult.

As for grad school, don't do it! ...Kidding, of course. My best advice for that is to love what you do and do what you love. Once you find your niche it makes all the hard work that much easier!

What do you like doing in your spare time?

Funny enough, I've been interviewed about my spare time hobbies before.

The last non-academic book you read and/or movie you saw and enjoyed?

The Avengers. One of the rare times that Hollywood does a childhood favorite right!

What you plan to do once you complete your PhD?

Not sure yet but I think I'll have plenty of options. Clinical psych provides such a versatile skill set!
Supplemental Reading: