A Bonderman Fellow Returns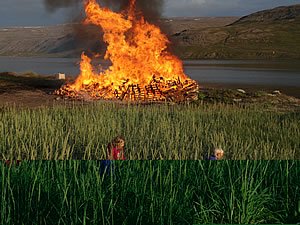 Photo: Children running in a field during Icelandic Summer Solstice celebration,
Jolina Ruckert, a graduate student in Developmental Psychology, recently returned from her 17 country, 15 month journey around the world as a Bonderman Fellow. The "Bonderman" provides the opportunity for extended independent travel abroad. It is awarded to UW students who demonstrate integrity, the capacity for vision and leadership, and the potential for humane and effective participation in the global community.
Jolina's explorations were focused on the ways fire bonds communities. Her first stop was Iceland, the Land of Fire and Ice, where people harness fire to power their lives through innovative, sustainable approaches.
Then she went to Southern Africa, and while with the Nara tribe witnessed some of earliest documented fire rituals preserved. In Zimbabwe, Jolina met an internationally acclaimed artist and experienced his exhibit depicting fire torture and the atrocities of the Ndebele genocide.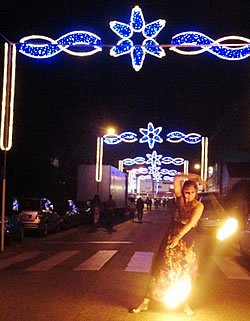 Photo: Jolina Ruckert spinning fire at Portugal festival
From Mozambique to Madagascar and Mayotte, she lived on a sailboat traveling to regions plagued by slash and burn agriculture and the corollary political and moral issues.
She returned to land and went from Kenya to Tanzania. Jolina visited the Maasi to discuss traditional fire building and trance dances.
Then she traveled to Thailand as an invited journalist for the Krabi International Rock and Fire Contest. In Cambodia, Laos, and Malaysia, Jolina visited temples and met with monks to discuss the use of fire in prayer and ancestor worship. In Vietnam, she explored the use of fire in warfare and the re-occurring theme in her journey regarding the use of firepower to support one community, while destroying another.
The journey has informed her sensibilities and the next steps in her academic career. Particular experiences such as living with indigenous peoples in Northern Thailand, Serengeti, and Kalahari, learning from founders of the field of shark cage diving ecotourism about environmental conflict resolution, and working with youth on an inner city farming initiative will directly inform her upcoming research endeavors.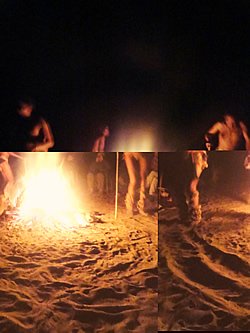 Photo:

Nara trance dance ceremony
Next stop – Jolina's dissertation investigating children's moral reasoning regarding environmental dilemmas.
Supplemental Reading: