Undergraduate Accomplishments
Phi Beta Kappa

Congratulations to the undergraduate psychology majors who were invited to join Phi Beta Kappa in late spring quarter 2011.
The invitation is based upon the students' excellent academic record and interest in the liberal arts. http://depts.washington.edu/uwpbk/
The students are: Kristin Aerts, Hana Cobb, Kathryn Cunningham, Katherine Gildenhar, Caitlin Handron, Ekaterina Nepomnyashchaya and Annie Wong.
2011 Guthrie Prize
Mary Alice Davis and Amanda Tose are co-winners of the 2011 Guthrie Prize in Psychology.
Mary Alice's paper, ""Emotion in Context: How Culture Influences the Process of Emotion Recognition," sponsored by Assistant Professor Janxin Leu, was chosen as the best empirical paper. Amanda's paper, "Activating an Identity Shield: Preventing Women from being defined by a Computer Science Stereotype," sponsored by Assistant Professor Sapna Cheryan, was chosen as best research proposal. Both are honor students and graduated June 11.
Levinson Emerging Scholars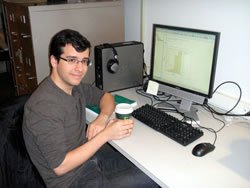 Photo: Teague Henry
Teague Henry was the recipient of a Levinson Emerging Scholars award. Teague is a psychology honors student, working with Assistant Professor Kevin King. His project is "Context and Peer Influence on Adolescent Substance Use." The Levinson program supports undergraduates pursuing independent research in genetics, neuroscience, biochemistry, bioengineering, bioinformatics, and related fields in the life sciences.