Liz Dizon - Profile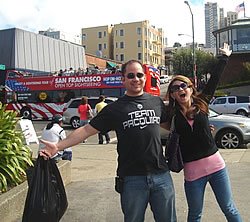 Photo: Liz Dizon
Liz is a first quarter transfer student from Cascadia Community College, in Bothell. Here, she shares some of her experiences as a new UW student.
What are you excited about experiencing here at UW?
I'm most excited about the great variety of classes that UW has to offer. There are also so many useful resources that you don't get on a community college campus. Plus, I'm kind of a bookworm, so the libraries make me feel like a kid in a candy store. There is so much that UW has to offer and I'm excited to be a part of something so amazing!
Is there anything that has surprised you so far in your UW experience?
As a transfer student, I can honestly say that I was a big fish in a little pond. I did awesome in school and I thought that I had everything handled, especially my study habits. This quarter has definitely been a big eye-opener. I have never been pushed the way I have been this quarter. UW really is a whole different ball game, and I think everyone needs to know that they need to step up their game, be on top of their studies, and make school their number one priority if they want to be successful.
Is there anything else you'd like to share?
UW is an amazing institution and I'm very happy to be a Husky. The counseling and advising offices are awesome! Everyone that I have encountered thus far has been helpful beyond what I ever expected and I feel so comfortable contacting my advisors and my professors. There are so many resources at your disposal, so use them! Yes, this is a large institution, but you are here to learn and make your dreams come true, so enjoy your time at UW and make the best of everything this university has to offer!