Kenneth Dodd - Profile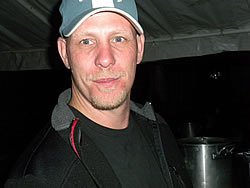 Photo: Kenneth Dodd
Kenneth Dodd is a first quarter transfer student from Edmonds Community College. Here, he shares some of his experiences as a new UW student.
What are you excited about experiencing here at UW?
There are many things that excite me about going to UW. I love the fact that while sitting in lecture, the professor will be explaining some piece of information that was discovered by him or herself. It is a first rate education taught by leading researchers in the field. Also, I grew up here, so my love for Husky teams is huge... and, now I really feel that they are my teams.
Is there anything that has surprised you about your UW experience?
I was surprised by the commitment to the school that I feel since I have been here. When I am studying, I know that I need to do well if I want to achieve my goals, yet there also is this feeling of needing to do well to live up to the expectations of being a UW student. It never felt like that at the community college level.
What have you enjoyed most or found most useful about the Psych TrIG?
I have found information on resources to be the most useful thing for me. With all the pressures of academic life here at school, I am glad to not have to waste valuable time searching for these resources on my own. The TrIG classes also give me a chance to get to know my classmates a little better than I would have, especially since I do not live close to campus.