Undergraduate
"Before my TrIG class, I did not know about the vast amount of research and internship opportunities available for psych students, how to apply to graduate school, or how to read a degree audit. Now that I have this knowledge, I feel less stressed and more prepared."
- McKenna Princing, TrIG student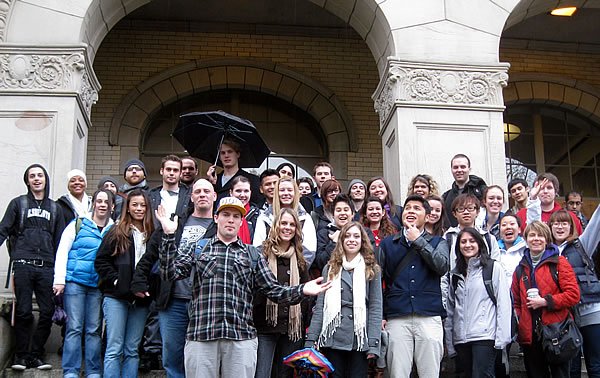 Photo: Psychology TrIG students
McKenna, along with 44 other new UW students, is part of the Psychology Transfer and Returning Student Interest Group. The Psych TrIG brings together pre-psychology majors in weekly class meetings that aim to provide the students with an in depth orientation to the Psychology Department and the major. Fall quarter transfer students from community colleges and other four-year institutions arrive at UW with junior class standing, needing to really hit the ground running. One of several TrIGs organized by the UW First Year Programs Office, the Psych TrIG offers new UW students the opportunity to take the academic classes that they need to prepare for application to the psychology major, while at the same time learning about a wide range of resources, and getting to know fellow pre-majors.
"The Psych TrIG really does become your own little community," says student Liz Dizon, adding that "it is so easy to form study groups and make friends because we are all experiencing the same things and there's a camaraderie that forms." Over half of the students in the TrIG are also taking the Department's Biopsychology and Research Methods classes, while others may have taken one or both of these prerequisite courses at their transfer institution. The psychology offering differs from other TrIGs in that it brings together a group of students who all aspire to enter the same major. And, this year, the Psych TrIG is unique in another way. While the stand-alone weekly meetings of other TrIGs are led by undergraduate students, this fall's Psych TrIG has doubled in size from past years' offerings and this year is following the lecture/quiz section model. All 45 students meet each Wednesday afternoon with Psychology Advising Office director Carrie Perrin and then break out into two groups led by psychology seniors Rachel Odegaard and Vanessa Yuan. "It's kind of like offering students ten weeks of group advising sessions," says Carrie.
During the TrIG class sessions, students are introduced to the resources and opportunities available for UW psychology majors, including how to get involved in undergraduate research, fieldwork, study abroad, and student leadership. Guest speakers from the UW Counseling Center, Odegaard Library, the Career Center, the Office of International Programs and Exchanges, and others help welcome the students to campus and highlight the services they offer. Psychology advisors stop by to talk with the class about everything from winter quarter registration and long term academic planning to thinking about graduate school options. "I love all of the resources that the Psych TrIG has offered me," says student Stephen Frontauria, "coming to UW was a little intimidating and the Psych TrIG has helped me find the resources I need without feeling lost."
"With student tuition on the rise, it feels good to be able to offer students a resource like this that hopefully adds value to their UW experience right from the start," says Carrie Perrin. As this new super-TrIG culminates with the end of fall quarter, it is interesting to note that the Psychology Department was a pioneer, having supported the very first offering in the UW TrIG Program, in the fall of 1995. "All new students should take an intro course like this to get acquainted with how everything at UW works and maybe get a start on a friend group," says student Melissa Pittman Fischer. Doing what it can toward that goal, the Psychology Department will continue step up for the transfer students who make up 25% of its undergraduate majors and whose varied backgrounds and interests enrich the diversity of the Department.
"By being a TrIG leader, I hope I am able to pay forward the comforting experience from my own TrIG."
- Rachel Odegaard, TrIG Peer Leader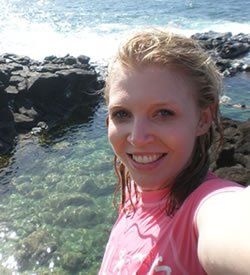 Photo: Rachel Odegaard
Psychology TrIG peer leaders Rachel Odegaard and Vanessa Yuan are united in their desire to help create community and ease the transition for the first quarter transfer students in their classes. But, united as they may be in what they hope to accomplish as peer leaders, they came to their leadership roles from very different backgrounds and with different perspectives. While Rachel was drawn to the TrIG leader experience due to her own very positive first quarter UW experience, Vanessa saw her work as a peer leader as a way to help others avoid the confusion and loneliness that characterized her introduction to the University. "I decided to be a TrIG leader because I personally encountered a lot of challenges during my transition to UW," says Vanessa, who did not have the opportunity to participate in a TrIG. "It was hard for me to concentrate and understand how to study for large lecture classes," she remembers, "and it was also surprisingly hard for me to find a sense of belonging initially."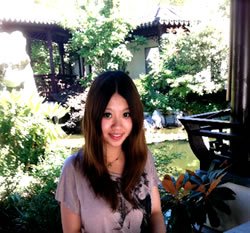 Photo: Vanessa Yuan
Having grown up in Hong Kong, Vanessa arrived at UW as a transfer student for Pierce Community College, in Lakewood, WA. She chose UW because of its status as the premier educational institution in Washington State, and because of the large amount of research opportunities available for undergraduates. For Rachel, who grew up in neighboring Kenmore as the daughter of a UW alum and transferred from Shoreline Community College, the University was a natural choice. "We are certainly a Husky family," she says. Having initially struggled in choosing her academic area of interest—English… journalism… nursing… psychology?—Rachel would find a much greater personal struggle was yet to come. At 21, she was diagnosed with Hodgkin's lymphoma. "Although the treatment was by no means easy," Rachel recalls, "I feel fortunate that it ignited a passion for school that I hadn't felt since high school."
Both seniors, Vanessa is pursuing a Bachelor of Science in psychology along with a Bachelor of Arts in communication, while Rachel is working on a psychology Bachelor of Arts with a minor in diversity studies. As they help to welcome the new UW students, they have no shortage of recommendations and words of advice for the aspiring psychology majors. For Rachel, Professor Nancy Kenney's Psychobiology of Women class is a standout. "She was the most enthusiastic and entertaining lecturer I have ever had the pleasure of listening to," says Rachel of Dr. Kenney, "I never missed a lecture and looked forward to class each day!" Vanessa credits Professor Jaime Diaz's Introduction to Drugs and Behavior class, as well as other more clinically oriented courses, as having helped her to better define and refine her own area of interest. Both Vanessa and Rachel encourage their TrIG students to exploit the human resources available here at UW by forging connections with faculty, graduate students, and academic advisors.
Having made the move from community college to the UW, Rachel and Vanessa are now working toward their next big transitions—this time, to graduate programs. Vanessa plans to pursue a PhD in clinical psychology with a focus on depression and/or eating disorders in adolescent and young adult populations. Rachel is in the process of applying to the UW Master's in Social Work program, with the goal of working in oncology counseling to provide support for cancer patients, their families, and caregivers.
Two students. Two very different backgrounds. One goal: to draw upon their own experiences—and challenges—to help ease the UW transition for this fall's group of new transfer students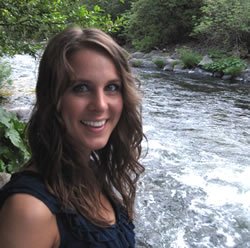 Photo: Rachel Rae
Rachel is a first quarter transfer student from Bellevue College. Here, she shares her experiences as a new UW student.
What are you excited about experiencing while here at UW?
I have really enjoyed going to football games and being able to cheer for my school. It has already been a great experience being part of such a large community. Of course, I'm also excited about all the academic opportunities, including internships and research projects. UW is an incredible university and the avenues are endless!
Is there anything that has surprised you so far in your UW experience?
I knew that UW was a very large school, but I must say, the sense of community is great. I also was surprised to learn just how competitive things are here.
What have you enjoyed most or found most useful about the Psych TrIG?
I am so thankful for the TrIG course. It is a wealth of information I would have had to take longer to research myself, and I may have completely missed some opportunities. It is also comforting to be amongst other transfer peers who are also pre-psych majors.

Is there anything else you'd like to share?
Go Dawgs!!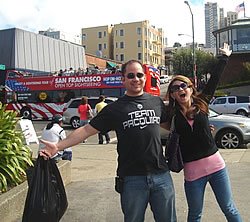 Photo: Liz Dizon
Liz is a first quarter transfer student from Cascadia Community College, in Bothell. Here, she shares some of her experiences as a new UW student.
What are you excited about experiencing here at UW?
I'm most excited about the great variety of classes that UW has to offer. There are also so many useful resources that you don't get on a community college campus. Plus, I'm kind of a bookworm, so the libraries make me feel like a kid in a candy store. There is so much that UW has to offer and I'm excited to be a part of something so amazing!
Is there anything that has surprised you so far in your UW experience?
As a transfer student, I can honestly say that I was a big fish in a little pond. I did awesome in school and I thought that I had everything handled, especially my study habits. This quarter has definitely been a big eye-opener. I have never been pushed the way I have been this quarter. UW really is a whole different ball game, and I think everyone needs to know that they need to step up their game, be on top of their studies, and make school their number one priority if they want to be successful.
Is there anything else you'd like to share?
UW is an amazing institution and I'm very happy to be a Husky. The counseling and advising offices are awesome! Everyone that I have encountered thus far has been helpful beyond what I ever expected and I feel so comfortable contacting my advisors and my professors. There are so many resources at your disposal, so use them! Yes, this is a large institution, but you are here to learn and make your dreams come true, so enjoy your time at UW and make the best of everything this university has to offer!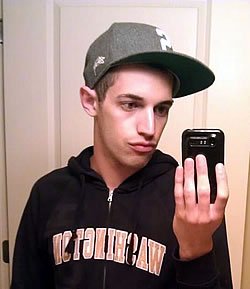 Photo: Stephen Frontauria
Stephen is a first quarter transfer student from Scottsdale Community College, in Arizona, and from Seattle Central Community College. Here, he shares his experiences as a new UW student.
What are you excited about experiencing as a UW student?
Finding research opportunities in behavioral neuroscience and getting the best experience in the field.
Is there anything that has surprised you so far in your UW experience?
What surprised me the most is the atmosphere of the university. It's a great place to be if you are a serious student who wants to take every opportunity that comes your way.
Is there anything else you'd like to share?
UW is such a great place and I am so glad to be here. It's been a long road to get to where I am and there is so much more to go! I am really looking forward to future quarters and being able to go further in depth in psychology and neuroscience.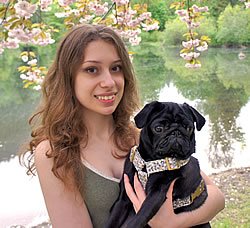 Photo: McKenna Princing with Jane
McKenna is a first quarter transfer student from Bellevue College. Here, she shares some thoughts about being a new UW student.
What are you excited about experiencing here at UW?
I am very excited about the sheer number of opportunities on campus, from internships and study abroad to just being part of such a large community. I loved being at Bellevue College, but UW has far more resources and opportunities for students, and I look forward to taking advantage of as many as I can!
Is there anything that has surprised you so far in your UW experience?
Predominantaly, what surprised me is how immediately I felt at home on campus and as a UW student. I have not struggled with adjusting to the university, and I attribute this partially to the welcoming, friendly people - teachers, TAs, advisors, fellow students, and everyone else I have met in my time here so far. I am also surprised that for weeks I did not once get lost... until I had to find a teacher's office in Padelford Hall, that is!
Is there anything else you'd like to share?
After my experience thus far in the Psych TrIG, I definitely recommend it to pre-psych transfers looking to become more acquainted with their major and the university itself.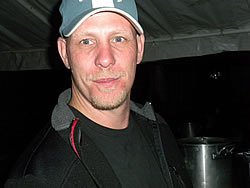 Photo: Kenneth Dodd
Kenneth Dodd is a first quarter transfer student from Edmonds Community College. Here, he shares some of his experiences as a new UW student.
What are you excited about experiencing here at UW?
There are many things that excite me about going to UW. I love the fact that while sitting in lecture, the professor will be explaining some piece of information that was discovered by him or herself. It is a first rate education taught by leading researchers in the field. Also, I grew up here, so my love for Husky teams is huge... and, now I really feel that they are my teams.
Is there anything that has surprised you about your UW experience?
I was surprised by the commitment to the school that I feel since I have been here. When I am studying, I know that I need to do well if I want to achieve my goals, yet there also is this feeling of needing to do well to live up to the expectations of being a UW student. It never felt like that at the community college level.
What have you enjoyed most or found most useful about the Psych TrIG?
I have found information on resources to be the most useful thing for me. With all the pressures of academic life here at school, I am glad to not have to waste valuable time searching for these resources on my own. The TrIG classes also give me a chance to get to know my classmates a little better than I would have, especially since I do not live close to campus.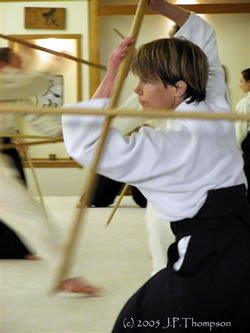 Photo: Melissa Pittman Fischer
Melissa is a first quarter transfer student from Shoreline Community College. Here, she shares some of her experiences as a new UW student.
What are you excited about experiencing here at UW?
When I look at the course offerings, I feel like a kid in a candy store! To take all the classes that sound interesting to me I would have to be here like five years, instead of two.
Is there anything that has surprised you so far about your UW experience?
I came in knowing this is a giant, city-sized school. To my surprise, I am finding it very homey and personable. It feels more like a collection of friendly little schools where we all know each other and the teachers know us and care about how we are doing. For example, all of my teachers know my name, answer my emails, and say hi to me on campus.
Is there anything else you'd like to share?
I feel like my community college really prepared me well and the TrIG picks up where they left off. I took hard classes, especially right before transferring. I got in the habit of visiting my profs during office hours, speaking up in classes, studying hard, and managing my work-family-school time. I think that anyone who can get accepted to UW has already proven that they are good students and are on their way to graduating successfully!

Phi Beta Kappa

Congratulations to the undergraduate psychology majors who were invited to join Phi Beta Kappa in late spring quarter 2011.
The invitation is based upon the students' excellent academic record and interest in the liberal arts. http://depts.washington.edu/uwpbk/
The students are: Kristin Aerts, Hana Cobb, Kathryn Cunningham, Katherine Gildenhar, Caitlin Handron, Ekaterina Nepomnyashchaya and Annie Wong.
2011 Guthrie Prize
Mary Alice Davis and Amanda Tose are co-winners of the 2011 Guthrie Prize in Psychology.
Mary Alice's paper, ""Emotion in Context: How Culture Influences the Process of Emotion Recognition," sponsored by Assistant Professor Janxin Leu, was chosen as the best empirical paper. Amanda's paper, "Activating an Identity Shield: Preventing Women from being defined by a Computer Science Stereotype," sponsored by Assistant Professor Sapna Cheryan, was chosen as best research proposal. Both are honor students and graduated June 11.
Levinson Emerging Scholars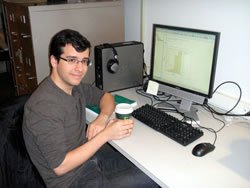 Photo: Teague Henry
Teague Henry was the recipient of a Levinson Emerging Scholars award. Teague is a psychology honors student, working with Assistant Professor Kevin King. His project is "Context and Peer Influence on Adolescent Substance Use." The Levinson program supports undergraduates pursuing independent research in genetics, neuroscience, biochemistry, bioengineering, bioinformatics, and related fields in the life sciences.