Project Implicit: Studying Hidden Biases

Since Professor Tony Greenwald and graduate students developed the Implicit Association Test in 1998 to study hidden or unconscious biases, there have been more than 12 million (anonymous) completions of a do-it-yourself demonstration test on the Internet. Through Project Implicit, Greenwald and colleagues have developed scientific applications of research using the Implicit Association Test and related techniques. Read more.
For the past several years, Tony Greenwald (Professor in the Department since 1986), has been presenting applications of his research using the Implicit Association Test (IAT) in court and corporate settings. The IAT, which is now widely used to study hidden (or unconscious) biases, was developed by Greenwald, working with psychology graduate students. It has been widely used by researchers worldwide since its initial publication in 1998.
In 2005, Greenwald and two long-time collaborators, Mahzarin Banaji of Harvard University and Brian Nosek of the University of Virginia, formed Project Implicit. This not-for-profit corporation was organized with the mission of overseeing the development of scientific applications of research using the IAT and related techniques. One area of application, in diversity training, has been presented at dozens of organizations, including major corporations, Federal government agencies, and large nonprofit organizations. Project Implicit's approach, based on the science of implicit social cognition, is mindful of criticisms of much of what is standardly offered in diversity training. A central problem is that firms offering diversity training generally offer no evidence that their training techniques are effective. In addition, published studies have indicated that companies that rely exclusively on diversity training, unaccompanied by further-reaching organizational strategies, do not show desired gains in employment of women and persons of color.
Multiple variations of the IAT — measuring hidden biases involving race, age, gender, disability, religion, ethnicity, and sexual orientation — are available as do-it-yourself demonstrations on the Internet. The IAT educational web site at https://implicit.harvard.edu has hosted more than 12 million (entirely anonymous) completions of IATs since its opening in 1998. Professor Greenwald can be reached at agg@uw.edu.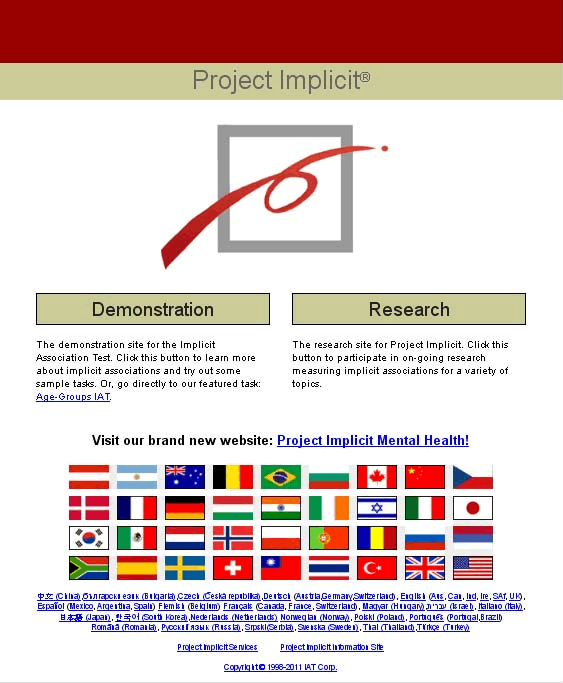 Front page of Project Implicit's web site at https://implicit.harvard.edu. The flags are for 36 country-specific sites, in 23 languages. To take one of 14 available IATs at the USA site, click "Demonstration". These provide "implicit" measures of attitudes and stereotypes related to race, gender, age, sexual orientation, weight, ethnicity, and disability status.