Outreach
The inaugural Pacific Conference on Prejudice and Culture, held in Bellingham, WA, this past August, brought together scholars from social psychology programs at area schools, including the University of British Columbia, the University of Washington, Simon Fraser University, and Western Washington University. The program focused mainly on "data blitz" presentations. These sessions provided an intimate setting for undergraduate and graduate students and postdoctoral fellows to present their research in a five minute talk and then receive feedback from the audience. Over a dozen members of the UW community made data blitz presentations. In addition, a faculty panel, including UW representatives Sapna Cheryan and Cheryl Kaiser, discussed and debated issues at the intersection of research in prejudice and culture. An informal lunch gathering and an evening in the beer garden at the Boundary Bay Brewery provided further opportunity to discuss presentations, develop collaborations, and build relationships between faculty and students at the various universities. Ben Drury, a social/personality graduate student, organized the conference in collaboration with graduate student representatives from the University of British Columbia. The next gathering will occur during summer 2012.
The Center for Child and Family Well-Being (CCFW), together with the Foundation for Early Learning, hosted the 2nd Research to Real World Forum, in which researchers, practitioners, policy advocates, and philanthropy representatives discussed bringing research findings to application in a more effective and efficient way. The goal of these meetings is to create a forum and process where researchers, practitioners and policy makers come together to share and learn from each other. Often it takes 10 years for research to be put into practice or to influence policy. CCFW intends to help shorten this timeline. The meeting focused on building strong attachment relationships with caregivers of infants in the welfare system to provide protective relationships for them. The link to the resulting practice and policy brief is available at: http://depts.washington.edu/ccfwb/Briefs.html. Psychology Professor Lili Lengua directs the CCFW.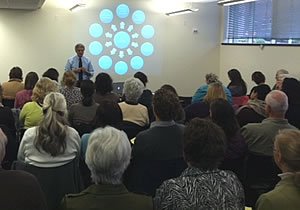 Photo: Inaugural CCFW community seminar
The Center for Child and Family Well-Being (CCFW) held its inaugural community seminar thanks to support from Yaffa Maritz, John Sabol and the UW Psychology Allen E. Edwards Endowment. Dr. Stuart Shanker, Distinguished Professor of Psychology and Philosophy and Director of the Milton and Ethel Harris Research Initiative at York University, presented on the importance of children's self-regulation to their health, academic, social and emotional development to an audience of practitioners, educators, parents, students and policy advocates. Dr. Shanker's presentation highlighted the importance of the research being conducted at CCFW on the development of self-regulation and its relation to children's resilience and social-emotional competence. CCFW plans to host similar community seminars in the future. If you are interested on being on the CCFW mailing list, please send an email to ccfwb@uw.edu with your name, email address, organization/affiliation, and topics of interest to you.
The Center for Child and Family Well-Being celebrated Halloween with toddler and preschool trick or treaters visiting with faculty and staff at the center. They hope this becomes an annual tradition!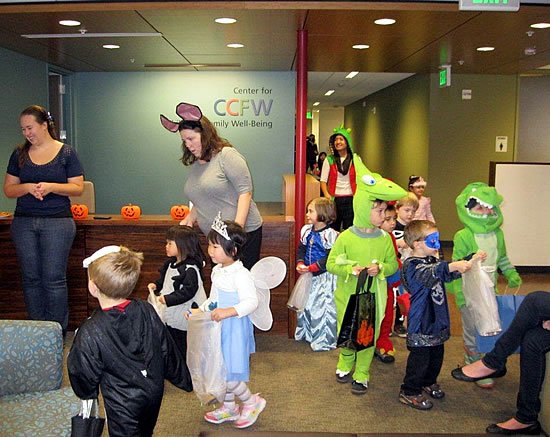 Photo: 2011 CCFW trick or treaters
Assistant Professor Janxin Leu and Research Scientist Rebecca Cortes represented the Psychology Department at the OneWorld Now!'s Seattle Strong Luncheon on November 15, 2011. The luncheon celebrated a new partnership between OneWorldNow! and President Obama's 100,000 Strong Initiative. OneWorldNow! is a community organization that supports high school students in underserved communities through access to Mandarin and Arabic language training, leadership development, and study abroad opportunities. Seattle is one of only five cities targeted by Obama's 100,000 Strong Initiative to increase and diversify the composition of American students studying in China. Drs. Leu, Cortes, and Psychology Professor Lili Lengua are collaborating with the UW Office of Minority Affairs and Diversity and OneWorldNow! to play a larger role in this partnership. Others in attendance included Dr. Susan Enfield (Interim Superintendent of Seattle Public Schools), Mayor Mike McGinn, representatives from the State Department, and Dr. Sheila Edwards Lange (Vice Provost of Diversity at UW).
For more information about the 100,000 Strong Initiative: http://www.state.gov/p/eap/regional/100000_strong/index.htm
For more information about OneWorldNow!: http://www.oneworldnow.org/

Since Professor Tony Greenwald and graduate students developed the Implicit Association Test in 1998 to study hidden or unconscious biases, there have been more than 12 million (anonymous) completions of a do-it-yourself demonstration test on the Internet. Through Project Implicit, Greenwald and colleagues have developed scientific applications of research using the Implicit Association Test and related techniques. Read more.
For the past several years, Tony Greenwald (Professor in the Department since 1986), has been presenting applications of his research using the Implicit Association Test (IAT) in court and corporate settings. The IAT, which is now widely used to study hidden (or unconscious) biases, was developed by Greenwald, working with psychology graduate students. It has been widely used by researchers worldwide since its initial publication in 1998.
In 2005, Greenwald and two long-time collaborators, Mahzarin Banaji of Harvard University and Brian Nosek of the University of Virginia, formed Project Implicit. This not-for-profit corporation was organized with the mission of overseeing the development of scientific applications of research using the IAT and related techniques. One area of application, in diversity training, has been presented at dozens of organizations, including major corporations, Federal government agencies, and large nonprofit organizations. Project Implicit's approach, based on the science of implicit social cognition, is mindful of criticisms of much of what is standardly offered in diversity training. A central problem is that firms offering diversity training generally offer no evidence that their training techniques are effective. In addition, published studies have indicated that companies that rely exclusively on diversity training, unaccompanied by further-reaching organizational strategies, do not show desired gains in employment of women and persons of color.
Multiple variations of the IAT — measuring hidden biases involving race, age, gender, disability, religion, ethnicity, and sexual orientation — are available as do-it-yourself demonstrations on the Internet. The IAT educational web site at https://implicit.harvard.edu has hosted more than 12 million (entirely anonymous) completions of IATs since its opening in 1998. Professor Greenwald can be reached at agg@uw.edu.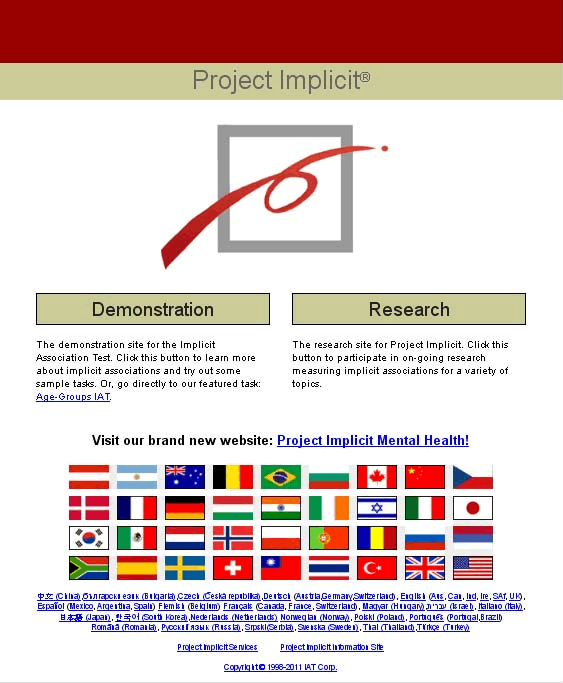 Front page of Project Implicit's web site at https://implicit.harvard.edu. The flags are for 36 country-specific sites, in 23 languages. To take one of 14 available IATs at the USA site, click "Demonstration". These provide "implicit" measures of attitudes and stereotypes related to race, gender, age, sexual orientation, weight, ethnicity, and disability status.
We are pleased to recognize the following for their much appreciated contributions during the period of May 1, 2011 through November 15, 2011. Their gifts help strengthen our Department and support a wide range of important research and instructional work by our current students and faculty, as well as recruitment of the very best new faculty and graduate students. Please let us know if we have accidentally omitted or misspelled your name by writing to the Psychology Development office.
Ms. Veronica L. Asui | Mr. A. Medeiros & Ms. A. Beauchamp | Dr. Cynthia A. & Mr. Robert Berg | Mr. Joseph A. Boldan | Mr. and Mrs. Kevin P. Boyle | Dr. and Mrs. James M. Campbell Jr. | Mr. and Mrs. Michael D. Carter | Mr. Patrick K. Choi | Dr. and Mrs. Paul W. Clement | Mr. and Mrs. Matt H. Cowan | Mr. Christian S. Crandall | Ms. Emma S. Croston | Ms. Margaret S. Dennis | Mr. Robert E. Donnell | Dr. and Mrs. Henry Louis Fischer | Melissa A. Fleming, Ph.D | Mr. Steven R. Galper | Mr. and Ms. Jeffrey S. Garfield | Ms. Sharon B. Garrett | Mr. Marc L. Godsey | Drs. Robert N. Golden & Nona K. Phillips | Mary Ann Goodwyn, Ph.D. | Ms. Shannon O. Greene | Prof. and Mrs. Greenwald | Ms. Janice K. Haaken | Mr. and Mrs. Gary D. Hack | Ms. Priscilla A. Hagan | Mr. and Ms. Jason Hannigan | Mr. and Mrs. Sean Harrington | Mr. and Mrs. Nancy Hall Harver | Mr. Tyler Tatsuo Hee | Mr. and Mrs. James Hereford | Ms. Barbara M. Hertzog | Ms. Margaret E. Hix | Dr. and Mrs. Albert R. Hollenbeck | Dr. and Mrs. Kenneth L. Hoving | Mr. Keith C. Ikeda | Ms. Patricia M. Johnson | Mr. Robert Leigh Kopp | Dr. and Mrs. Paul J. Kulkosky | Mr. Donald Jones & Dr. Kuzyszyn-Jones | Mr. and Mrs. Bill L. Langdon | Dr. Karen R. Lichtenstein | Marilyn A. Lindsey, Ph.D. | Marsha M. Linehan, Ph.D. | Ms. Donna A. Lingwood | Mr. J. Lawrence Lipton | Prof. Geoffrey R. Loftus | Mr. and Mrs. Geoffrey A. Lowney | William J. Luecke, Ph.D. | Mr. and Mrs. William L. Mannon | Mr. and Mrs. Paul A. Maritz | Dr. and Mrs. Richard F. Martin | Drs. Craig Mason and Shihfen Tu | Mr. S. John McDonald & Ms. Agnes Forras | Ms. Debbie D. McNab | Prof. and Mrs. Richard P. McQuellon | Mr. and Ms. James P. Morrison | Dr. and Mrs. Jeffrey A. Munson, Ph.D. | Dr. and Mrs. William A. Murray | Mr. Louis P. Nemec | Dr. and Ms. Stevan L. Nielsen | Mr. S. Mitchell & Ms. S. Nishimoto | Ms. Joy E. Oberholtzer | Ms. Lauren Odynocki | Gregory R. Pierce, Ph.D. | Ms. Kris P. Primacio | Mrs. Tani Sather Robar | Ms. Dana M. Ryan | Mr. Wayne A. Schoenmakers | Mr. and Mrs. Kevin S. Y. Shiraishi | Profs. Jane M. Simoni & Karina Walters | Hiu Nam Sit | Ms. Natalie A. Smith | Mr. Ronald Soper & Ms. Barbara Bunkle | Mr. and Mrs. James G. Taylor | Laura P. Thomas, Ph.D | Ms. Janice Carol Thorslund | Drs. Craig Mason and Shihfen Tu | Mr. Kenneth D. Uhrich | Mr. and Mrs. David A. Veterane | Mr. and Mrs. James A. Walsh, Jr. | Dr. and Mrs. David G. Weight | Ms. Marguerite M. Weis | Mr. Bob Perkins & Ms. Lynn Willman | Ms. Susanna P. Wu | Lori A. Zoellner, Ph.D.
Behavioral Tech, LLC | LISALI, LLC | Screaming Flea Production, Inc.
Estate of Robert C. Bolles | Estate of Allen L. Edwards | Estate of Yasuko H. Endo
In Memory of Alan Marlatt:
Ms. Sara Liu | Pacific Institute for Research & Evaluation: Prevention Research | Mr. and Mrs. William B. Rider | SMART Recovery | Adam M. Weisman, Ph.D. | Lori A. Zoellner, Ph.D.
Matching:
AARP | Sara Lee Corporation