Mexican Youth Substance Use Research Funded by NRSA
Rick Cruz, a fifth year student in Child Clinical, recently received an NRSA through the National Institute on Drug Abuse (NIDA). Rick's project is tit l e d , "Acculturation, Family Context, and Mexican Origin Youth Substance Use Risk Across Time." His primary advisor is Kevin King. A brief introduction of the NRSA is provided in another article.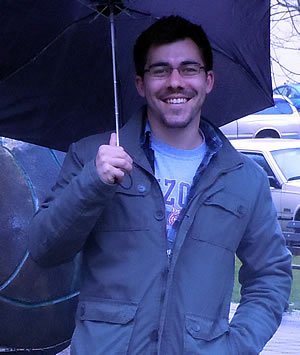 Photo: Rick Cruz
Let's start with the basics, where are you from and where did you complete undergraduate and m a s ters degrees ?

I'm from Tucson, Arizona, and I completed my bachelor of science at the University of Arizona.

How did you wind up at UW/-- why did you apply here? What do you think about living in Seattle?

My path to UW was serendipitous. I originally wanted to work on depression treatment research, and I applied to many programs all over the country with this as my focus. UW was the only child clinical focused program that I applied to, and Dr. Cauce was the only mentor that I applied to work with focusing on cultural and community psychology. During the application process I thought, "Seattle, that would be cool," and I was really interested in the work that Dr. Cauce was involved in.

During interview weekend, I was only here for a short time and did not get to see much of Seattle. So I drove up from Arizona to start the program, and did not really know what to expect. I still remember driving into the city on I-5 and seeing the downtown skyline set against the backdrop of an August sunset. From that moment, I knew I was going to enjoy my time here. I have loved living in Seattle so far.

What is your research interest and how did you get into it (what inspires/motivates you)?

My research interests revolve around understanding the role of cultural, familial, and peer factors as they relate to ethnic minority youth substance use (and other behavior problem) etiology. I began working with Dr. Kevin King, my primary advisor, towards the end of my second year, and that is when I began developing my interest in youth substance use de velopment. My dissertation will examine pathways from family cultural dynamics to youth substance use via disrupted family functioning.

The main reasons that I am interested in these topics are, first, my interest in culture, and the pervasive but often little recognized role that it plays in human psychology; and second, because of my passion for social justice and my desire to help reduce ethnic minority health disparities.

How did you learn about your funding opportunity and tell us about the application and waiting process?

I learned about the NRSA from Richard Nobles, PhD, my labmate who has since graduated. He was awarded an NRSA during his time in the program, and we often discussed the pros and cons of applying for this funding mechanism.

I applied for the NRSA before the start of my fourth year. I spent the summer mostly focused on the application (I was also working as the Clinic Teaching Assistant), and finding ways to keep myself motivated to write the many different pieces of the application. I was not sure I was going to get funded the first time around, so I resubmitted my application in time for the next application due date. I got the comments back from the review committee and wildly worked to revise the application in two weeks to get it in. The waiting process is long. I tried not to think about it too much while I was waiting to get my score back after the committee meeting.

We have it very good in our department because many students have been awarded an NRSA. There are lots of people to talk to about how to approach this process, and people who will understand the good and the not so good parts of applying. I got help and support from my peers in the department, as well as from my advisors.

How did you feel when you learned that your application was accepted and that you will receive two to three years of funding?

It felt great when I learned that I would be funded. I was proud of my work, and very, very thankful for the support that I had gotten up to that point.

Do you have any advice/tips/suggestions for others who may apply to this opportunity? About graduate study in general?

Talk with students who have applied, and get their thoughts on the grant application process. They can also be helpful in terms of providing examples of what the different parts of the application are supposed to look like.

When you are completing the application, ask your advisor (or whomever is your grant sponsor) for help when you need it. They want you to succeed and should be able to help you during the process.

Talk with the Program Officers at the institute that you are applying to at NIH (for example, I applied to the National Institute of Drug Abuse) very early in the process. They will provide you with a lot of information about the application and give you some feedback regarding your developing ideas about your research proposal. In addition, they can also help you out in determining the best combination of sponsors/co-sponsors, key personnel, and recommenders—the mentorship team that you assemble and your recommendation letters are a very important component of NIH's application evaluation process.

Grant applications, and graduate school in general, are part of a long process. It is important to take a step back from the day-to-day aspects of the research process and reflect on why you are passionate about your research interests. I think this helps to keep you motivated through some of the more challenging times. In addition, real life is important. Don't give up on doing things you enjoy—keep reading for pleasure, exercising, socializing, etc. These will keep you sane as you progress through graduate school.

What do you hope to accomplish with the funding a nd/or while in the UW Psychology graduate program?

I hope to accomplish a meaningful dissertation project. I am trying to address questions that have been discussed in the literature for over 30 years, but have never been formally tested. That's pretty exciting. I also look forward to continuing to gain clinical experience and trying to help people improve their lives in that way.

What do you like doing in your spare time?

Reading, running, playing soccer, watching UW and University of Arizona sports, seeing friends, hiking, trying to create art, and learning to play the guitar and piano.

The last book and/or movie you saw and enjoyed?

Book: " Extremely Loud and Incredibly Close"
Movie: It's not an actual movie, but I'm addicted to the TV series " Lost" right now. Finishing up the final season.

What you plan to do once you complete your PhD?

First and foremost, World Cup soccer in Brazil 2014.

After some South American travel, I will hopefully start a job in an academic or research focused Children's H ospital setting that allows me to balance a research program with some involvement in clinical work, including treatment development.


Supplemental Reading: