Bolles/Wagner Providing Support to Grads
Psychology Graduate Students will find themselves seeking funding assistance for conference/research travel and dissertation research support. The Department is fortunate to have two fellowships available to financially support our industrious students.
Bolles Fellowship
The Robert C. Bolles Graduate Fellowship (est. 1995) was created when Dr. Bolles made an $111,000 donation to the University of Washington. Dr. Bolles joined the UW in 1966 and remained with the Psychology Department until his passing in 1994. He earned degrees in mathematics while at Stanford University (BA 1948, MA 1949) before completing a PhD in psychology at the University of California-Berkeley in 1956. He held academic positions at Princeton University, the University of Pennsylvania, and Hollins College prior to the UW. The estate of his second wife, Yasuko H. Endo, also contributes to the Bolles Fellowship. The Psychology Department is grateful for Dr. Bolles' pioneering contributions to the study of psychology and to his and his wife's continuing legacy in supporting psychological research.
Wagner Endowment
The Ned Wagner Memorial Endowment (est. 1969) assists in the professional development of clinical psychology graduate students. Dr. Wagner received a BA from Long Island University (1951) and completed his MA/PhD at Columbia University (1952 and 1956). He held appointments as clinical psychologist and instructor while at various institutions, including the U.S. Army, University of Georgia, and Bard College. Dr. Wagner joined the University of Washington in 1962 as Professor of Psychology and Obstetrics/Gynecology and served as Director of the Clinical Psychology Training Program from 1970 until his passing in 1978, a week after receiving the UW's Distinguished Teaching Award. The Psychology Department and its clinical students are indebted to Dr. Wagner and his endowment for supporting their academic progress.
Perspectives from Recent Recipients of Bolles/Wagner funding

Photo: Tom Soare
Tom Soare, Animal Behavior
"The Bolles fund paid for station fees and supplies for my participation in the 2011 Ant Course outside Tucson, AZ. The Ant Course is a 10-day course for graduate students focused on ant biology, especially taxonomy and systematics. The majority of the ant course was spent using different methods to collect ants in the field, mounting the specimens (as in a museum collection), and identifying the specimens to the genus and species level – sometimes a difficult task with over 300 species found locally! Another major benefit of participating on the Ant Course was discussing common research interests with the top ant biologists in the world. I hope to use additional Bolles funds toward field experiments on army ant nest site selection behavior (my main research interest) this summer at La Selva Biological Station in Costa Rica."
The attached photo is me pausing during an excavation of a nest of Myrmecocystus mexicanus, aka the honey pot ant, in Rodeo, NM during Ant Course 2011.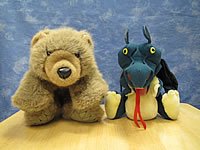 Photo: Tamara Spiewak Toub - small thank-you gifts for preschoolers
Tamara Spiewak Toub, Developmental
"I am very grateful for the Bolles research fund, which has allowed me to pursue my interests in the potential developmental benefits of pretend play. More specifically, I have been studying the relation between pretend play and executive function in preschoolers. This research was initially funded by a grant awarded to Dr. Stephanie Carlson, who was my secondary advisor. Since Dr. Carlson's (and her grant's) departure from UW, Bolles funding has helped to support crucial components of my research, such as recruitment, parking for participating families, and small thank-you gifts for the preschoolers."
J. Oliver Siy, Social Psychology and Personality
"Racial disparities continue to exist in America. Race-conscious policies (e.g., affirmative action) designed to remedy these disparities are often met with resistance by White Americans. Central to their argument is the belief in colorblindness, or the idea that American society is now beyond race (i.e., post-racial) and that racial categories only remain as artificial labels that work to obscure people's individuality. My dissertation explores how the way Americans see themselves—as unique individuals, separate and distinct from their social groups—leads them to endorse such s colorblind approach.
With the help of Bolles funds, I was able to begin collecting data for my dissertation using Amazon's MTurk. Amazon's MTurk is an online service that allowed me to survey Americans throughout the United States. This service is particularly useful because it allowed us to collect high quality data quickly and at an inexpensive rate. To collect data using Amazon's MTurk, I programmed an online questionnaire using Qualtrics software (www.qualtrics.com). Afterward, I advertised this survey on Amazon's MTurk. To participate in the study, users around the United states simply followed a link posted on Amazon's MTurk website where they would be directed to complete the online questionnaire. Using this service, I gathered data from more than 200 participants in less than a week's time. Using MTurk, we were able to explore how the way Americans see themselves relates to how they think about race. Our data show that the more Americans view themselves as unique individuals, the more they viewed acknowledging the existence of different racial groups as counterproductive to a harmonious society."
A number of clinical students received Wagner funding in support of their conference travel. Most recently, the Psychology Department was well-represented by our students and faculty in Toronto at the 45th Annual Convention of the Association for Behavioral and Cognitive Therapies. Among the UW attendees was Haley Douglas (first year clinical student with Mary Larimer), who was winner of the Graduate Student Research Award through Mindfulness & Acceptance Special Interest Group (SIG) for her research paper entitled "Cardiovascular response to a laboratory stressor in substance abusers after treatment with mindfulness-based relapse prevention."
Supplemental Reading: