Anna Gorn: A Mind to Make Things Happen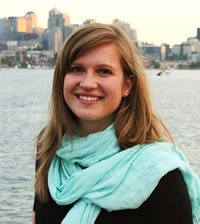 "I hope to have a career in academia, conducting research in social cognition and helping new generations of psychologists to discover their passions, as my mentors have helped me to do."
Anna Gorn exudes positivity. The senior psychology honors student has a knack for identifying good opportunities and making things happen. When she talks about her decision to come to the University of Washington, it's easy to visualize the eager high school student, ready to hit the ground running. "I always knew UW was a world-class university, bursting with opportunity and situated on a gorgeous campus," remembers the Bothell native, "with all of this practically in my backyard, coming to UW for college just made sense."
An interest in psychology also came early, begining with an online Advanced Placement psychology class taken as a high school sophomore. A senior project that focused on social intelligence exposed Anna to the emerging field of social neuroscience which looks at the neural basis of social understanding. By the time she arrived at UW, Anna was already hooked on psychology and was admitted to the major at the end of her freshman year.
Anna's first class as a psychology major launched what would become five quarters of work with psychology senior lecturer Laura Little who Anna characterizes as having a passion for teaching. Although growing up with a mathematician mother led her to enjoy working with numbers, Anna was still surprised by how much she enjoyed learning about statistics from Dr. Little. "She brought the concepts to life," Anna recalls, "and challenged us to think critically about the surprisingly heated controversies involved with quantifying behavior." Anna went on to spend two quarters as an undergraduate TA for Dr. Little's statistics series.
It was through her experience in the statistics classes and her acquaintance with psychology graduate student Emily Blumenthal that Anna found her way to associate professor Jessica Sommerville's Early Childhood Cognition Lab (ECCL), and to the threshold of another opportunity: participation in the psychology honors program. In Anna's honors project, she uses ERP (event-related potentials), to investigate how people perceive and categorize causality in events, depending on whether the objects that are interacting appear to be animate or inanimate. Anna hopes that the results from this study "will provide neurocognitive evidence for a distinction between perceptual and inferential processes involved in causal perception, as well as how animate vs inanimate motion affects these processes." Anna cites the guidance and mentorship of Dr. Sommerville and Emily Blumenthal, as well as the learning opportunities afforded by conducting her own research, as critical building blocks in her intellectual development. Hoping for a career in academia, Anna is in the process of applying to graduate programs in cognitive psychology and social cognitive neuroscience.
Even outside the bounds of the classroom and laboratory, Anna is a young woman who knows how to seize an opportunity, as well as how to rise to an occasion. Once admitted to the psychology major, Anna began looking for a community that would both guide her in her academic and career goals and provide a fun enviornment for her to interact with students sharing similar goals. The UW chapter of Psi Chi, the national psychology honor society, fit the bill. It was through her connection with Psi Chi that she sought out and was awarded a $5,000 Undergraduate Research Grant (funded by national Psi Chi and SCRD, the Society for Research in Child Development). This year, as Psi Chi president, Anna is eager to get her peers even more connected with all of the opportunities available to them.
The desire to empower other young people found yet another natural outlet in the UW's Dream Project. As a Dream Project mentor, Anna works with local high school students who come from backgrounds traditionally underrepresented in higher education. For Anna, the benefits of this program are bidirectional. "Being a Dream Project mentor has been an incredible experience for me," says Anna, adding that "it is very rewarding to know that my experiences have prepared me well enough to make a tangible difference in the life of a young person who wants to pursue higher education."
Seeing the potential. Reaching for the opportunities. Making things happen.