Undergraduate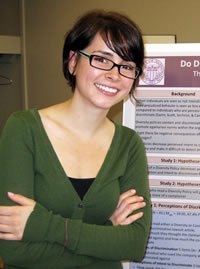 Psychology honors student
Ines Jurcevic presented
her research findings at
the 2010 Honors
Poster Session
Each spring quarter, psychology professor Miriam Bassok can be found beaming with pride as she heralds the accomplishments of her "mini-graduate students." The setting is the annual Undergraduate Honors Poster Session. The audience is made up of faculty, staff, and undergraduate and graduate students. The "mini-graduate students"... they are seniors in the Psychology Department Honors Program on hand to present the results of their research projects.
The Psychology Honors Program offers highly motivated undergraduates the opportunity to try on the kind of experiences that they will encounter as first-year Ph.D. students. The two-year program places students in a lab with a psychology faculty mentor where they will spend their junior year as an integral member of the lab team. Following the submission of their own research proposal at the end of this first year, students embark on their own work, under the direction of their faculty mentor. Their work culminates in the submission of a senior honors thesis and presentation at the Honors Poster Session. Along the way, many of the students have the opportunity to co-author papers with fellow lab members, attend and sometimes even present their work at national conferences.
The Honors Program cohort has nearly doubled in size over the past few years, growing from 12 students in 2007-08 to 22 this past year. Again this year, 22 bright and dedicated students are already working on their research projects in the areas of cognition and perception, animal behavior, adult and child clinical, social and personality, child development, and behavioral neuroscience. Watch for them to do great things this year, and beyond!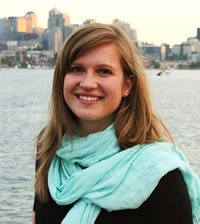 "I hope to have a career in academia, conducting research in social cognition and helping new generations of psychologists to discover their passions, as my mentors have helped me to do."
Anna Gorn exudes positivity. The senior psychology honors student has a knack for identifying good opportunities and making things happen. When she talks about her decision to come to the University of Washington, it's easy to visualize the eager high school student, ready to hit the ground running. "I always knew UW was a world-class university, bursting with opportunity and situated on a gorgeous campus," remembers the Bothell native, "with all of this practically in my backyard, coming to UW for college just made sense."
An interest in psychology also came early, begining with an online Advanced Placement psychology class taken as a high school sophomore. A senior project that focused on social intelligence exposed Anna to the emerging field of social neuroscience which looks at the neural basis of social understanding. By the time she arrived at UW, Anna was already hooked on psychology and was admitted to the major at the end of her freshman year.
Anna's first class as a psychology major launched what would become five quarters of work with psychology senior lecturer Laura Little who Anna characterizes as having a passion for teaching. Although growing up with a mathematician mother led her to enjoy working with numbers, Anna was still surprised by how much she enjoyed learning about statistics from Dr. Little. "She brought the concepts to life," Anna recalls, "and challenged us to think critically about the surprisingly heated controversies involved with quantifying behavior." Anna went on to spend two quarters as an undergraduate TA for Dr. Little's statistics series.
It was through her experience in the statistics classes and her acquaintance with psychology graduate student Emily Blumenthal that Anna found her way to associate professor Jessica Sommerville's Early Childhood Cognition Lab (ECCL), and to the threshold of another opportunity: participation in the psychology honors program. In Anna's honors project, she uses ERP (event-related potentials), to investigate how people perceive and categorize causality in events, depending on whether the objects that are interacting appear to be animate or inanimate. Anna hopes that the results from this study "will provide neurocognitive evidence for a distinction between perceptual and inferential processes involved in causal perception, as well as how animate vs inanimate motion affects these processes." Anna cites the guidance and mentorship of Dr. Sommerville and Emily Blumenthal, as well as the learning opportunities afforded by conducting her own research, as critical building blocks in her intellectual development. Hoping for a career in academia, Anna is in the process of applying to graduate programs in cognitive psychology and social cognitive neuroscience.
Even outside the bounds of the classroom and laboratory, Anna is a young woman who knows how to seize an opportunity, as well as how to rise to an occasion. Once admitted to the psychology major, Anna began looking for a community that would both guide her in her academic and career goals and provide a fun enviornment for her to interact with students sharing similar goals. The UW chapter of Psi Chi, the national psychology honor society, fit the bill. It was through her connection with Psi Chi that she sought out and was awarded a $5,000 Undergraduate Research Grant (funded by national Psi Chi and SCRD, the Society for Research in Child Development). This year, as Psi Chi president, Anna is eager to get her peers even more connected with all of the opportunities available to them.
The desire to empower other young people found yet another natural outlet in the UW's Dream Project. As a Dream Project mentor, Anna works with local high school students who come from backgrounds traditionally underrepresented in higher education. For Anna, the benefits of this program are bidirectional. "Being a Dream Project mentor has been an incredible experience for me," says Anna, adding that "it is very rewarding to know that my experiences have prepared me well enough to make a tangible difference in the life of a young person who wants to pursue higher education."
Seeing the potential. Reaching for the opportunities. Making things happen.
Prior to the mid-1990s, a handful of psychology faculty took on the growing job of sponsoring undergraduate majors who were seeking credit for their psychology related volunteer and internship experiences. To better address the growing need, the Psychology Department resurrected its undergraduate fieldwork class, Psychology 497. Psychology senior lecturer Kim Barrett initially took on the role of teaching the weekly fieldwork class that brought together psychology majors pursuing community based experiences.
In 2005, psychology lecturer Dana Nelson took over the class which had grown from one to two full sections, plus an additional "section" of students who have already taken the class but wish to receive additional credit for their ongoing fieldwork. Psychology academic advisor Tracy Maschman Morrissey works with Dr. Nelson, meeting with students to help them find appropriate field placements, managing class enrollment and site supervisor evaluations, and teaching a career exploration portion of the class each quarter.
Working in psychology related fields such as social services, education, counseling, criminal justice, human resources, and health related areas, students earn credit for the combination of the weekly class, academic assignments, and time spent at their volunteer sites. The greater Seattle community benefits from the hard work and dedication of our undergraduates, while the students gain valuable hands-on experience.
Typical field placements over the past year include Childhaven, the King County Crisis Clinic, the National Eating Disorder Association, Seattle Children's Hospital, the UW's Experimental Education Unit, the Alcohol and Drug Helpline, Sound Mental Health, YouthCare, the Green River Veterinary Hospital, Circle of Friends Mental Health, and numerous public and private schools. Students work in positions such as teaching assistant, hospice volunteer, clinical intern, physical and occupational therapy assistants, victim advocate, treatment intern, crisis counselor, and group facilitator.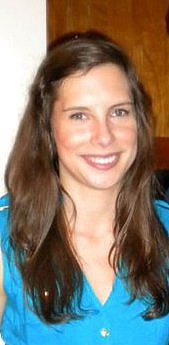 "Find something you love and settle for nothing less!"
Rachel Van Rijn has found something that she truly loves in the study of psychology. What may be surprising, however, is that this senior majoring in psychology and anthropology began her studies at the University of Washington in internaional relations. Having aced her Psychology 101 class early on in her UW career, she eventually returned to the subject. "I took Biopsychology for fun," recalls Rachel, "remembered why I loved psychology... and, switched majors for the third time."
The third time seems to have been the charm for this Portland native who began visiting the UW to perform with her high school band. Once admitted to the major, a favorite class in Abnormal Psychology with lecturer Lexi Giblin began to solidify her suspicion that she would enjoy studying clinical psychology. "I was inspired by the class," remembers Rachel, "and often pestered the professor and Psychology Department academic advisors about applications of clinical psychology and next steps that I should take."
For Rachel, a logical next step was to seek some hands-on experience outside of the classroom. The Department's undergraduate website pointed her toward Sound Mental Health, where she now volunteers as a clinical intern. Several years of experience with American Sign Language, coupled with her keen interest in clinical psychology, helped Rachel to secure an internship with the agency's Deaf Services program. Now, after working with this program for several months, Rachel has several deaf clients with whom she works in both individual and group therapy sessions. She has also received training on Sound Mental Health's computer system, learning how to record clients' insurance information, progress notes, and treatment plans. "I am part of a wonderful team," says Rachel, "where I am able to both provide and receive support and guidance."
Following graduation, Rachel hopes to be accepted into the Uniformed Service of Health Sciences graduate program to obtain her clinical license. Her ultimate goal is to provide therapeutic aid for military veterans and their families. Along the way, Rachel plans to travel as much as her finances allow. "Understanding different cultures is not only interesting to me," observes Rachel, "but can also provide invaluable information when interacting with a variety of people in my clinical work."
Rachel cautions that not knowing the answers to the big questions related to career and other future plans should not deter students from embracing the path itself. "While it is true that some people decide upon a career before attending college," notes Rachel, "others - like me - find their calling by first choosing a field of interest and then seeking jobs for which it can be applied." Sound advice from the Sound Mental Health intern.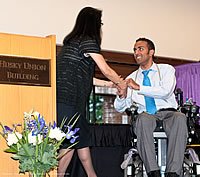 Sheri Mizumori congratulates
Dean's Medal winner
Aditya Ganapathiraju
Aditya Ganapathiraju Wins 2010 Dean's Medal
Psychology senior Aditya Ganapathiraju was awarded the Dean's Medal for the social sciences. A double major in psychology and philosophy, Aditya is currently working with UW Rehabilitation Medicine. The Dean's Medal awards are presented annually to one outstanding student in each of the College's four divisions: arts, humanities, social sciences, and natural sciences. Selection of the awardees is based on high scholarship and letters of recommendation.
2010 Guthrie Prize Winners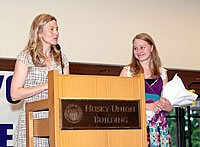 Jessica Sommerville introduces
Guthrie Prize winner Monica Burns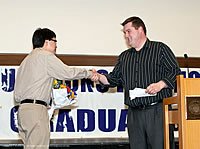 Kevin King congratulates
Guthrie Prize winner
Kenny Karyadi
Monica Burns and Kenny Karyadi were co-winners of the 2010 Guthrie Prize in Psychology. Monica's paper, "Priming a Memory of a Past Deed Affects Helping Behavior," sponsored by associate professor Jessica Sommerville, was chosen as the best review/conceptual paper. Kenny's paper, "The Moderating Role of Negative Emotions on Urgency and Alcohol Engagement," sponsored by assistant professor Kevin King, was chosen as the best empirical paper. The Guthrie Prize was established to encourage excellent writing about psychology that is broad in scope and accessible to the non-specialist.
Two Psychology Majors are Named Levinson Scholars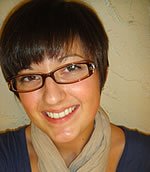 Rebecca Emery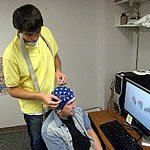 Elliot Collins
Psychology majors Elliot Collins and Rebecca Emery have been selected as 2010/11 Levinson Scholars. This marks the first (and second!) time that this award has gone to a psychology major. Elliot Collins was awarded $2700 for his project submission, "Neurobiology of Language Learning." Elliot's faculty advisor is professor Lee Osterhout. Rebecca Emery was awarded $3185 for her project submission, "Binge Eating Behavior: An Investigation of the Moderating Role of Negative Urgency in Relation to the Dual Pathway Model." Her faculty advisor is assistant professor Kevin King.
The Levinson Emerging Scholars Program supports talented and highly motivated UW juniors and seniors who want to pursue creative and highly independent research in genetics, neuroscience, biochemistry, bioengineering, bioinformatics, and related fields in the life sciences.