Michael Posner Receives the College of Arts and Sciences Distinguished Alumnus Award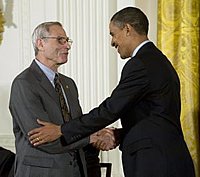 Michael Posner receiving
the National Medal of Science
University of Washington alumnus Michael Posner (BS Physics, 1957; MS Psychology, 1959), was recognized by the College of Arts and Sciences for his outstanding contributions to the field of psychology. Professor Posner was recognized for his lifelong scientific achievements during a faculty lunch reception on October 12, 2010. Despite officially retiring in 2000, Professor Posner maintains an active research program and presented his most recent findings in a seminar the following day. He has been a faculty member at the University of Oregon since 1965 and has received many national and international honors and awards including the prestigious National Medal of Science in 2008 – our government's highest scientific award.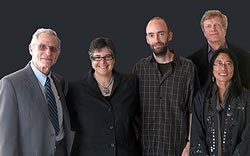 Michael Posner, Dean Ana Mari Cauce,
Associate Chair Scott Murray,
Divisional Dean Werner Stuetzle,
and Chair Sheri Mizumori
Professor Posner has been a pioneer in the study of the relationship between the mind and brain. In particular, his work on attention and consciousness revolutionized the field of psychology. He was one of the first scientists to use imaging techniques to localize mental functions in the brain and is considered by many to be the father of modern cognitive neuroscience. His more recent research has focused on how attention and self-control emerge in children. In addition, he has led an effort to understand the genetic and environmental factors – including parenting quality – that affect developmental processes in early childhood.
Professor Posner's research spans nearly five decades and has been both revolutionary and all-encompassing. Nearly every area of research in our Department – cognitive, developmental, clinical, child clinical, social, and behavioral neuroscience – has been affected by contributions from his research. It was honor to have him visit and we are proud that he is an alumnus of our Department and University.