Psychology Staff Members in Community Service
Meet three Psychology Department staff members who are sharing their time and talents, volunteering in their communities.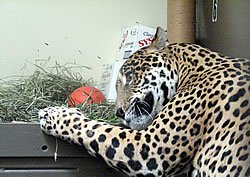 Junior the jaguar plays with enrichments
prepared by zoo volunteer Jamie Campanelli

Jamie Campanelli, an animal technician for the Department for the past twelve years, credits that experience in facilitating his volunteer work at Seattle's Woodland Park Zoo. Jamie began volunteering at the Woodland Park Zoo after spending many hours observing the male and female jaguars, Junior and Nayla, for a school research project. As he got to know the keeper staff, volunteers, zoo administration, and many of the regular guests, he saw daily evidence of the dedication to conservation and education efforts and was inspired to get involved. "I felt that I wanted to contribute to an organization that did so much to preserve habitats and species while educating the public by providing a venue to connect with the larger world community as well as threatened species and habitats," says Jamie. He continues that "a personal connection with species otherwise out of reach can engender concern for the environment and motivate conservation." Thanks to his experience in animal husbandry, Jamie was placed as an animal unit volunteer. He prepared regular diets and enrichments for the jaguars, ocelots, golden lion tamarins, colobus monkeys, lemurs, and many more. Due to his experience and efficient work, he was soon given the opportunity to help with additional keeper duties. Jamie looks forward to resuming a seasonal paid position at the zoo that grew out of his volunteer activities and his passion for the work.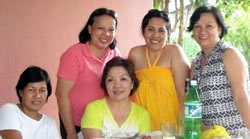 Merly Jones and friends; Cecille, Lily, Chona,
and Gemma in the Philippines

In August, Merly Jones, Payroll Coordinator and her daughter spent thee weeks visiting the Province of Leyte in Merly's native Philippines. Their trip included visiting family, sponsoring a town fiesta, and joining four high school friends in volunteering at an orphanage. The experience, which was deeply moving for Merly, gave her the opportunity to work alongside old friends - some she had not seen since her high school graduation - and to give back to her home community. While Merly says that the orphanage staff "seemed to be doing the best they can with limited resources," she was happy to be able to brighten their day by delivering a special meal for the children. She and her sisters prepared fried chicken (a special request from the children) to serve along with ice cream. Flying home from the Philippines, Merly revisted the highlights of her journey. Touched by the children's stories, their innocence, and their hunger for love, affection and acceptance, Merly looked to the future. "I can't wait to return to the Philippines to continue the charity work with my high school friends," says Merly, who shares a favorite quote from Henry David Thoreau: Kindness to children, love for children, goodness to children - these are the only investments that never fail.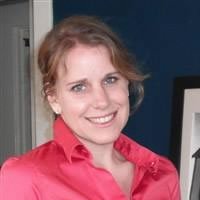 Vicky Burke
Psychology Department academic advisor Vicky Burke draws upon her natural talents, as well as her experience and training, to help some of the communities most vulnerable people. Through four different volunteer positions, Vicky brings her strong listening skills, problem solving abilities and empathy to people in need. Working with the Seattle Police Department's Victim Support Team, Vicky and a partner serve as city-wide on call advocates for victims of domestic violence and other crisis. This program provides direct service to victims during the weekend when the professional victim advocates are unavailable. As a fundraiser for TreeHouse for Kids, an organization that supports children in Seattle area foster care, Vicky provides outreach and raises money to support in-school and after-school tutoring programs, summer camps, after-school activities, and new, cool clothing for kids who are always the 'new kid' in their school. In her role as a patient care volunteer for Providence Hospice of Seattle, Vicky works directly with patients and their families, visiting once a week to give a respite break for the primary caregiver. Volunteers connect with patients through conversation, games, reading, and activities. Her most recent volunteer position is with the Community Truancy Board for the King County Prosecutors Office. She sits on a board that elementary, middle and high school students go to if they have missed a significant amount of school days. Board members talk with students and their family members about the situation, discuss expectations for behavior change, and make recommendations to the Truancy Officer. "In my work as an academic advisor in the Psychology Department, I am fortunate to work with very intelligent and energetic students," says Vicky, who loves helping students to plan their education and focus on their future goals. "Although this is very rewarding work," she continues, "I feel that it is important to volunteer with people in crisis who are in need of greater support and assistance. The unifying experience I have in my various volunteer experiences is the opportunity to connect and listen." The people who Vicky serves are from diverse backgrounds and face many different barriers. She notes that, like some of the UW students with whom she works, the people that she meets through volunteering are unsure where they are going and what they would like their life to look like. "I use many of the skills I have developed as an academic advisor when I work in the field," observes Vicky, "and likewise, I believe that my volunteer experiences has given me a deeper perspective on our community and has shaped how I work with our undergraduates."