2010 USA Science and Engineering Festival
Psychology Department Research Professor Randy Kyes, Director of the Department-affiliated Center for Global Field Study, was in Washington D.C. last October to host a science exhibit as part of the USA Science and Engineering Festival Expo on the Washington Mall http://www.usasciencefestival.org.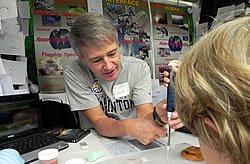 Kyes helping a festival
attendee practice pipetting.
The exhibit, titled "What Can Animals Tell Us about the Future of the Earth," featured demonstrations and hands-on experience with equipment used in field research (such as GPS receivers, trap cameras, radio telemetry, blow pipes), as well as in the lab. The goal of the exhibit was to demonstrate how biodiversity conservation and human health are interrelated and that we must focus our attention and study on the human-environment interface if we are to be successful in our conservation of biodiversity and promotion of global health. By studying animals at this interface, we can better understand the anthropogenic threats and resulting impact on the animals and their environment, and in turn, the growing risks to human health.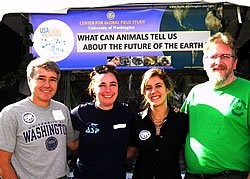 From left to right: Kyes with
former UW students,
Katie Hinde, Crista Johnson, and
Matthew Novak
The Festival Expo was the culmination of a two week national celebration of science that began on October 10, 2010 and was designed to reinvigorate American youth's interest in science. More than 1500 exhibits sponsored by the country's leading science and engineering institutions were present for the two day event which drew an estimated half million visitors.
Former UW students, Dr. Matthew Novak (Psychology), Dr. Katie Hinde (Anthropology), and Crista Johnson (Anthropology) assisted with the exhibit. All three are alumni of Kyes' International Field Study Program, in Indonesia