Alcor Summer Fellowship Supports Four in 2010
Four Psychology Department graduate students were awarded Alcor Fellowships for Summer quarter 2010. These fellowships give recipients the opportunity to spend time working on research projects that facilitate progress through their Ph.D. programs.
The Alcor Fellowships are made possible by a bequest from Harry and Claire Garlick Peterson. Harry spent his career as a psychologist in the field of corrections, mostly in the Puget Sound area. Claire was a bassoonist for the Seattle and Vancouver symphonies. Alcor is the name of the second star in the handle of the Big Dipper constellation. It figures in many myths and had a personal significance to the Petersons.
Thanks to Alcor funding, Andrew Bock, a fourth year student in behavioral neuroscience, enjoyed having the summer to spend exclusively on his research on the convergence/divergence of callosal connections in primary visual cortex. Andrew's advisor is associate professor Jaime Olavarria. Ben Drury, a third year student in social/personality, spent the summer studying how people interpret the legitimacy of prejudice claims made by advocates on behalf of targets of discrimination. His advisors are associate professor Cheryl Kaiser and assistant professor Sapna Cheryan. Berit (Olsen) Martin, a sixth year student in developmental, spent the summer meeting with faculty to plan a complicated series of analyses for her dissertation which looks at the Stranger Situation measure of attachment between parent and child. Berit's advisor is associate professor Betty Repacholi. Finally, Gareth Holman, a fifth year student in the adult clinical area, spent the summer completing research for his dissertation before moving on to his required internship at the American Lake VA. Gareth works with professor Robert Kohlenberg.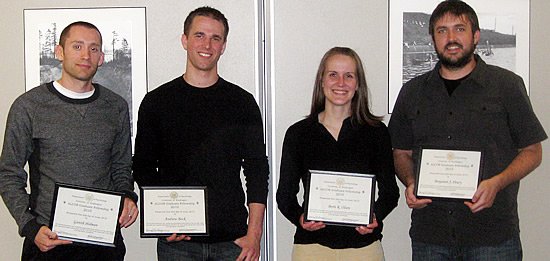 left to right: Gareth Holman, Andrew Bock, Berit (Olsen) Martin, and Ben Drury