Undergraduate
When Greg Smith (left) and Adrian Garcia (below) arrived at the UW last year as undergraduates, they enrolled in a Transfer and Returning Student Interest Group (TRIG), designed to acclimate first quarter transfer and returning students to campus.
What a difference a year makes.
Now Smith is leading a TRIG and Garcia is leading a freshman seminar, Academic Learning Lab. Leading the class, says Smith, is equal parts enthusiasm and frustration: "There isn't enough time. Period," he says. "The class becomes this wonderful academic and social snowball, bringing up all kinds of questions and discussions." Read more.
Psychology Honors Program
In May, 15 psychology honors students presented their research to faculty, staff, and their peers in a poster session. Take a look at the poster session program to learn more about the students and their work.
Tim Harris , a double major in psychology and international studies, received a Mary Gates Leadership award . Tim was also a finalist for the Bonderman Travel Fellowship .
McNair Scholars
The Ronald E. McNair Program prepares undergraduates for doctoral study through involvement in research and scholarly activities. The 2008-09 McNair Scholars from Psychology are:
Safia Farole
Albert Han
Kiara Roberts
Michael Murphy , who graduated Magna Cum Laude in June, was a finalist for the Arts & Sciences Dean's Medal in the natural sciences .
Mary Gates Research Scholars
These students were 2008-09 recipients of Research awards from the Mary Gates Endowment :
Sergey Karayev
Jessica Kang
Kuzma Kovzum
Susan McKay
Amy Moretti
Joshua Newsome
Cortney Taylor
Amanda Tose
Jessica Kang also received an Undergraduate Diversity Travel Award from the Society for Personality and Social Psychology to support her attendance at the society's annual meeting in Tampa.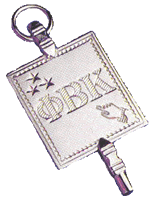 Phi Beta Kappa
The following undergraduate psychology majors were invited to join Phi Beta Kappa . Invitation is based upon the students' excellent academic record and interest in the liberal arts. The students are:
Dylan Antovich
Candis Bergerson
Lauren Bond
Michelle Chan
Nara Chin
Anne Collins
Fabrienne Doll
Robert Fox
Jeffrey Girard
Erin Harrop
Kathryn Howell
Joy Kawamura
Svenja Kempin
Victor Nguyen
Irina Nikolayev
Canada Parrish
Jennifer Pohl
Rika Reid
Emily Safrin
Victoria Schmidt
Alyssa Takatsuki
Sterling Thomason
Amanda Tose
Jessica Vargas
Martina Wong
Kai Chi Yam
Guthrie Prize
The Guthrie Prize is a high honor for any undergraduate student. Entries may be either an empirical paper, a conceptual paper, a literature review, or a research proposal. The prize was established to encourage excellent writing about psychology that was broad in scope and accessible to the non-specialist.
Best Empirical Paper: Alix B. W. Norton
Encoding of Taste Novelty by Midbrain Neurons
Sponsored by Sheri Mizumori, Ph.D.

Best Review/Conceptual Paper: Joy S. Kawamura
Parenting Stress and HCild Adjustment in Acute Lymphocytic Leukemia Survivers: The Mediating Role of Parenting Behaviors
Sponsored by Lynn Fainsilber Katz, Ph.D., Research Professor