Graduate
This year the Department of Psychology welcomed 17 new graduate students. The wide diversity of this group literally spans the world. They came to us from as far away as Korea University, the University of Craiova (Romania), Emory University, Cornell University, and UC Berkeley. Some didn't have to travel far, having completed their undergraduate degrees here at UW. We are truly excited to have these students join our program and look forward to their many successes and accomplishments.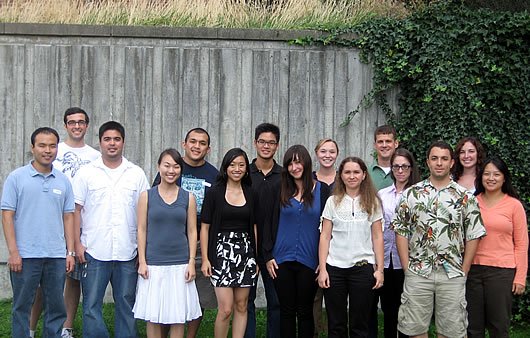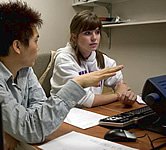 Jeffrey Lin (pictured here explaining his experiment to a participant) and advisors Geoffrey Boynton and Scott Murray use science based on dual visual systems to explain the George Bush "shoe-ducking" incident--specifically, why former President Bush ducked in time, but Iraqi Prime Minister al-Maliki did not flinch. In the split second before the shoe is launched towards the men, they each have different perceptions of the same event as it unfolds. Bush decides to duck while al-Maliki deems the shoe as non-threatening. The study explores how something may visually appear the same but is processed differently depending on the viewer, strongly suggesting a dual visual system.
This work is published in a high-tier journal Current Biology, and was in the news at Times Online , Scientific American, Scientific Blog , and UW News .
Relating to this research, Lin and his advisors are also hoping to apply these principles to the game of baseball. Perhaps it will explain some of the mechanisms underlying accurate performance and decision making. Furthermore, it may one day allow researchers to predict in the lab player performance on the field. This story was on TV in multiple locations: http://www.wkowtv.com/Global/story.asp?S=11039936
http://www.wxow.com/Global/story.asp?S=11105389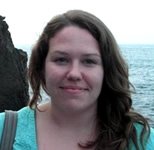 Developmental graduate student Renay Cleary Bradley has been busy working on an exciting project as Research Director at the Relationship Research Institute (RRI).

In the "Creating Healthy Relationships Project," RRI is evaluating a group-based psychoeducational intervention for low-income couples who are experiencing a specific form of situational violence. This is a form of domestic violence in which there is no clear victim or perpetrator. The researchers have run intervention groups for the past year in Seattle, Bellevue, and Tacoma and will begin their final groups this winter, with data collection slated for completion over the next year. The intervention focuses on helping to promote more father involvement, better conflict management and self soothing skills, and building intimacy between couples. It also seeks to establish social support and building community via the group-based structure. Participants meet in weekly groups of five to seven couples for 22 weeks, allowing them to get to know one another and form social bonds.

http://www.rrinstitute.com/