Support UW Psychology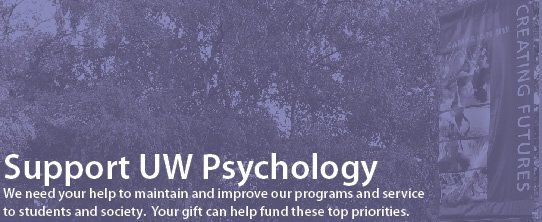 Support top graduate students
Every year, we compete with the other top Psychology departments in the country for the nation's best graduate students. The biggest problem we face in this competition is a lack of summer support and research fellowships to allow our graduate students to pursue innovative research and service projects—and survive the high cost of living in the Seattle area. You can help by contributing to any of these graduate support funds:
Improve undergraduate education
Our Psychology major is one of the best in the country, offering students opportunities to work at internships, participate in community fieldwork, and work with faculty on cutting-edge research projects. We offer support to our undergraduates through Honors Program research funding, the Psychology Writing Center, the Statistics and Methodology (SAM) Lab, the Psychology Study Center, the Psychology graduation celebration, and workshops throughout the year. We also provide various social and learning opportunities to our students, such as workshops on careers in psychology, how to apply for graduate schools, and the Psychology majors graduate celebration. These activities all require scarce departmental funds from budgets that have been repeatedly cut over the past few years.
You can join us in supporting these programs by contributing to the Friends of Psychology Fund, which provides unrestricted support that can be used to help undergraduate and graduate students, faculty, and the full range of departmental programs, wherever the need is greatest. This is our preferred allocation for your support.

Support new and innovative research initiatives
Our department is moving forward with a new model of research support that is centered around the creation of core research facilities. These facilities will serve to bring together ideas and methods from different laboratories and from different perspectives on behavior. Recently, we established a Neuroimaging Facility (in conjunction with the Department of Radiology), and a human Electrophysiology Research Facility which provides great temporal resolution regarding brain activity during behavior. We are in the process of establishing a Child Behavioral Testing Facility that is specially designed for the behavioral and physiological testing of children of different ages. Related to the establishment of these core facilities is the further development of new interdisciplinary research groups, such as the Child and Family Well Being and Global Psychology groups. Further development of these new facilities and initiatives is threatened by the current budgetary constraints. There are a number of ways in which you can have direct and immediate impact on our abililty to achieve our goals. For example you can contribute to the Friends of Psychology gift fund so that we may facilitate innovative research. You can help to build and retain key leadership in these areas by establishing endowed Director or Professor positions.
Attract and retain the best faculty
Our continued success depends on attracting the best new faculty. The cost of recruiting the best prospects is high and only partly covered by our regular budgets. You can help by contributing to Friends of Psychology. Because of the accomplishments of our existing faculty, they are heavily recruited by other institutions. Both graduate support funds and endowed professorships help to retain our best faculty and make them most productive.
You can help us accomplish departmental goals by contributing to any one of the funds mentioned above. Visit our website and use your credit card on the UW secure online donation system or mail a check to: University of Washington, Department of Psychology, Box 351525, Seattle WA, 98195. If you are interested in supporting specific faculty research projects, endowing a professorship, or making a donation to a cause not mentioned here, please contact Psychology Chair Sheri J. Y. Mizumori at (206) 685-9660 or mizumori@u.washington.edu.
Friends of Psychology Fund
Unrestricted support that can be used to help undergraduate and graduate students, faculty, and the full range of departmental programs, wherever the need is greatest. This is our preferred allocation for your support.
Give online at:
https://online.gifts.washington.edu/secure/?page=funds&source_typ=2&source=ECA
Not on our mailing list? Update your info securely at: