Community Relations
When Caroline Sawe was an undergraduate research assistant with Dr. Liliana Lengua's Kid's World Project, her job was to rate parents' behaviors while they were interacting with their children. This is a challenging job for anyone, but for Caroline it was particularly challenging to make sense of the kinds of behaviors on which the research project was focused. The reason was that Caroline is originally from Tanzania, Africa, and cultural differences in perspectives on parenting became obvious as Caroline and Liliana worked together.
After graduating from Seattle University, Caroline started a non-profit organization, Center for Well-being of Africans in America, aimed at providing health and education support to families who had emigrated from Africa. At the same time, concerns were rising about the health and well-being of the youth in the communities of African immigrant families, who are sometimes struggling in school and running into problems with the law.
That's when Caroline got back in touch with Liliana, and they started a partnership between CWAA and the Child and Family Well-being Research Group to support parents in promoting well-being among the youth of the immigrant communities. For Caroline, who has a background in biomedical research, it was very important to bring a research perspective to efforts aimed at improving the lives of children and families in Seattle's African communities.
Caroline spearheaded an effort to meet with community leaders and parents of families from Somalia, Kenya, Tanzania, Sudan, Uganda, Ethiopia and Eritrea to better understand the concerns and challenges they faced raising their children in the U.S. These meetings led to fruitful insights about the experiences of families in these communities. The information will be used to tailor an empirically supported parenting program to be attuned to the cultural values of these communities and to specifically address the concerns of immigrant parents. In the coming year, Caroline and Liliana will be seeking funding support to conduct and evaluate a program to support parents in the African communities of Seattle.
Cheryl Kaiser is an assistant professor in the Social and Personality area of the Department of Psychology. Her work is focused on understanding prejudice and intergroup relationships, particularly from the perspective of members of socially devalued groups. One aspect of her research addresses personal and situational factors that affect whether individuals perceive prejudice-related threats toward themselves. It also studies the cognitive, emotional, and behavioral responses to prejudice, and the implications of how the individuals' well being and interpersonal relationships are impacted by how they cope with prejudice.
This research has clear and important implications for law and legal processes. Cheryl has worked to translate her research, and--more broadly--social psychological science, for legal audiences. In 2006, she assisted a lawyer in preparing an amicus curiae (friend of the court) brief to the US Supreme Court in the Lilly Ledbetter vs. Goodyear Tire employment discrimination case. In 2008, she delivered a plenary session talk on psychological aspects of courtroom bias at the Washington State Bar Association's Third Annual Statewide Diversity Conference. Currently, Cheryl is retained as an expert witness in an employment discrimination case.
Cheryl has been interviewed by a number of media outlets including the New Scientist, Psychology Today, The Los Angeles Times, Boston Globe, the NAACP Legal Defense Fund's Defenders Online, and KOMO News Radio. Her work has received media attention for its relevance to understanding prejudice and discrimination, in particular as it related to the election of our first African American president, Barack Obama

For the second year, the Department of Psychology has partnered with the Evergreen School to bring the leading child researchers to the University of Washington campus for evening public lectures. The goal of this partnership is to inform parents and policy makers about cutting edge research on best practices for child education. This year Drs. Adele Diamond , Angela Duckworth , and Debra Leong talked about the role of social and emotional development in education.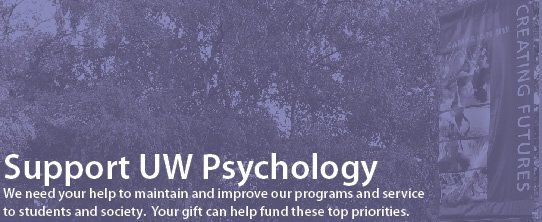 Support top graduate students
Every year, we compete with the other top Psychology departments in the country for the nation's best graduate students. The biggest problem we face in this competition is a lack of summer support and research fellowships to allow our graduate students to pursue innovative research and service projects—and survive the high cost of living in the Seattle area. You can help by contributing to any of these graduate support funds:
Improve undergraduate education
Our Psychology major is one of the best in the country, offering students opportunities to work at internships, participate in community fieldwork, and work with faculty on cutting-edge research projects. We offer support to our undergraduates through Honors Program research funding, the Psychology Writing Center, the Statistics and Methodology (SAM) Lab, the Psychology Study Center, the Psychology graduation celebration, and workshops throughout the year. We also provide various social and learning opportunities to our students, such as workshops on careers in psychology, how to apply for graduate schools, and the Psychology majors graduate celebration. These activities all require scarce departmental funds from budgets that have been repeatedly cut over the past few years.
You can join us in supporting these programs by contributing to the Friends of Psychology Fund, which provides unrestricted support that can be used to help undergraduate and graduate students, faculty, and the full range of departmental programs, wherever the need is greatest. This is our preferred allocation for your support.

Support new and innovative research initiatives
Our department is moving forward with a new model of research support that is centered around the creation of core research facilities. These facilities will serve to bring together ideas and methods from different laboratories and from different perspectives on behavior. Recently, we established a Neuroimaging Facility (in conjunction with the Department of Radiology), and a human Electrophysiology Research Facility which provides great temporal resolution regarding brain activity during behavior. We are in the process of establishing a Child Behavioral Testing Facility that is specially designed for the behavioral and physiological testing of children of different ages. Related to the establishment of these core facilities is the further development of new interdisciplinary research groups, such as the Child and Family Well Being and Global Psychology groups. Further development of these new facilities and initiatives is threatened by the current budgetary constraints. There are a number of ways in which you can have direct and immediate impact on our abililty to achieve our goals. For example you can contribute to the Friends of Psychology gift fund so that we may facilitate innovative research. You can help to build and retain key leadership in these areas by establishing endowed Director or Professor positions.
Attract and retain the best faculty
Our continued success depends on attracting the best new faculty. The cost of recruiting the best prospects is high and only partly covered by our regular budgets. You can help by contributing to Friends of Psychology. Because of the accomplishments of our existing faculty, they are heavily recruited by other institutions. Both graduate support funds and endowed professorships help to retain our best faculty and make them most productive.
You can help us accomplish departmental goals by contributing to any one of the funds mentioned above. Visit our website and use your credit card on the UW secure online donation system or mail a check to: University of Washington, Department of Psychology, Box 351525, Seattle WA, 98195. If you are interested in supporting specific faculty research projects, endowing a professorship, or making a donation to a cause not mentioned here, please contact Psychology Chair Sheri J. Y. Mizumori at (206) 685-9660 or mizumori@u.washington.edu.
Friends of Psychology Fund
Unrestricted support that can be used to help undergraduate and graduate students, faculty, and the full range of departmental programs, wherever the need is greatest. This is our preferred allocation for your support.
Give online at:
https://online.gifts.washington.edu/secure/?page=funds&source_typ=2&source=ECA
Not on our mailing list? Update your info securely at:
https://web.psych.washington.edu/mail.html
Special thanks to the following February – October 2009 supporters. Contributions help strengthen our department and support a wide range of important research and instructional work by our current students and faculty, as well as recruitment of the very best new faculty and graduate students. Please let us know if we have accidentally omitted or misspelled your name by writing to the Psychology Development office.
Mr. and Mrs. Alan S. Ailie | Nadine R. Anderson | Ralston H. Bahem, Jr. | Ashley M. Boek | Marilee A. Bostic | Kim J. Bowlby | Steven Buck & Jeanette Norris | Steven G. Camp | Mr. and Mrs. Peter L. Colbeck | Alicia K. Collett | Mr. and Mrs. Thomas C. Delaney | Ann Easterbrooks | Steve Birge & Tiffany English | Peter M. Foglianov | Monica Forsell | Byron N. Fujita | Steven R. Galper | Paul A. & Sarah Kathryn George | Robert N. Golden & Nona K. Phillips | Mary Ann Goodwyn | Davis W. Lamson & Sal Gordon | Lori & Jon Grande | Shannon O. Greene | Jean A. & Anthony G. Greenwald | Priscilla A. Hagan | Dr. and Mrs. Gordon C. Nagayama Hall | Mr. and Mrs. Robert T. Hamilton | Jason & Lina May Hannigan | Margaret E. Hix | Mr. John E. Hogden & Ms. Dubeau | Dr. and Mrs. Albert R. Hollenbeck | Jill Hollenbeck-Bell | Susan & William Holliday | Kurt A. Ing | Mr. and Mrs. Robert L. Kolosvary | Cedar R. Koons | Dr. and Mrs. Paul J. Kulkosky | Donald Jones & Katrina Noel Kuzyszyn-Jones | Spencer Walter Levesque | A. Lewy & Ms. Chakofsky-Lewy | Dr. and Mrs. Franklin R. Lindsay | Marilyn A. Lindsey | William L. & Wendy Marie Mannon | Richard A. & Patricia Ann Martin | Jennifer A. Martinson | Lauren E. Maynard | Susan McAdams | Ellen K. McCann | Janet L. McCone | S. John McDonald & Agnes Forras | Mary T. McMinn | Judyth I. Mirante | James P. & Julie M. Morrison | Nick & Erin Elizabeth Musser | Stevan L. & Dianne Lindley Nielsen | Nathan M. Nimick | Matthew J. & Heather Chisholm-Owens | F. Yapuncich & Pamela L. Pruitt | Sarah J. Racz | Michael R. & Margaret E. Ralls | Edgar C. & Lisa Marie Riebe | Daniel G. Roni | Dana M. Ryan | Sonia Savelli | Wayne A. Schoenmakers | Jill A. Shupe | Richard F. & Edith E. Silvestri | Ariel R. Simonton | Howard & Laurel Grace Skaug | Carroll P. Smith | Robert C. Swanson | Mr. and Mrs. James G. Taylor | Ms. Mary Jane Thompson | Mr. and Mrs. Carrie L. Tiersma | Juliette M. Vail | Douglas A. Warden | Elizabeth Y. Webster | Dr. and Mrs. David G. Weight | Marguerite M. Weis | Dr. and Mrs. Martin B. Wikoff | Bob Perkins & Lynn Willman | Reinhard Wright | Yuhang Zhao |

Behavioral Tech, LLC | Kingston Chiropractic Clinic | LISALI LLC |

Estate of Robert C. Bolles | Estate of Allen L. Edwards
In memory of Nathan Pisauro:
Mr. and Mrs. Leo J. Johnson | Mr. and Mrs. Michael E. Cullinan | James A. Tichick & Helen E. Byrd | Matt & Kathy A.Wolf | Paul & Ceil E. Corcoran | Mr. and Ms. Philip Wolf | Rick J. & Jacqueline A. Pisauro | Christina S. Frazier | Karen E. Calabrese | Mary M. Clark-Smith | DigiCo Imaging, Inc. | The Kroger Company | Vanner, Inc.
In memory of Marian Krell:
Wayne A. Alkire
In honor of Dr. Cheryl Kempinsky:
Donna L. Klein
Matching:
American Association of Retired Persons