Marie Ng: Former Psychology Major Now UW Research Statistician... What Are the Odds of That?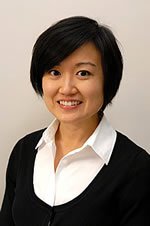 Photo: Dr. Marie Ng
I thought it would be really wonderful if I could apply my statistical skills to solve global health problems.
Marie Ng, Ph.D. (BS in Psychology, 2004)
For Dr. Marie Ng, the road to her current career took a few twists and turns along the way. Now an Assistant Professor with the UW Institute for Health Metrics and Evaluation (IHME), Marie didn't arrive here as an undergraduate with plans to become a statistician. "It was quite an unplanned journey that brought me to global health," says Marie. As she was completing her Ph.D. in statistics and quantitative psychology at the University of Southern California, she came across an article in the UW alumni magazine that talked about the then newly formed IHME. "That was the first time I learned about global health as a discipline," she remembers.
A post-doctoral position at the IHME, followed by two years working in her native Hong Kong, eventually led Marie to her current position. Examples of her research include evaluating an HIV intervention program in India and assessing a malaria control program in sub-Saharan Africa. Additionally, Marie works as a consultant for UNICEF, developing statistically valid tools for assessing early childhood development in Papua New Guinea and Vanuatu.
Marie came to the field of statistics and quantitative psychology mid-way through her undergraduate studies. "Originally, I was attracted to the psychology major because of clinical psychology," recalls Marie, "while later on I got interested in cognitive psychology and, subsequently, I discovered neuropsychology and did my honors thesis on single neuron recording." But, her continually shifting interests didn't stop there. Marie found that the classes that she enjoyed most--and that had the greatest influence on her--focused on statistics and quantitative methods. Along with professors Miriam Bassok and David Corina (now at UC Davis), who were her honors advisors, Marie credits her statistics professors Geoff Loftus and Laura Little with having had the biggest impact on her academic career.
While a student here in the Psychology Department, Marie definitely took full advantage of the range of opportunities available to undergraduates. In addition to her main course of study in Psychology, Marie completed minors in Philosophy and Mathematics, served as a peer TA, authored an honors thesis, and graduated Summa Cum Laude. Her extaordinary efforts were rewarded when she was named the 2003-04 President's Medalist, the highest academic honor bestowed upon graduating seniors.
Marie urges current undergraduates to get involved, participate in research and teaching, talk to advisors, and find a mentor. With this recipe for student success, odds are good things will follow!