Undergraduate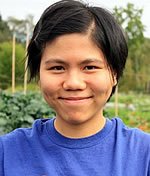 Photo: Kay Chai
What I take away from my time here is that psychology, if not all sciences, cannot be separated from interpretive work. I have to be aware of what my assumptions are when I interpret research findings in a certain way.

Kay YuYuan Chai (BS in Psychology, 2014)
Arriving at UW as a freshman from her hometown of Kuching, Malaysia, Kay Chai brought with her a few assumptions about psychology that were about to be upended. "I have to admit that I explored psychology when I was a freshman because I had watched too many movies like The Silence of the Lambs, and was fascinated with criminology," Kay recalls. "Imagine the shock I had when in my PSYCH 101 class Dr. Kevin King presented psychology as a rigorous empirical science that had none of thoses dramatic criminal profiling or mind-reading stunts." Undeterred by the clash between her initial expectations and reality, Kay Chai pressed on. In fact, she jumped right in.
A true student of the discipline, Kay notes that she has enjoyed every psychology class she has taken, regardless of their apparent relevence to her eventual career goal, which is to become a practicing clinical psychologist. From the "infectious enthusiasm, captivating teaching styles, and kindness to students" exhibited by Drs. Laura Little and Ann Voorhies that led her to fall in love with both statistics and neuroscience, to the "mind-blowing experience" of learning about the true nature of color in Dr. Steve Buck's Sensory and Perceptual Processes class, Kay is the quintessential scholar and liberal learner. She urges students to look beyond their primary field of study to have fun exploring the broad range of courses offered at UW. "The things you learn will come in handy at the most unexpected moments," says Kay, recalling a recent graduate school interview when she "had so much fun chatting with a professor about Kantian concepts of space and causation--something I would never have known about had I not ventured beyond my major."
No stranger to navigating a wide range of perspectives, Kay arrived at UW from a country with a rich ethnic diversity where multilingualism and the blending of a multiplicity of backgrounds is the norm. She credits her upbringing in Malaysia with helping her to cultivate a cross-cultural sensitivity from early on. Kay brought this sensitivity to bear in her work as a peer TA which gave her the opportunity to work with other international students and to use her experience as a basis for showing empathy for the unique challenges that they face. Dr. Laura Little, with whom Kay worked as a peer TA for her statistics courses, notes that Kay "set a new bar" for undergraduate TAs. "Her intellect, her easy-going manner, her dependability, and love of helping others made Kay an absolute delight to work with," says Dr. Little.
In addition to her experiences as a peer TA for a number of classes, Kay is also a member of the Psychology Honors Program. Honors students commit to a rigorous two-year intensive research experience. Kay worked with Drs. Marsha Linehan and Marivi Navarro at the Behavioral Research and Therapy Clinics. There, she undertook the ambitious task of conducting a randomized controlled trial to investigate whether a brief mindfulness intervention could be helpful for college students. "To be honest," says Kay, "there were countless times when I felt like dropping the project, but I persevered, and have acquired new skills and frames of mind that will benefit me for life."
When not busy in the classroom or the research lab, Kay somehow finds time to volunteer with the King County Crisis Clinic where the experience has affirmed her passion for connecting with and helping people in emotional distress, to work as Compost Crew coordinator at the UW Student Farm which she finds to be very healing and grounding... and, to play the fiddle. A self-proclaimed "lover of communal events and folk traditions," Kay notes that "by far the best experience in the US has been engaging in the Old Time music circle here in the Pacific Northwest."
Kay is now poised to leave the Pacific Northwest this fall to begin a Ph.D. program in Clinical Psychology at Dusquesne University, in Pittsburgh. Her long-term career goal is to be a mental health counselor working from an existential therapeutic approach, primarily with hospice patients and depressed elderly adults - and, to teach college level psychology classes for the sheer joy of teaching.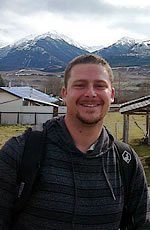 Photo: James LauRae
Psychology has always interested me because I've always found people fascinating. Whether "people watching" or just trying to figure out my own sense of self and develop my self-awareness, life has often seemed like a crash course in psychology.
James LauRae (Senior, pursuing BS in Psychology)
James LauRae is a doer, but, you might not know it upon first meeting him. He's hardly the "go-go-go" Type A personality that we usually associate with those among us who somehow have the capacity to take on a dizzying number of tasks or projects. Rather, James is the kind of person whose easy-going manner and congeniality make you want to kick back with him and have a nice chat. A study in contrasts: with people, he takes his time, gets to know you, but give the man a new opportunity or a job that needs doing and he's on fire!
Upon his arrival at UW, James enrolled in a class for first quarter transfer students. The Psychology Transfer Academic Community class (TRAC), gives transfer students with the opportunity to gain an in-depth orientation to the Psychology Department and major, to learn about the wide range of resources available to psychology majors, and to build community with fellow transfer students. "Because our transfer students arrive with only two or three years to spend at UW, they really need to hit the ground running," explains TRAC instructor and Psychology Advising Office director Carrie Perrin, "so we endeavor to expose them to all of the terrific options and possibilities that are available." The thing about James is, he chose to take on all of those possibilities!
During his first four quarters at UW, James began a pre-med course of study in addition to his psychology BS coursework, got involved in undergraduate research, assisted with summer orientation for incoming transfer students, studied in Chile with psychology professor Dr. Jaime Olavarria, served as a peer TA for the 2013 TRAC class, and began the first steps in the establishment of a new non-profit agency. His simple advice to others, "Get involved in as many things as interest you! While you may not like them all or may find you overload yourself a bit too much, this really teaches you a lot about yourself."
Whether or not a particular experience revealed itself to be the start of a future pathway, James definitely took something valuable away from each opportunity. Initially frustrated by the unexpectedly slow pace of work in a research lab, James stuck it out and was rewarded both by more intriguing work and by the realization that research psychology was perhaps not in the cards for him long term. And, connections made at his Harborview lab have been an additional perk. "I've gained invaluable connections with Dr. Kate Comtois," says James, "and, I've had the opportunity to speak with people from prospective medical schools, as well as the chance to shadow various doctors in a variety of settings."
As far as "slam dunk" positive experiences go, James points to Dr. Jaime Olavarria's Exploration Seminar in Chile. James was part of a group of students who traveled to Santiago, Chile, as well as more rural areas to the south, to study public health policies and health delivery systems in that country. James notes that the opportunity that he had to compare US societal norms and values with those that he experienced in Chile actually informed how he plans to run his non-profit organization, Homes for Students of Higher Education. "My own reflections on the contrasts between US and Chilean cultures have inspired me to develop in my organization a collectivist approach--essentially, encouraging the community to engage with and assist those in need," explains James.
Informed by his own experiences with hardship and homelessness, James (along with fellow UW undergraduate Dustin Levesque), founded Homes for Students of Higher Education in early 2014 to bridge the gap that is disconnecting disadvantaged and homeless college students from the services that may benefit them. With plans to encourage a high level of student engagement in the organization, James aims to foster the kind of community involvement that he witnessed while in Chile. "We are all guilty of taking things for granted, but we can change this with just a little effort," says James. "By encouraging the theme students helping students," he continues, "our organization will continue in a long, successful tradition of building a strong sense of community and appreciation for one another."
With a goal of furthering his education in medical school, with a likely area of specialization in psychiatry, and a desire to see his non-profit grow and perhaps serve as a model for others across the nation, the full plate that is James's life looks to stay that way into the forseeable future.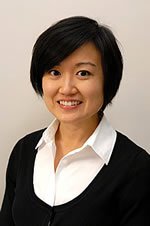 Photo: Dr. Marie Ng
I thought it would be really wonderful if I could apply my statistical skills to solve global health problems.
Marie Ng, Ph.D. (BS in Psychology, 2004)
For Dr. Marie Ng, the road to her current career took a few twists and turns along the way. Now an Assistant Professor with the UW Institute for Health Metrics and Evaluation (IHME), Marie didn't arrive here as an undergraduate with plans to become a statistician. "It was quite an unplanned journey that brought me to global health," says Marie. As she was completing her Ph.D. in statistics and quantitative psychology at the University of Southern California, she came across an article in the UW alumni magazine that talked about the then newly formed IHME. "That was the first time I learned about global health as a discipline," she remembers.
A post-doctoral position at the IHME, followed by two years working in her native Hong Kong, eventually led Marie to her current position. Examples of her research include evaluating an HIV intervention program in India and assessing a malaria control program in sub-Saharan Africa. Additionally, Marie works as a consultant for UNICEF, developing statistically valid tools for assessing early childhood development in Papua New Guinea and Vanuatu.
Marie came to the field of statistics and quantitative psychology mid-way through her undergraduate studies. "Originally, I was attracted to the psychology major because of clinical psychology," recalls Marie, "while later on I got interested in cognitive psychology and, subsequently, I discovered neuropsychology and did my honors thesis on single neuron recording." But, her continually shifting interests didn't stop there. Marie found that the classes that she enjoyed most--and that had the greatest influence on her--focused on statistics and quantitative methods. Along with professors Miriam Bassok and David Corina (now at UC Davis), who were her honors advisors, Marie credits her statistics professors Geoff Loftus and Laura Little with having had the biggest impact on her academic career.
While a student here in the Psychology Department, Marie definitely took full advantage of the range of opportunities available to undergraduates. In addition to her main course of study in Psychology, Marie completed minors in Philosophy and Mathematics, served as a peer TA, authored an honors thesis, and graduated Summa Cum Laude. Her extaordinary efforts were rewarded when she was named the 2003-04 President's Medalist, the highest academic honor bestowed upon graduating seniors.
Marie urges current undergraduates to get involved, participate in research and teaching, talk to advisors, and find a mentor. With this recipe for student success, odds are good things will follow!
The Psychology Department is proud of the accomplishments of our undergraduate students. Check out some of the highlights from this year:
The Psychology Honors Poster Session, on May 20, showcased the work of the 21 members of this year's honors cohort. The poster session, along with the completion of a senior thesis, marks the culmination of a two-year intensive research program. Congratulations to our honors students: Naser Abdulraheem, Jessica Armer, Kay YuYuan Chai, Adair Cardon, Wendy Coard, Edite Foreman, Madeline Gauger, Sandrine Girard, Gabriella Greco, Christina Healy, Diana Hu, Anh Huynh, Baixue Jiang, Brinn Jones, Rachel Lee, Anne-Lise Nilsen, Maya Reiter, Marisa Samuelson, Emily Slezak, Michelle Tran, Xinglu Yao, and Garret Zieve.
On May 16, most of the honors students listed above as well as a number of other psychology majors -- 69 in all -- participated in the campus-wide Undergraduate Research Symposium.
Congratulations to the 11 psychology majors (and to their faculty sponsors), who were awarded Mary Gates Leadership or Research Scholarships. Our Leadership Scholar is: Lynda Nthiga (Caroline Kimani). Research Scholars are: Adair Cardon (Raphael Bernier, Psychiatry and Behavioral Sciences), Kay Chai (Marsha Linehan, Psychology), Sarah Colombo (Kristina Olson, Psychology), Karalyn Holten (Kristina Olson, Psychology), Anne-Lise Nilsen (James Ha, Psychology), Elizabeth Stillwell (Sapna Cheryan, Psychology), Nika Sulakvelidze (Megan Moreno, Pediatrics), Michelle Tran (Raphael Bernier, Psychiatry and Behavioral Sciences), Adinah Wyle (Ellen Covey), and James Yan (David Dichek, Cardiology).
Two of our seniors, Prysilla De La Torre and Anh Huynh are Ronald E. McNair Scholars. Prysilla is a frequent member of the Dean's List and is set to graduate with a BS in Psychology, a BA in Biochemistry, and a minor in Diversity Studies. A member of the Psychology Honors Program, Anh will graduate Magna Cum Laude with a BA in Psychology and Communication (Journalism).
Each spring, the College of Arts and Sciences awards the Dean's Medal to the top student in each academic division. Kay YuYuan Chai was the Psychology Department's nominee for the Dean's Medal in the Natural Sciences Division. Kay is a member of the Psychology Honors program, the recipient of the 2013 Guthrie Prize for the best research proposal, and will graduate Summa Cum Laude. This fall, she will begin a Ph.D. program in Clinical Psychology at Dusquesne University, in Pittsburgh. Read more about Kay here.
In addition to being our Dean's Medal nominee, Kay was selected by the Arts and Sciences Dean's Office to represent the College at Commencement as a gonfalonier. The gonfaloniere (as they are called collectively), are outstanding graduating seniors who represent their colleges by carrying large banners -- gonfalons -- into the Commencement Ceremony.
The following students were invited to join Phi Beta Kappa this year: Jessica Armer, Brigette Blacker, Amy Briggs, Alexis Chamberlin, Tianying Chen, Heng-Yu Chi, Ruby Galen, Madeleine Gauger, Gabriella Greco, Phillip Jang, Alison Knight, Tamayo Konishi,Bianca Lacaille, Abigail Lim, Victoria Oestreich, Samantha Oh, Thomas Paul, Maya Reiter,Karmen Schuur, Natalie Shively, Shane Snyder,Lauren Wagner, Bailey Warrior, Alisia Weyna, Rebecca Wilson, Bonnie Wu, Yixin Xu, and Garret Zieve.

Join the group Psychology Alumni Connections on LinkedIn to stay in touch with fellow alumni and the department, as well as to learn about upcoming lectures or other events sponsored by the Psychology Department.