Innovating Clinical Treatments with Technology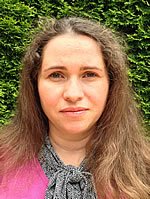 Photo: Anita Lungu
Anita Lungu, a fifth year student in Adult Clinical, received a grant from The National Institute of Mental Health (NIMH) for her project "Computerized Trans-Diagnostic DBT Skills Training for Emotion Dysregulation." Her primary advisor is Marsha Linehan. A brief introduction to the National Research Service Award (NRSA) is provided in a previous article.
Let's start with the basics, where are you from and where did you complete undergrad/masters?
I am originally from Romania where I did my undergraduate degree in computer science and engineering. About 10 years ago I came to the US to pursue a PhD degree in computer science at Duke University. Somewhere along the way I started taking courses at undergraduate and then graduate level in psychology out of pure curiosity. At some point I realized my passion was actually in clinical psychology and I decided to pursue a second PhD in clinical psychology with a focus on intervention research.
How did you wind up at UW/why did you apply here? What do you think about living in Seattle?
I ended up applying at UW because I wanted to work with my current adviser Dr. Marsha Linehan. During my classes at Duke I came across her research and it really resonated with me and what I wanted to do. I love everything about living in Seattle particularly in the summer time. I'm not a big fan of lots of rain though. Seattle is a wonderful city to live in, particularly if you love the outdoors, which I do.
What is your research interest and how did you get into it (what inspires/motivates you)?
I believe that my background before starting my PhD in clinical psychology and my current education puts me in the fortunate position of having knowledge in two different fields and languages that have been separate until relatively recently: clinical psychology and computer science. I am interested in using recent advances in technology (mobile platforms and applications, artificial intelligence, sensors) to help disseminate evidence based psychological interventions on a large scale, that is to a large group of people in need of receiving such help. In my dissertation work, together with my adviser Dr. Marsha Linehan, we are converting a component of Dialectical Behavior Therapy (DBT) skills training into a computerized intervention to treat emotion dysregulation trans-diagnostically to individuals who have difficulty regulating their emotions. What inspires and motivates me to do this work is the hope to narrow the gap in our field between the availability of very effective evidence based psychological treatments and the access to such treatments by individuals in need of them.
How did you learn about your funding opportunity and tell us about the application/waiting process?
Several students in our research lab and in my cohort have in the past applied for the NRSA funding and were successful in receiving it so I decided to try.
How did you feel when you learned that your application was accepted and that you will receive 2/3yrs of funding?
It felt exhilarating. I was very happy - applying for this award was a lot of effort and it felt great to see that effort lead to success.
Do you have any advice/tips/suggestions for others who may apply to this opportunity? About graduate study in general?
For individuals specifically applying for an NRSA award my advice would be to get themselves well organized and not give up, to ask for samples of other successful awards from their colleagues and to go for it.
What do you hope to accomplish with the funding and/or while in the UW Psychology graduate program?
I hope for my dissertation project to be provide evidence that technology can be effective in providing for large scale dissemination of evidence based treatments particularly for the population I have in mind. I hope to have a successful project and to be able to disseminate the results through scientific publications.
What do you like doing in your spare time?
I have 2 small kids, Arya, my 2 and a half year old daughter and Alex, my 11 months old son. I love to spend time with them and my husband. Other than that I love to read and swim and try to do that when I get a chance.
The last book and/or movie you saw and enjoyed?
I like to read science fiction when I get a chance. One of the books I read recently and liked was Robert Heinlein's "The Door into Summer". Probably the book I like best though is R.A. Salvatore's "Dark Elf's Trilogy."
What you plan to do once you complete your PhD?
I would like to continue to do research targeting dissemination of evidence based treatments, in particular of Dialectical Behavior Therapy. I hope to be able to continue to collaborate with my adviser Dr. Marsha Linehan beyond my PhD program.
Supplemental Reading: