Undergraduate Accomplishments
The Psychology Department is proud of the accomplishments of our undergraduate students. Check out some of the highlights from this year:
The Psychology Honors Poster Session, on May 29, showcased the work of the 23 members of the Honors Program, most of whom are graduating this year. The poster session, along with the completion of a senior thesis, marks the culmination of a two-year intensive research program. Congratulations to our honors students: Drake Apablasa, Polina Charters, Chelsea DeMoss, Brian Eschels, Nile Graddis, Helen Jones, Courtney Kwong, Elizabeth Lagbas, Sin Yan Lo, Nathan Ma, Keitaro Machida, Amanda Kay Montoya, Harrison Owens, James Pai, Crystal Silvia, Jordan Standlee, Anyi Sun, Alex Swanson, Emilie Tang, Jacqueline Uomoto, Andrea Vernon, Justin Vongpanya, and Tianyi Xie.
On May 17, most of the honors students listed above as well as of number of other psychology majors -- 64 in all -- participated in the campus-wide Undergraduate Research Symposium.
Congratuations to the 14 psychology majors (and their faculty sponsors), who were awarded Mary Gates Leadership or Research Scholarships. Our Leadership Scholar is: Garret Zieve (Denise Benitez-CHID). Research Scholars are: Dorender Dankwa (Jonathan Weinstein-Neurology), Brian Eschels (Tony Greenwald), Katharina Foote (Steven Buck), Michael Fujimoto (Juliet McMains-Dance), Meilin Jia-Richards (Marsha Penner), Hyejin Jin (Erin Ward-Ciesielski), Helen Jones (Jonathan Bricker), Joon Kim (Sean Murphy-Neurological Surgery), Keitaro Machida (Michael Murias-Psychiatry and Behavioral Sciences), Amanda Kay Montoya (Sapna Cheryan), Anne-Lise Nilsen (James Ha), Heather Schneider (Matt Kaeberlein-Pathology), and Jenna Shrewsbury (Sheri Mizumori).
Amanda Kay Montoya was the recipient of an Undergraduate Research Conference Travel Award. Her faculty advisor is Sapna Cheryan.
Nile Graddis was named a Levinson Emerging Scholar in fall 2012. Nile's faculty advisor is Sheri Mizumori.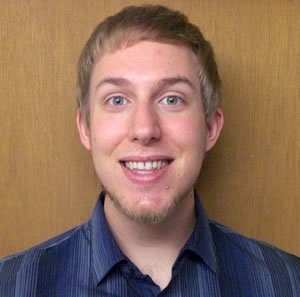 Photo: Jordan Standlee.
Each spring, the College of Arts and Sciences awards the Dean's Medal to the top student in each academic division. Jordan Standlee was the Psychology Department's nominee for the Dean's Medal in the Natural Sciences Division. Jordan is a member of the Psychology Honors Program and will graduate Summa Cum Laude. He will attend medical school in the coming year.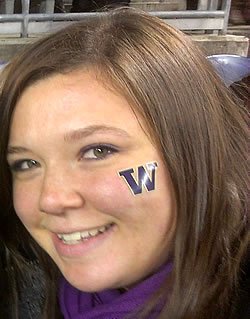 Photo: Jenna Andrews
Graduating senior Jenna Andrews was selected by the Arts and Sciences Dean's Office to represent the College at Commencement as a gonfalonier. The gonfaloniere (as they are called collectively), are outstanding graduating students who represent their colleges by carrying large banners - gonfalons - into the Commencement Ceremony. Read more about Jenna here.
The following students were invited to join Phi Beta Kappa this spring: Kristi Boes, Christine Hagstrom, Brian Jacoby-McCurdy, Brinn Jones, Sean Lyons, Jeffrey Ou, Geneva Pritchett, and Molly Wright.