Monica Burns: Making Science Work for her Future
"One thing that was challenging to experience first hand is that science doesn't always 'work'."
- Monica Burns, BS June 2011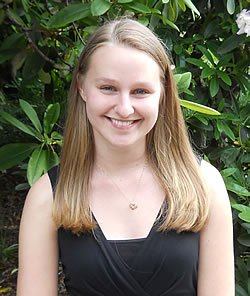 Photo: Monica Burns
Monica Burns learned about scientific 'disappointment' as an undergraduate in the UW Psychology Department. "When you read articles and textbooks, you only see the successful side of research," recalls Monica, "but when you're actually involved in research, you see that there are lots of false starts, and studies that feel beautifully designed sometimes fall apart... especially in the hands of an infant participant." But, that's why we need science, to test our ideas.
A participant in the UW Psychology Department honors program, Monica worked with Jessica Sommerville's "Early Childhood Cognition" lab. Through this experience, and the ability to be in control of her own experiment--from brainstorming to data collection and analysis--Monica realized that she wanted to pursue a career in experimental psychology. Her hard work as an undergraduate paid off as she was offered and accepted the position of manager for Dr. Sommerville's lab upon graduation. Monica credits Dr. Sommerville with "helping students to think like scientists and devoting a lot of time to (her) academic development."
It seems that Dr. Sommerville's dedication and Monica's hard work have paid off. Beginning this fall, Monica will be working toward a Ph.D. in developmental psychology in Dr. Felix Warneken's lab at Harvard University. As for her words of wisdom for current UW undergraduates, Monica has one major recommendation: get involved in a research lab! She also encourages current students to talk to their peers, graduate students, and academic advisors. And, get involved in Psi Chi, the UW's chapter of the international honor society in psychology.
Here's to a bright future for Monica... filled with scientific disappointments and stunning successes alike!