Jenna Andrews: Finding the 'Sweet Spot'
"I no longer see myself as a non-traditional transfer student, but as an essential part of the UW community. I guess you can call me a Husky now!"
- Jenna Andrews, BS June 2013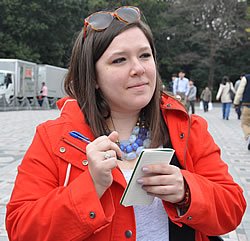 Photo: Jenna Andrews
When Jenna Andrews began her studies at UW in the fall of 2011, she didn't see herself fitting in. A transfer student from Seattle Central Community College, she recalls that she expected to go through her junior and senior years at UW with her head down, just going through the motions until graduation. Jenna was in for a surprise.
Jenna hit the ground running by participating in a class designed for first quarter transfer students who plan to major in psychology. Once she had the lay of the land, things started to click. She would go on to find academic success and to complement her studies with experiences as a research assistant and peer teaching assistant. As a peer TA with Jaime Diaz, who Jenna characterizes as "thorough, passionate, and dedicated to students learning the material," she says that she was able to interact with the course material in a way that truly encouraged critical thinking.
Born in New York City and raised in nearby Sammamish, Jenna was ever in search of that "sweet spot." Always believing that her career would involve helping people, Jenna initially envisioned doing so as a pastry chef and chocolatier. But, after earning a degree in Specialty Desserts and Breads from Seattle Central, Jenna decided to go back to school to work toward a a goal of becoming a child therapist. She has explored this interest in classes related to health psychology and by working with pediatric oncology patients.
In addition to research, volunteer, and peer teaching experiences, Jenna also had the opportunity to take on a student leadership role. At the end of her junior year, she was selected as an undergraduate Fellow for the College of Arts and Sciences "C21" program. "As part of this small group of students, we worked all year long to improve liberal learning at the University of Washington," Jenna says. She and her C21 colleagues were even granted a research scholarship to go to Tokyo, Japan, to examine how their higher education system functions.
So, what does the future hold for this go-getter? Perhaps a little jet-setting. Two days following graduation, Jenna will leave for Zambia where she will work with locals on issues related to nutrition, women's empowerment, and children's health education. She then plans to travel to Johannesburg and Cape Town, South Africa, and then on to London. When she lands back in the Seattle area, she'll focus on applying to clinical psychology master's programs, hoping to begin in the fall of 2014.
It seems that this former pastry chef has truly found her sweet spot!