Amanda Kay Montoya: Stereotype of Success
"I will always remember when someone said to me 'Isn't psychology more of an art than a science?' It made my blood boil, but in a good way."
- Amanda Kay Montoya, BS June 2013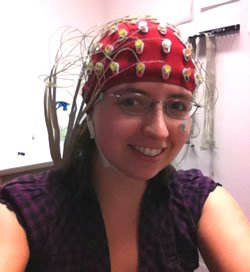 Photo: Amanda Montoya participates in an EEG study for the UW's Vision and Cognition Group

Amanda Montoya is a scientist. An honors student in the Psychology Department, she has faced the ups and downs of what it means to be a researcher. "My goal from day one has been establishing psychology as a credible science," says Amanda, who has "only gotten more passionate about the validity of scientific psychology."
A researcher from the get-go, Amanda chose UW because of the strong research focus in the Psychology Department. Worried that great research might equate to not-so-great teaching, Amanda took a leap of faith and wasn't disappointed. For Amanda, UW Psychology professor Tony Greenwald embodies this duality. Of Dr. Greenwald, Amanda notes, "I realized that being an expert in your field really does prepare you to be a great teacher, because teachers need to be sources of information, and involvement in research provides you with that information first hand."
Born and raised in Seattle, Amanda says that she definitely fits a lot of the Seattle stereotypes: she is completely addicted to coffee, is terrible at driving in the snow, and gets sunburned on the first nice day each year. Hooked on psychology as a discipline while at North Seattle Community College, Amanda transferred to UW as a junior, jumped in head first, and never looked back.
Recruited into the UW Psychology Department honors program upon her transfer from North Seattle, Amanda began working with Sapna Cheryan's "Stereotype, Identity and Belonging" lab. Her long tenure with Dr. Cheryan's lab has helped to land her a lab manager position that will begin upon her graduation. While in that position, Amanda will prepare to apply to doctoral programs in quantitative psychology. Amanda's goal is to make approachable concepts coming out of quantititive psychology research.
Poised to graduate this June with a BS in psychology and a mathematics minor, we are sure that Amanda will fulfill one stereotype... that UW Psychology graduates go on to do great things!