Research Festival Celebrates Many
The 42nd Annual Research Festival was held at the Waterfront Activities Center on the Wednesday following Memorial Day. On this day, second year graduate students in our clinical program and first year students in our experimental areas present their research findings. It's a day filled with much talking, laughter, and catching up as many members from our department return for this special event.

This year 19 students presented their work and attendance reflected the large amount of support and interest from their fellow graduate students, their families and department faculty. This support was especially appreciated as we experienced many challenges with traffic and the weather this day! (View the 2013 program online)

The festival concludes with an Awards Ceremony during which we recognize several graduate students and also reveal the recipient of the Davida Teller Distinguished Faculty Award. The Seattle skies barely held off as we presented the following awards while on the outside deck of the Waterfront Activities Center: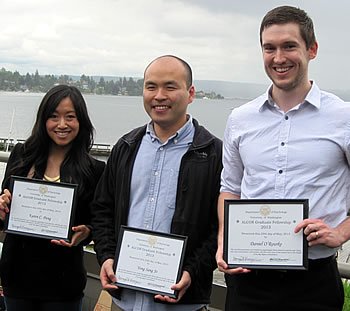 Photo: Karen Pang, Yong Sang Jo, Danny O'Rourke
The ALCOR Graduate Fellowships endowment was created by Harry Peterson and his wife Claire. We awarded 3 this year to Yong Sang Jo, Danny O'Rourke, and Karen Pang. Please check out our ALCOR article for more details on thesescholars. (Click here to view our 2013 ALCOR recipients)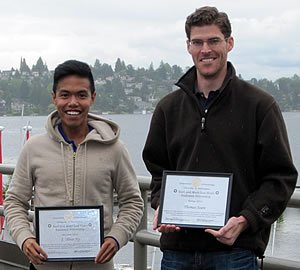 Photo: J. Oliver Siy and Tom Soare
The Earl (Buz) and Mary Lou Hunt Endowed Fellowship for Graduate Students in Psychology provides support for graduate students who are conducting research outside their advisor's grants. Our Hunt recipients are Tom Soare (Spring 2013) and J. Oliver Siy (Summer 2013). Please check out our Hunt article for more details on our scholars. (Click here to view our 2013 Hunt profiles)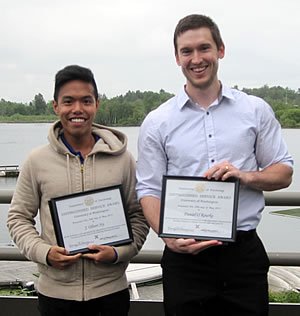 Photo: J. Oliver Siy and Danny O'Rourke
The Psychology Department also recognizes graduate students who serve above and beyond in awarding the Distinguished Service Award. This year, two students received this honor. Danny O'Rourke was honored for contributing to the department's research and teaching mission with many years of excellent service as Subject Pool Manager and for this recent year as Lead TA. J. Oliver Siy receivedrecognition for his years of service and commitment to diversity as the student chair of our Diversity Steering Committee.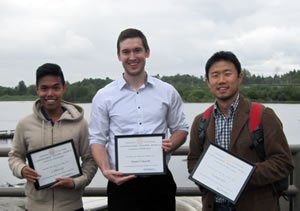 Photo: J. Oliver Siy, Danny O'Rourke, and Earnest Kim
The Distinguished Teaching Award for Graduate Students is an award selected by faculty committee for outstanding service and excellence in teaching. This year, three students received this award:

Earnest Kim Earnest joined the Behavioral Neuroscience area of our graduate program in September, 2009, having had four years of teaching experience in the Philippines. Indeed, he was named outstanding teacher of the year at Nanuri International School in 2007. Earnest came to the University a skilled teacher and those skills have only increased and diversified during his time here.

Daniel O'Rourke is currently a fifth year student in the clinical program. He has been a teaching assistant every quarter since entering the program in 2008. While Danny strives for excellence in all that he does, he manages to do so with great good humor and extraordinary enthusiasm, which makes the learning process both challenging and fun.
J. Oliver Siy The sheer number of classes he has TAed is impressive. But what really sets him apart is the fact that he contributed this magnitude of teaching despite the fact that he was fully funded by fellowships (GO-MAP during his first year, then NSF during his second, third, and fourth years). Moreover, he impressively managed to maintain a highly productive research career while doing it. Oliver is really a model graduate TA who combines skill in the classroom with skill in research and brings the two together for his students.
GPAC (Graduate Program Action Committee) consists of our graduate students who meet quarterly to discuss graduate student issues. For 2012-2013, the GPAC co-chairs were Ashwin Bhandiwad and Kayla Upshaw. GPAC coordinates the Graduate Student Service Award (GSSA) which is an award for graduate students by graduate students. This year, three students received this award:
Bjorn Hubert-Wallander. In the past two years, Bjorn has worked to improve the coordination, presentation, and execution of the department's recruitment weekend. He has continued to keep GPAC's efforts of improving mentorship and mentorship accountability by helping GTC put measures in place that move this initiative forward. One of two psych department senators in GPSS, Bjorn helps discuss, debate, and pass legislation aimed at improving various aspects of graduate student life. Bjorn has worked most closely on the restoration of the GPSS Travel Grants program, by serving for two quarters on an ad hoc committee charged with evaluating the then-suspended program, resulting in the committee proposing and passing legislation to bring the Travel Grants back!

Once more, Danny O'Rourke has been recognized for his service as Subject Pool Manager and as Lead TA. In these positions he seeks to make changes to allow greater equality between studies. Danny works hard to ensure high student participation in the Subject Pool process, and that researchers are treated equally. Through his role as Lead TA, Danny has focused on developing and implementing protocols where we can more regularly evaluate professors from a TA and RA standpoint--which will hopefully keep the department more in touch with students' needs. He helps mentor new TAs so that they navigate the classroom with confidence.

Valerie Tryon served as the graduate student representative for the Behavioral Neuroscience area hiring committee this year. She helped review approximately 180 resumes, held meetings to discuss the applicants, which eventually led to inviting 4 candidates for visits. As the grad student rep, she ensured that other students were aware of the events including organizing the grad student lunch. Afterward, she met with students to discuss their views, and then relayed that information to the search committee and other faculty. In addition, Valerie created and leads the BNS happy hour journal club, which is now in its third quarter.

Our final award for the day was the unveiling of the Davida Teller Distinguished Faculty Mentor Award. The objective of the award is to recognize and honor a faculty member who provides exceptional mentorship to individual graduate students both inside and outside of the lab, and who also works to maintain and improve graduate student training throughout the department. The award is meant to recognize exemplary advocacy of graduate student mentorship and program development.

Davida Teller was the first faculty member to receive this award in 2001. At that time, this award was established and named in her honor as a way to commemorate the exceptional contributions that Dr. Teller has made to the Psychology Department graduate program through her work with the Graduate Training Committee. Dr. Teller has been an advocate and role model for graduate students in our Department. She has played an active role in the constant evaluation and revision of our graduate training program and curricula. Thanks to Dr. Teller's continued commitment and support, our graduate training program is considered to be one of the best in the country.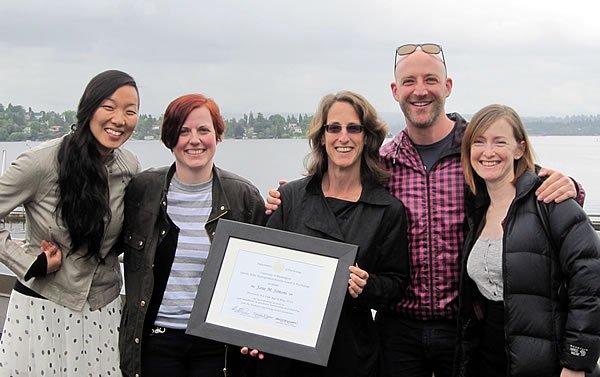 Photo: Joyce Yang, Kimberly Nelson, Dr. Jane Simoni, Bryan Kutner and Sam Yard
This year, Dr. Jane M. Simoni receives the honor. As explained by her current students:
Dr. Jane Simoni cares deeply about being a good mentor. It's a value she has, not only in her work with her graduate students, but also in the psychology department generally, with junior faculty, and with her secondary advisees. She solicits and incorporates feedback regarding her mentoring, and even has a K award to specifically devote time to effective mentorship. Additionally, she reaches out to students and faculty with diverse backgrounds and acknowledges broad social justice goals in her mentorship. The people who are blessed to have been mentored by Dr. Simoni can easily say that they are successful not only because of their own merit, but also in large part because of her guidance and support. We are pleased to say that Dr. Simoni has received the Davida Teller Distinguished Faculty Award for her continual efforts to improve mentorship within the psychology department, and for being a wonderful mentor herself.
~*~

Immediately following the awards ceremony was the poster session for the Undergraduate Psychology Honors Program. Then our graduate students participated in a sea-worthy activity sponsored by GPSS. Psychology Graduate students were recent awardees of the Graduate & Professional Student Senate's (GPSS) Departmental Allocation funds. The award money was used to organize a celebratory, post-Research Festival canoeing trip on Union Bay, with canoe rentals from UW's very own Waterfront Activities Center. A great time was had by all. Look for this to become a new Psychology Research Festival tradition!
This truly was a great day for psychological research and for appreciating the individuals who contribute so much to our department.

See you next year!