ALCOR Fellowship Continues to Support Diverse Research
Three outstanding graduate students in Psychology have been awarded summer fellowships funded by the Alcor Endowment in Psychology, Yong Sang Jo, Danny O'Rourke, and Karen Pang. Alcor fellows demonstrate outstanding ability, achievement, and financial need. This fellowship provides recipients with financial support while they move forward on their personal academic goals with no specific teaching, research, or service related duties.
The Alcor Endowment was created by Harry E. Peterson and Claire Garlick Peterson. Harry and Claire were avid amateur astronomers and sailed on several boats they named "Alcor" throughout the years. "Alcor" is the name of a double star located at the end of the Big Dipper's handle and represented the close relationship the two had. Their fellowship continues to give a lasting gift reflective of their full, productive and well-traveled lives.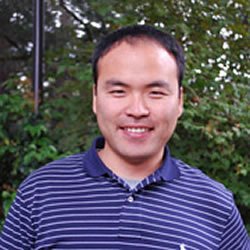 Photo: Yong Sang Jo
Yong Sang Jo is a fourth year behavioral neuroscience student working with Dr. Sheri J.Y. Mizumori. His dissertation will look at prefrontal modulation of midbrain dopamine system in maze-based decision making tasks. Yong Sang will spend his Alcor-funded summer recording activity of prefrontal and orbitofrontal cortical cells and preparing a manuscript on their activity during the maze learning task.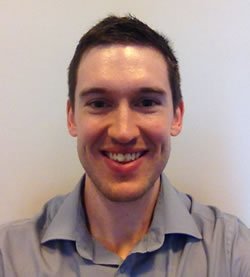 Photo: Danny O'Rouke
Danny O'Rouke joined our program with an interest in sports psychology (a good fit with Drs. Ronald Smith and Frank Smoll) and with recent news coverage of sports injuries and safety, particularly head injuries, his research is especially timely and needed. Danny is assessing whether a child's recovery from a mild brain trauma is affected by psychosocial factors. The goal of his work is to improve and hasten children's recovery from concussions. Without having to teach this summer, Danny will be able to spend more time at Children's Hospital and Medical Center connecting with families of children brought in for treatment of head injuries for interviews and follow-up study.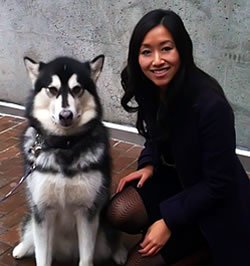 Photo: Karen Pang with Dubs
Karen Pang's research examines depression in adolescents by comparing Caucasian and Asian American youths. Development of depression is common during adolescence (which is a huge period of adjustment and growth). But depression may be expressed differently by adolescents of differing cultural backgrounds making it difficult to identify and treat the condition in some individuals. In general, Asian-American cultures emphasize more emotional control compared to European-Americans traditions. Karen's work will examine whether these cultural differences in emotional expression result in cultural differences in the expression of depression. Karen is mentored by Dr. Elizabeth McCauley from the Department of Psychiatry and Behavioral Sciences. She will spend her Alcor-funded summer creating online questionnaires, operating EEG (Electroencephalography) equipment, while running a new program syntax, and training undergraduate student research assistants.
All three are making excellent progress through our Ph.D. program. All have served as teaching assistants for many quarters and clearly embody the qualities that the Alcor is meant to support. The Psychology Department is grateful to the stewards of the Alcor Endowment for continuing to provide meaningful support for our students.
Supplemental Reading: