Graduate
J. Oliver Siy and Tom Soare have been named recipients of the fourth annual Earl (Buz) and Mary Lou Hunt Endowed Fellowships for Graduate Students in Psychology. Both students joined our program in 2008; Oliver in Social Psychology & Personality with Dr. Sapna Cheryan and Tom in Animal Behavior with Dr. Sean O'Donnell. Both will receive the Ph.D. by the end of 2013.
The Hunt Fellowship was created to support the research of graduate students whose independent work and creativity moved their scholarly focus outside of their academic advisor's research arena and/or budgetary restrictions. Hunt Fellows receive full funding for one academic term including tuition waiver, health insurance, and a stipend, providing an opportunity for the student to fully concentrate on completing their dissertation work. This award is highly prized among Psychology graduate students and the Psychology Department is proud to steward this endowment, which was created by one our own faculty emeritus, Buz Hunt.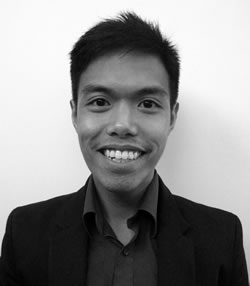 Photo: J. Oliver Siy
Oliver's dissertation consists of a series of studies which evaluate the interplay between diversity ideologies and one's cultural self-construct. Colorblindness is a diversity ideology that purports that people should ignore or give little attention to race or ethnicity in a situation. A multicultural approach is one that actively recognizes and celebrates alternatives in perspectives and contributions related to group-members race or ethnic differences. Among other things, Oliver's research demonstrated that companies which espouse these different approaches to diversity may differentially appeal to potential workers dependent on the potential employees self-construct. Study participants who were primed to consider their individuality (a perspective thought to be more prominent in American cultural contexts) indicated that they would prefer to work for a company which presented a color-blind perspective on workplace diversity more than participants primed to think about interdependence among people (a perspective thought to be more common within East Asian cultural contexts). This is only one of a series of studies through which Oliver determined that cultural factors may not only play a significant role in the development of a person's perspective of themselves and their relationships with others in their personal lives but may also influence their decisions about where to work. Oliver will be our Summer 2013 Hunt Fellow. He will complete his Ph.D. that quarter and then head to Columbia Business School as a post-doctoral fellow.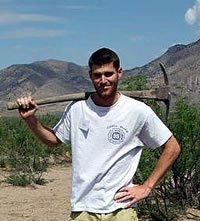 Photo: Tom Soare
Tom's research also studies social aspects of interaction, but his participants are army ants! Like many ant species, the army ants are incredibly social creatures who work together to eat, live, and reproduce. However the similarities end there--army ants do not have a permanent nest site due to frequent foraging and they reproduce by splitting away from the main colony. These two necessary and major life events leave army ants exposed to the elements more than others. Deforestation is a human mediated phenomenon which adds dramatically to the survival challenge army ants face. Tom's research has found that colony movements facilitate gene flow in army ants and that tropical deforestation presents a huge risk by inhibiting such emigrations. Thus it is important to seek ways to promote army ant survival to enable them to serve their very important role in supporting tropical forest biodiversity. Tom was the Spring 2013 Hunt Fellow and completed his degree at that time. This summer he will drive cross-country to continue his career in his former home - Boston.
Oliver and Tom have been very prolific students in the Psychology Department. Both have served in leadership positions on major department committees, such as the Diversity Steering Committee, GPAC (Graduate Psychology Action Committee), and Admissions/Recruitment groups. They both leave with outstanding professional records including extensive teaching experience, several local and national fellowships and awards, numerous presentations at professional meetings, and multiple scholarly publications. We wish them well on their next expedition and extend our gratitude to the Hunts for their on-going support of our outstanding doctoral candidates.
Supplemental Reading:
Three outstanding graduate students in Psychology have been awarded summer fellowships funded by the Alcor Endowment in Psychology, Yong Sang Jo, Danny O'Rourke, and Karen Pang. Alcor fellows demonstrate outstanding ability, achievement, and financial need. This fellowship provides recipients with financial support while they move forward on their personal academic goals with no specific teaching, research, or service related duties.
The Alcor Endowment was created by Harry E. Peterson and Claire Garlick Peterson. Harry and Claire were avid amateur astronomers and sailed on several boats they named "Alcor" throughout the years. "Alcor" is the name of a double star located at the end of the Big Dipper's handle and represented the close relationship the two had. Their fellowship continues to give a lasting gift reflective of their full, productive and well-traveled lives.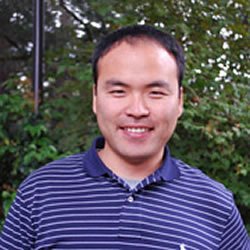 Photo: Yong Sang Jo
Yong Sang Jo is a fourth year behavioral neuroscience student working with Dr. Sheri J.Y. Mizumori. His dissertation will look at prefrontal modulation of midbrain dopamine system in maze-based decision making tasks. Yong Sang will spend his Alcor-funded summer recording activity of prefrontal and orbitofrontal cortical cells and preparing a manuscript on their activity during the maze learning task.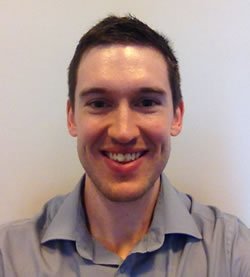 Photo: Danny O'Rouke
Danny O'Rouke joined our program with an interest in sports psychology (a good fit with Drs. Ronald Smith and Frank Smoll) and with recent news coverage of sports injuries and safety, particularly head injuries, his research is especially timely and needed. Danny is assessing whether a child's recovery from a mild brain trauma is affected by psychosocial factors. The goal of his work is to improve and hasten children's recovery from concussions. Without having to teach this summer, Danny will be able to spend more time at Children's Hospital and Medical Center connecting with families of children brought in for treatment of head injuries for interviews and follow-up study.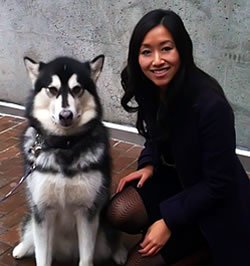 Photo: Karen Pang with Dubs
Karen Pang's research examines depression in adolescents by comparing Caucasian and Asian American youths. Development of depression is common during adolescence (which is a huge period of adjustment and growth). But depression may be expressed differently by adolescents of differing cultural backgrounds making it difficult to identify and treat the condition in some individuals. In general, Asian-American cultures emphasize more emotional control compared to European-Americans traditions. Karen's work will examine whether these cultural differences in emotional expression result in cultural differences in the expression of depression. Karen is mentored by Dr. Elizabeth McCauley from the Department of Psychiatry and Behavioral Sciences. She will spend her Alcor-funded summer creating online questionnaires, operating EEG (Electroencephalography) equipment, while running a new program syntax, and training undergraduate student research assistants.
All three are making excellent progress through our Ph.D. program. All have served as teaching assistants for many quarters and clearly embody the qualities that the Alcor is meant to support. The Psychology Department is grateful to the stewards of the Alcor Endowment for continuing to provide meaningful support for our students.
Supplemental Reading: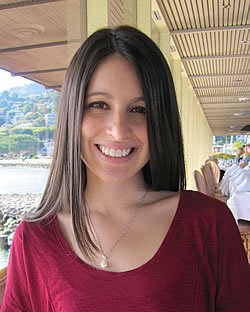 Photo: Natalia Garcia
Natalia Garcia is completing her first year of our adult clinical psychology training program working with Dr. Lori Zoellner. Natalia was recently notified that she was awarded a pre-doctoral training fellowship from the National Science Foundation. A brief introduction of the NSF is provided in another article.
Let's start with the basics, where are you from and where did you complete undergrad/masters?

I am from the Bay Area, California (Santa Clara, Palo Alto, San Francisco) and graduated from UC Berkeley in 2009.

How did you wind up at UW/why did you apply here? What do you think about living in Seattle?

UW offered the perfect mix of a top rated program, a strong faculty match, and the ideal location. I knew that UW had an excellent reputation with world-renown professors and Lori Zoellner's research program felt like an excellent fit. I was also excited to live in Seattle; my fiancé grew up here and we were both excited to move somewhere familiar! Many people ask how I am handling the California-to-Washington transition, but the truth is the San Francisco has a very similar climate! I am enjoying living one block from Greenlake and exploring the wonderful restaurants, fun bars, and beautiful outdoors that Seattle has to offer.

What is your research interest and how did you get into it (what inspires/motivates you)?

Broadly speaking, I am interested in how learning processes go awry in the anxious brain. More specifically, I am interested in the process of fear generalization, the tendency to react fearfully to stimuli that do not in fact signal danger but somehow resemble aspects of an originally dangerous cue. This proliferation of fear cues becomes detrimental to an individual's ability to register safety and may be a robust marker for PTSD and other anxiety disorders. My research will investigate mechanisms and risk factors that may lead to the overgeneralization of fear.

I became interested in fear learning processes when I worked at the San Francisco VA Medical Center with Dr. Sabra Inslicht on a fear conditioning study. I became fascinated with the idea that deficits in learning may explain and lead to the maintenance of maladaptive fear responses.

How did you learn about your funding opportunity and tell us about the application/waiting process?

I learned about the NSF Fellowship for Graduate Students through my lab. I was encouraged by my mentor and some of the older graduate students to apply. The writing process was challenging but exciting at the same time. Luckily, I have a very hands-on mentor who meets with me every week to help me develop my research ideas. Thanks to her, I was in pretty good shape by November of my first quarter to prepare a novel research proposal.

How did you feel when you learned that your application was accepted and that you will receive 3 years of funding?

It was actually funny because the congratulatory email went straight into my spam folder for some reason! I didn't know about it until one of my lab mates congratulated me after seeing my name listed as an "awardee" on the website. Once the news registered, my first reaction was to pinch myself - it was really unexpected! Then I called my friends and family to tell them the great news.

Do you have any advice/tips/suggestions for others who may apply to this opportunity? About graduate study in general?

My biggest piece of advice would be to focus on the "broader impact" sections of the application. Also, remember that the grant is about funding the researcher, not the research, so it's important to help them get a sense of where you've been and where you're headed in terms of your experiences and your career trajectory. The actual research proposal itself is only a small part of the application.

My advice about graduate school is to not treat it as if you're putting your life on hold for six years. Make time for the things that matter to you and don't hold off on experiences that you're too busy for now, because chances are you'll always be this busy! Make time for sleep, spend time with your friends, and learn how to say "no" or "not right now" when things get overwhelming.

What do you hope to accomplish with the funding and/or while in the UW Psychology graduate program?

After an incredibly busy first year of graduate school, I am looking forward to having more time to spend on my own research. The NSF funding will allow me to focus on my work without having to TA/RA, which should free up approximately 20 hours/week of my time.

What do you like doing in your spare time?

In my (limited) spare time, when I am not studying or wedding-planning, I enjoy cooking, trying new restaurants, enjoying happy hour with my cohort, walking around Greenlake, and visiting friends and family back in California when I get a chance. And watching Breaking Bad, of course!

The last book and/or movie you saw and enjoyed?

Game of Thrones - the books and the series are equally amazing!
Supplemental Reading:
The National Science Foundation's Graduate Research Fellowship Program (GRFP) is highly competitive and provides fellowship support for graduate students (master or doctoral) in science, technology, engineering, and mathematics. Recipients are given a three year award consisting of a fellowship stipend and an education allowance, in addition to the powerful networking opportunities and resources afforded by being selected as a fellow.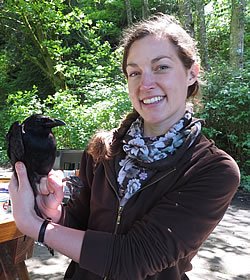 Photo: Kelsey McCune
The Department of Psychology has been fortunate to have several NSF fellows in the program each year. Kelsey McCune, a first year student in Animal Behavior with Drs. Renee and Jim Ha, is one of two of our most recent recipients of this prestigious fellowship.

Let's start with the basics, where are you from and where did you complete undergrad/masters?
I'm from Sapulpa, Oklahoma. I did my undergrad at Randolph-Macon Woman's College in Lynchburg, VA where I majored in Biology and minored in Chemistry and Spanish.
How did you wind up at UW/why did you apply here? What do you think about living in Seattle?
I took two years off after undergrad to explore field jobs and to figure out on which area of animal behavior I wanted to focus. After many long hours spent hanging out with a crow patient at a wildlife rehabilitation clinic, I was hooked on birds, and corvids in particular. Further hours spent reading papers indicated that the Ha Lab was the best lab to be in for corvid cognition research. I came to UW to work with Renee and Jim Ha, but now that I'm here, Seattle is definitely growing on me too. I'm a huge fan of Mt. Rainier!
What is your research interest and how did you get into it (what inspires/motivates you)?
Aside from loving crows, I'm interested in the factors affecting the evolution of intelligence across taxa. Corvids are a great system to study this because the species shows a range of social systems and ecological environments. By doing comparative research we can begin to understand which elements of the environment- physical or social- could lead to different aspects of cognitive ability. It's really intriguing that cognitive ability of many corvids is strikingly similar to that of primates, yet the species are evolutionarily very distant.
How did you learn about your funding opportunity and tell us about the application/waiting process?
The NSF GRFP is a really great program through which students can take their ideas and make them tangible. The application process helped me to flesh out the ideas that I had and begin the process of putting them in to action. Even if I hadn't succeeded in being funded this year, just the act of thinking through and writing out my project proposal would have been very beneficial. Since the essays can only be two pages long, you are really forced to narrow your thoughts down to the essential information.
How did you feel when you learned that your application was accepted and that you will receive 3 years of funding?
The email notifying me of my acceptance went to my spam folder, so when I heard from a friend that I was on the recipients list I thought it was a mistake. I didn't believe it was true for like a day and a half! Then I became cautiously ecstatic :-)
Do you have any advice/tips/suggestions for others who may apply to this opportunity? About graduate study in general?
When applying for something like this, have as many people as you can find comment on it. My lab was really an immense help in showing me what my application needed to take it to the next level. As for my advice for graduate study in general: read, read, read!
What do you hope to accomplish with the funding and/or while in the UW Psychology graduate program?
I hope to accomplish all that I can! My project ideas are pretty time-consuming, and thanks to NSF I now have more time to accomplish all of my goals.
What do you like doing in your spare time?
In my spare time I do a lot of bird watching! Also: hiking, traveling, reading, games of all sorts, and meeting friends at happy hour.
The last book and/or movie you saw and enjoyed?
Currently reading and enjoying "The Red Queen: Sex and the Evolution of Human Nature".
What you plan to do once you complete your PhD?
I think I'd like to do a post-doc. There are some great people all over the world doing research on comparative cognition that I'd love to learn from.
Supplemental Reading:
The Diversity Steering Committee (DSC) offers more than just the Diversity Science specialization for Psychology Graduate Students. They meet regularly to discuss diversity-related issues in graduate and undergraduate education and how to infuse the findings of diversity science throughout the Department's curriculum. DSC has also taken on a larger role introducing potential graduate students to the variety of diversity-related research conducted in our department during Recruitment/Admissions Weekend. Read on to learn more about DSC's valuable contribution to the Psychology Department.

During the Psychology Department's graduate recruitment weekend, the DSC sponsored a luncheon that attracted prospective students from a variety of divisions of psychology. Faculty speakers included DSC member Drs. William George (Adult Clinical), Ione Fine (Cognition & Perception), and Wendy Stone (Child Clinical). Graduate Student speakers included DSC members Teri Kirby (Social Psychology & Personality with Dr. Anthony Greenwald) and Andrew Paves (Adult Clinical with Dr. Mary Larimer). All speakers noted how their own research contributes to the department's mission to further diversity science. We also had the pleasure of Anthony Salazar, Graduate Diversity Program Specialist from the Graduate Opportunities & Minority Achievement Program (GO-MAP) of The Graduate School join us! We thank the speakers for giving amazing presentations.

DSC was invited by Carrie Perrin (Undergraduate Psychology Advising, Director of Student Services) and Dr. Laura Little (Psychology Principle Lecturer and Associate Chair for Teaching & Curriculum) to help develop an addition to the undergraduate senior exit survey. The overall purpose of this survey is to get feedback from graduating seniors regarding their experiences as they completed their psychology undergraduate degrees. The collaboration with DSC resulted in incorporating questions that measure the diversity climate within psychology classrooms. This survey will allow DSC to track the undergraduate diversity climate annually and aid DSC in developing best practices for promoting diversity within our classrooms.

Members of DSC continue to coordinate with GO-MAP to meet with prospective students who are interested in our Psychology Graduate Program. Over the past year, DSC members have staffed tables at graduate program informational sessions, provided lab tours, set up informational meetings, and engaged in email correspondence with a variety of prospective applicants to our graduate program. The goal of these interactions is to provide prospective students with a clearer understanding of the UW psychology Ph.D. program. Thank you to all members and graduate students who volunteer their time!

This year, Rick Cruz from the child clinical (Dr. Kevin King) psychology area completed the diversity specialization to complement his doctoral training. Rick has been deeply involved in diversity-related issues throughout his graduate training. He has published 3 papers (2 as first author), one book chapter, and given several conference presentations to this point in his career. His research on substance use within Mexican American youth has been featured previously in another article when he received a prestigious NRSA fellowship. He is also active outside of the UW, with memberships in the National Hispanic Science Network on Drug Abuse, and the Interdisciplinary Research Training Institute on Hispanic Drug Abuse. Next up for Rick will be a one-year clinical psychology internship at the University of Illinois at Chicago in their Department of Psychiatry.
Supplemental Reading:
The 42nd Annual Research Festival was held at the Waterfront Activities Center on the Wednesday following Memorial Day. On this day, second year graduate students in our clinical program and first year students in our experimental areas present their research findings. It's a day filled with much talking, laughter, and catching up as many members from our department return for this special event.

This year 19 students presented their work and attendance reflected the large amount of support and interest from their fellow graduate students, their families and department faculty. This support was especially appreciated as we experienced many challenges with traffic and the weather this day! (View the 2013 program online)

The festival concludes with an Awards Ceremony during which we recognize several graduate students and also reveal the recipient of the Davida Teller Distinguished Faculty Award. The Seattle skies barely held off as we presented the following awards while on the outside deck of the Waterfront Activities Center: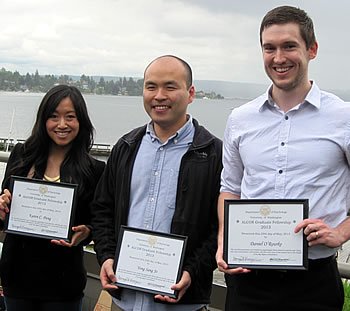 Photo: Karen Pang, Yong Sang Jo, Danny O'Rourke
The ALCOR Graduate Fellowships endowment was created by Harry Peterson and his wife Claire. We awarded 3 this year to Yong Sang Jo, Danny O'Rourke, and Karen Pang. Please check out our ALCOR article for more details on thesescholars. (Click here to view our 2013 ALCOR recipients)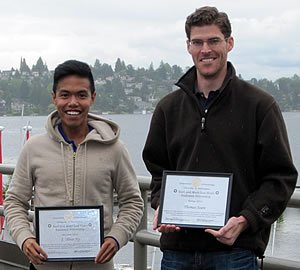 Photo: J. Oliver Siy and Tom Soare
The Earl (Buz) and Mary Lou Hunt Endowed Fellowship for Graduate Students in Psychology provides support for graduate students who are conducting research outside their advisor's grants. Our Hunt recipients are Tom Soare (Spring 2013) and J. Oliver Siy (Summer 2013). Please check out our Hunt article for more details on our scholars. (Click here to view our 2013 Hunt profiles)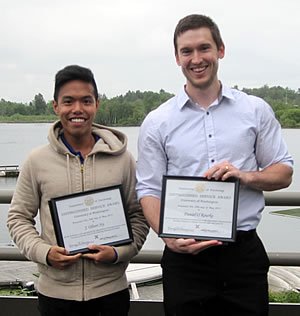 Photo: J. Oliver Siy and Danny O'Rourke
The Psychology Department also recognizes graduate students who serve above and beyond in awarding the Distinguished Service Award. This year, two students received this honor. Danny O'Rourke was honored for contributing to the department's research and teaching mission with many years of excellent service as Subject Pool Manager and for this recent year as Lead TA. J. Oliver Siy receivedrecognition for his years of service and commitment to diversity as the student chair of our Diversity Steering Committee.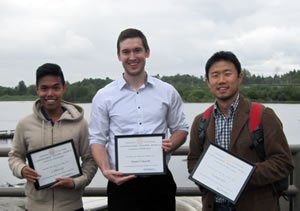 Photo: J. Oliver Siy, Danny O'Rourke, and Earnest Kim
The Distinguished Teaching Award for Graduate Students is an award selected by faculty committee for outstanding service and excellence in teaching. This year, three students received this award:

Earnest Kim Earnest joined the Behavioral Neuroscience area of our graduate program in September, 2009, having had four years of teaching experience in the Philippines. Indeed, he was named outstanding teacher of the year at Nanuri International School in 2007. Earnest came to the University a skilled teacher and those skills have only increased and diversified during his time here.

Daniel O'Rourke is currently a fifth year student in the clinical program. He has been a teaching assistant every quarter since entering the program in 2008. While Danny strives for excellence in all that he does, he manages to do so with great good humor and extraordinary enthusiasm, which makes the learning process both challenging and fun.
J. Oliver Siy The sheer number of classes he has TAed is impressive. But what really sets him apart is the fact that he contributed this magnitude of teaching despite the fact that he was fully funded by fellowships (GO-MAP during his first year, then NSF during his second, third, and fourth years). Moreover, he impressively managed to maintain a highly productive research career while doing it. Oliver is really a model graduate TA who combines skill in the classroom with skill in research and brings the two together for his students.
GPAC (Graduate Program Action Committee) consists of our graduate students who meet quarterly to discuss graduate student issues. For 2012-2013, the GPAC co-chairs were Ashwin Bhandiwad and Kayla Upshaw. GPAC coordinates the Graduate Student Service Award (GSSA) which is an award for graduate students by graduate students. This year, three students received this award:
Bjorn Hubert-Wallander. In the past two years, Bjorn has worked to improve the coordination, presentation, and execution of the department's recruitment weekend. He has continued to keep GPAC's efforts of improving mentorship and mentorship accountability by helping GTC put measures in place that move this initiative forward. One of two psych department senators in GPSS, Bjorn helps discuss, debate, and pass legislation aimed at improving various aspects of graduate student life. Bjorn has worked most closely on the restoration of the GPSS Travel Grants program, by serving for two quarters on an ad hoc committee charged with evaluating the then-suspended program, resulting in the committee proposing and passing legislation to bring the Travel Grants back!

Once more, Danny O'Rourke has been recognized for his service as Subject Pool Manager and as Lead TA. In these positions he seeks to make changes to allow greater equality between studies. Danny works hard to ensure high student participation in the Subject Pool process, and that researchers are treated equally. Through his role as Lead TA, Danny has focused on developing and implementing protocols where we can more regularly evaluate professors from a TA and RA standpoint--which will hopefully keep the department more in touch with students' needs. He helps mentor new TAs so that they navigate the classroom with confidence.

Valerie Tryon served as the graduate student representative for the Behavioral Neuroscience area hiring committee this year. She helped review approximately 180 resumes, held meetings to discuss the applicants, which eventually led to inviting 4 candidates for visits. As the grad student rep, she ensured that other students were aware of the events including organizing the grad student lunch. Afterward, she met with students to discuss their views, and then relayed that information to the search committee and other faculty. In addition, Valerie created and leads the BNS happy hour journal club, which is now in its third quarter.

Our final award for the day was the unveiling of the Davida Teller Distinguished Faculty Mentor Award. The objective of the award is to recognize and honor a faculty member who provides exceptional mentorship to individual graduate students both inside and outside of the lab, and who also works to maintain and improve graduate student training throughout the department. The award is meant to recognize exemplary advocacy of graduate student mentorship and program development.

Davida Teller was the first faculty member to receive this award in 2001. At that time, this award was established and named in her honor as a way to commemorate the exceptional contributions that Dr. Teller has made to the Psychology Department graduate program through her work with the Graduate Training Committee. Dr. Teller has been an advocate and role model for graduate students in our Department. She has played an active role in the constant evaluation and revision of our graduate training program and curricula. Thanks to Dr. Teller's continued commitment and support, our graduate training program is considered to be one of the best in the country.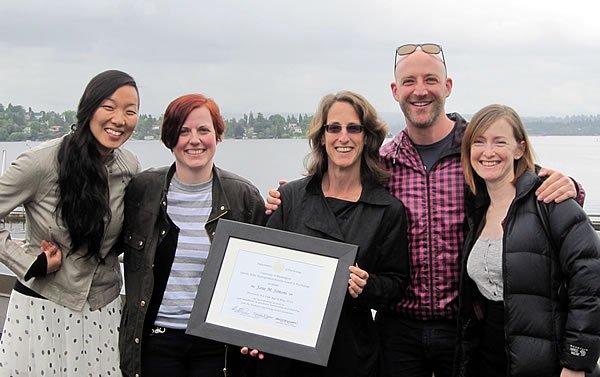 Photo: Joyce Yang, Kimberly Nelson, Dr. Jane Simoni, Bryan Kutner and Sam Yard
This year, Dr. Jane M. Simoni receives the honor. As explained by her current students:
Dr. Jane Simoni cares deeply about being a good mentor. It's a value she has, not only in her work with her graduate students, but also in the psychology department generally, with junior faculty, and with her secondary advisees. She solicits and incorporates feedback regarding her mentoring, and even has a K award to specifically devote time to effective mentorship. Additionally, she reaches out to students and faculty with diverse backgrounds and acknowledges broad social justice goals in her mentorship. The people who are blessed to have been mentored by Dr. Simoni can easily say that they are successful not only because of their own merit, but also in large part because of her guidance and support. We are pleased to say that Dr. Simoni has received the Davida Teller Distinguished Faculty Award for her continual efforts to improve mentorship within the psychology department, and for being a wonderful mentor herself.
~*~

Immediately following the awards ceremony was the poster session for the Undergraduate Psychology Honors Program. Then our graduate students participated in a sea-worthy activity sponsored by GPSS. Psychology Graduate students were recent awardees of the Graduate & Professional Student Senate's (GPSS) Departmental Allocation funds. The award money was used to organize a celebratory, post-Research Festival canoeing trip on Union Bay, with canoe rentals from UW's very own Waterfront Activities Center. A great time was had by all. Look for this to become a new Psychology Research Festival tradition!
This truly was a great day for psychological research and for appreciating the individuals who contribute so much to our department.

See you next year!
Autumn quarter 2012
Andrew Fleming (Child Clinical with Robert McMahon) presented his dissertation data to the Association for Behavioral Cognitive Therapies and was given the Outstanding Student Research Award from the ADHD research group. Andrew is completing his internship at Semel Institute for Neuroscience and Human Behavior, University of California Los Angeles. He has previously been featured for receiving a Huckabay Teaching Fellowship in 2011. Please click here for the article.

Anita Lungu (Adult Clinical with Marsha Linehan) completed her general exam and advanced to candidacy. While two students completed their master's, Joy Kawamura (Child Clinical with Lynn Fainsilber Katz) and Stephanie Thompson (Child Clinical with Liliana Lengua).

We had several students graduate with their Ph.D. Their post-doctoral plans include positions at University of Texas at Austin, University of Oregon, University of Washington I-LABS, University of California San Francisco/San Francisco Veterans Affairs, and TiVO.

We congratulate Aileen Echiverri-Cohen (Adult Clinical with Lori Zoellner), Sung Jun Joo (Cognition and Perception with Scott Murray), Kelly Koo (Adult Clinical with William George), Lori Malahy (Social Psychology and Personality with Yuichi Shoda), Berit Olsen (Developmental with Betty Repacholi), Tamara Spiewak Toub (Developmental with Betty Repacohli), Serap Yigit-Elliott (Cogition and Perception with John Palmer), and Maureen Zalewski (Child Cilnical with Liliana Lengua).
Winter quarter 2013
James Rae (Quantitative with Brian Flaherty) was one of five graduate students awarded a career development stipend from the UW Tobacco Studies Program. You can learn more about the students and the scholarship program online.

The American Psychological Foundation announced Erin Ward-Ciesielski (Adult Clinical with Marsha Linehan) as a recipient of the 2012 APF/COGDOP Graduate Research Scholarship. Her $3,000 scholarship was made possible by the Friedman-Klarreich Family Foundation to conduct research on reducing suicide risk in individuals not receiving mental health treatment. She will conduct a randomized controlled trial of a brief Dialectical Behavior Therapy skills training intervention. Erin has previously been featured for receiving a National Research Service Award for her suicide research. Please click here for the article.

Joyce Yang (Adult Clinical with Jane Simoni) was selected as a recipient of a Trainee Support Grant by the Developmental Core of the UW/FHCRC Center for AIDS Research (CFAR). The award is for $800 and will allow her to present her research on Parental HIV Disclosure to Children in China at the 34th Annual Meeting & Scientific Sessions of the Society of Behavioral Medicine in San Francisco, March 2013. Joyce has previously been featured for receiving a National Research Service Award for her research on cultural mental health. Please click here for the article.

Jeremy Luk, a fourth year student in the Child Clinical area working with Kevin King, has been selected by the committee for the 2013 EARA/SRA International Summer School to be a student for the summer school at Kent State University. Jeremy has previously been featured for receiving a National Research Service Award for his research on substance abuse across adolescence into adulthood. Please click here for the article.

During Winter quarter the department selected the 2013 Hunt Fellows, Tom Soare (Animal Behavior with Sean O'Donnell) and J. Oliver Siy (Social Psychology and Personality with Sapna Cheryan). The Hunt Endowment was created by faculty emeritus, Earl Buz Hunt. Please click here to read about our latest Hunt Fellows and their research.

In Winter, we had a number of milestones completed by our students. Four students completed their general exam and advanced to candidacy: Alissa Jerud and Janie Jun (Adult Clinical students with Lori Zoellner), Jessica Chen (Adult Clinical with Ronald Smith), and Exu Anton Mates (Animal Behavior with Jim Ha).

Second year Social Psychology and Personality student, Laura Brady (Cheryl Kaiser) completed a master's degree. Laura has previously been featured for receiving a National Research Service Award for her research on discrimination and prejudice. Please click here for the article.

Two students completed our specialty programs. Rick Cruz (Child Clinical with Kevin King) earned a certificate in Diversity Science while J. Oliver Siy (Social Psychology and Personality with Sapna Cheryan) completed the Quantitative Minor. Rick has previously been featured for receiving a National Research Service Award for his research on Mexican youth substance use. Please click here for the article.

Benjamin Drury graduated with a Ph.D. in Social Psychology and Personality. His advisor is Cheryl Kaiser. Ben is currently working at Microsoft.
Spring quarter 2013
Kelsey McCune (Animal Behavior) has received a National Science Foundation Graduate Fellowship for three years of support. Renee Ha is her advisor. She also just received an American Association for the Advancement of Science Pacific Division Student Grant Award for her project "Social Versus Physical Cognition in Three Corvid Species." Her advisor is Renee Ha. Check out her NSF profile here.

Natalia Garcia (Adult Clinical) has received a National Science Foundation Graduate Fellowship. Her advisor is Lori Zoellner. Check out her NSF profile here.

Arianne Eason, who is advised by Cheryl Kaiser and Jessica Sommerville, just a received a Ford Foundation Predoctoral Fellowship to support three years of her graduate training. She is also an NSF Predoctoral Fellow with a feature in last year's newsletter. Please click here for the article.

Jolina Ruckert (Developmental with Peter Kahn) has been selected as a recipient of a 2013 American Psychological Association Student Travel Award. The purpose of the award is to help her travel to the APA Convention in Honolulu, HI, to present her research, "Surfing and Psychology — Surfers' Experience, Identity, and Empowerment in Context." Jolina has previously been featured for receiving a Bonderman Fellowship. Please click here for the articles (Before and After).

Erin Ward-Ciesielski (Adult Clinical with Marsha Linehan) continues to be recognized for her work on suicide. She received the Graduate School Presidential Dissertation Fellowship for use during 2013-14. The fellowship provides tuition waivers, health insurance, and stipend.

The past five years has seen the climb of Freudian Slip, the Psychology Department's soccer team, to the premier league of UWmen's intramural soccer. Under the advisement of team manager, Tom Soare, the team has yielded a fare amount of wins, losses, injuries, and clever wordplay in their post-game write ups. During the regular season, you may find them Monday evenings on the field closest to the IMA. Thanks for representing the department!



L-R: Earnest Kim, Frank Schwebel, Robert Mohr, Erik Runeson, Danny O'Rourke, and Tom Soare

Spring is also the time when the department awards its newest ALCOR fellows, Yong Sang Jo (Behavioral Neuroscience with Sheri Mizumori), Danny O'Rourke (Adult Clinical with Ronald Smith), and Karen Pang (Child Clinical with Elizabeth McCauley and Lynn Fainsilber Katz). The ALCOR endowment was created by the Peterson family and supports students in music and psychology. Read about our latest ALCOR fellows here.

Congratulations to Valerie Tryon (Behavioral Neuroscience), who was just awarded a predoctoral fellowship position on the Genetic Approaches to Aging T32 Training Grant. Valerie works in Sheri Mizumori's laboratory, and she will be testing novel treatments for age-related declines in learning, memory and decision making. We will be including a feature on Valerie in our next issue (Winter 2014), please stay tuned!

The penultimate event for the Psychology Graduate Program is our Annual Research Festival, which celebrates 42 years. Graduate students give 15mins talks with 5mins Q&A following. We conclude the day with an awards presentation celebration. There are too many to mention here, so please click over to the article.

Finally, we have students who completed milestones in our program during spring quarter. Heather Gary (Developmental with Peter Kahn) and Karen Pang (Child Clinical with Elizabeth McCauley and Lynn Fainsilber Katz) passed their general exams and advanced to candidacy. Libby Marks (Adult Clinical with Lori Zoellner) completed a master's degree. The department has 3 students graduating with their Ph.Ds., Peter Alderks (Animal Behavior with Joseph Sisneros), Tom Soare (Animal Behavior with Sean O'Donnell) and Geoff Valentine (Cognition and Perception with Lee Osterhout).

Congratulations to all our students for their accomplishments this past year. We look forward to seeing what happens next!