Grad School 101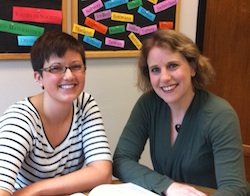 During fall quarter 2011, Psychology advisors Vicky Hansen and Tracy Maschmann Morrissey led a group of psychology majors and alumni through a ten week class that focused on the graduate school application process - a kind of boot camp for students planning to apply to psychology related graduate programs. Offered as a two credit elective class for the first time last fall, the idea came about six years ago and initially took the form of a kind of going to grad school support group.
"I had noticed that many students were coming into our office to ask the same questions about searching for graduate programs and preparing a strong application," says advisor Vicky Hansen. During its first few iterations, the group met voluntarily, with a loose agenda. It is now a full-blown class that includes writing assignments and ample opportunities for student interaction and reflection. Guest speakers include Psychology faculty, graduate students, and UW career counselors.
Open for credit to UW students, the class is also accessible for our Psychology alumni. "We like to keep the doors open to our alumni and other community members who may want to participate in this process," says Vicky. Student response and feedback has been very positive, and another class is on the books for this coming fall quarter.