Undergraduate
Here in Seattle, spring is the time of cherry blossoms, the start of boating season, and maybe even a hint of sunny weather. At the University of Washington, as in other colleges and universities across the county, spring is also the time of celebrations and transitions. Over this past school year, more than 400 psychology majors have earned their Bachelor's degrees and are poised to begin new chapters in their lives.
On June 7, over 200 of these graduating students, along with nearly 1200 of their family members and friends, gathered at the Daniels Recital Hall in downtown Seattle to mark this important transition, and to cheer their accomplishments. Among our graduates are 15 Psychology Honors students who participated in this years Honors Poster Session, showcasing the results of their research projects. Our graduates also include 14 Mary Gates Research and Leadership Scholars, two Arts and Sciences Timeless Future Award recipients, two Levinson Emerging Scholars, recipients of Undergraduate Research Travel and Conference Awards, and a nominee for the Dean's Medal in Natural Sciences.
With newly awarded Bachelor's degrees in hand, and an impressive number of personal and academic accomplishments behind them, our psychology graduates are headed out to tackle new and exciting challenges. For many, graduate study is in their immediate future, including programs at the University of Washington, the University of British Columbia, Washington State University, Pepperdine University, the University of Pittsburgh, Bastyr University, Seattle Pacific University, the Pacific University College of Optometry, the University of North Carolina-Chapel Hill, Gonzaga University, Loyola University, and Columbia University. Other new graduates are headed into the workforce as case aides, corporate recruiters, human resource specialists, client services coordinators, marketing interns, research assistants, grant coordinators, behavioral intervention specialists, and teachers.
In the Psychology Advising Office, the work of helping our students to negotiate transitions to careers and graduate study begins early on. Advisors work with students individually, as well as in workshop and class settings, to help connect them with resources on and off campus that will allow them to learn skills, gain rich experiences, and refine their interests. Two such endeavors, the Applying to Graduate School class and the Getting a Job Support Group [link to "Making the Leap: Getting a Job Support Group" article], are featured in this newsletter.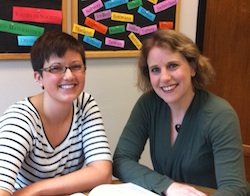 During fall quarter 2011, Psychology advisors Vicky Hansen and Tracy Maschmann Morrissey led a group of psychology majors and alumni through a ten week class that focused on the graduate school application process - a kind of boot camp for students planning to apply to psychology related graduate programs. Offered as a two credit elective class for the first time last fall, the idea came about six years ago and initially took the form of a kind of going to grad school support group.
"I had noticed that many students were coming into our office to ask the same questions about searching for graduate programs and preparing a strong application," says advisor Vicky Hansen. During its first few iterations, the group met voluntarily, with a loose agenda. It is now a full-blown class that includes writing assignments and ample opportunities for student interaction and reflection. Guest speakers include Psychology faculty, graduate students, and UW career counselors.
Open for credit to UW students, the class is also accessible for our Psychology alumni. "We like to keep the doors open to our alumni and other community members who may want to participate in this process," says Vicky. Student response and feedback has been very positive, and another class is on the books for this coming fall quarter.
Following on the success of the graduate school application groups, the Psychology Advising Office offered the inaugural Getting a Job Support Group during winter quarter 2012. While many of our psychology majors aspire to attend graduate school, the majority will enter the workforce directly with a Bachelor's degree. This multi-session workshop was designed by Psychology advisors Vicky Hansen and Tracy Maschmann Morrissey to give students some strategies for the job search process.
The group met six times over the course of the quarter. Students polished resumes, drafted sample cover letters, and learned about different ways of approaching the job search. Mock interviews during class, and an assignment that required students to conduct a vocational interview with a professional in their field of interest, boosted students' confidence and even opened some unexpected doors.
"Three of our students who made contacts during their vocational interviews ended up with strong job leads that resulted in employment," says Vicky Hansen. "While we don't expect this to happen so quickly for all of our students," she continues, "it was a very exciting development!"
Plans are in the works to convert this support group format to a quarter-long class that will include collaborations with Psychology alumni.
Take a look at what students are saying about the Psychology Department's Applying to Graduate School Class...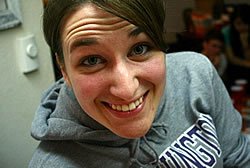 Photo: Rachel Seeley
Rachel Seeley (BS, March '12)

I was one of a few students in the class not intending on applying to grad school directly after undergrad. While the class is set up for students applying this year, the curriculum was still extremely helpful! I met a student who had similar career goals as myself through this class, and we attended the SU School Counseling Masters Program information session together, and also had an informational interview with a school counselor at Lake Washington High School. Having a friend with similar goals is extremely valuable, and something I did not have until attending this class. The second important thing I gained from this experience was quality time with the Psych counselors. I had been in to their office on occasion my first three years, but we definitely developed our relationship in the grad school prep course. The class is really set up to be whatever you need it to be, and it is that flexibility that makes it worthwhile. For example, instead of writing an entrance essay (since I was not even positive what type of graduate program was best for me!) I wrote a reflection paper on what I want to do. This forced me to face a topic that I think a lot of students go through school avoiding, and I got feedback on it from my counselors! I highly recommend checking this class out, even if you don't take it for credit!

Rachel's next steps...
I knew I would be taking a year off before applying to graduate schools when I registered for this class. During my time off, I have decided to join Teach for America. I am a 2012 Northeast Ohio Corps Member, and hope to be teaching middle school mathematics.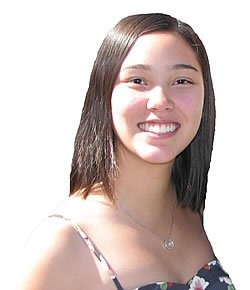 Photo: Brianna Yamasaki
Brianna Yamasaki (BS, June '12)
Taking the "Going to Grad School" class was a fantastic experience. There are so many different components necessary for applying to graduate programs and this class not only kept me on track with each part but also the other students in the class acted as a support and peer edit group.
Next for Brianna...
In the fall I am going to be starting a Ph.D. program in cognitive psychology at the University of Washington.
Alison Gile (BS, June '12)
This is a great class to take even if you are not ready to apply or do not know what program are want to apply to. Much of the information given in this class pertains to admissions to many different graduate schools.
Alison's plans...
I really enjoyed the preparing for graduate school class. I decided that I was not ready to apply to graduate school and plan to wait a year.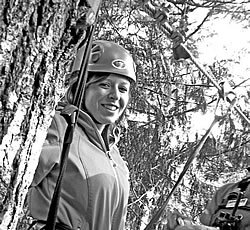 Photo: Jessica Leja
Jessica Leja (BA, June '12)
The preparation class was extremely helpful for me--especially since I won't be applying for grad school for a year or two. Vicky and Tracy are extremely helpful and able to answer any other questions to guide your choice of program. I'm really glad I took this class!
Outcomes for Jessica...
Now I have a C.V. and personal statement to work with when I am ready to apply, and I know how to search for appropriate schools.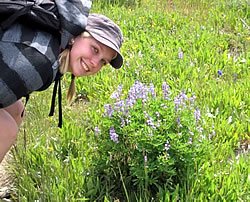 Photo: Sara Maddux
Sara Maddux (BS, June '12)
I really loved the class and thought it was a great asset to my application process and certainly de-stressed those couple of months. I constantly bragged to friends in other departments about what great advisers and help we have, and how much of an asset this class was.
On the horizon for Sara...
I interviewed at one school, where I was wait-listed, and was accepted into a master's program at Catholic University. I turned down that offer, however, and will instead be teaching in the Marshall Islands for 11 months starting in July, through a program at Harvard called WorldTeach. I think this class helped me develop important resume-building and essay writing skills and really teaches you how best to emphasize all of the great work you have done while at the UW. I will be certainly be visiting this class again on my second try!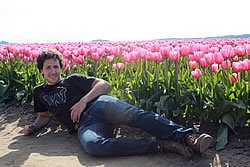 Photo: Jack Clearman
Jack Clearman (BS, June '12)
I entered a with ideas of what I intended to do for grad work, I left with a plan, a real foundation in how to approach the next stage in my education.
The most useful extractions from the class were the personal stories classmates and advisers alike contributed in their application and interview processes.
Coming up for Jack...
I have not yet applied to graduate school, but this December I'll be applying to a range of schools for cognitive neuroscience, education, and related fields.
Photo: Vanessa Yuan
Vanessa Yuan (BS, expected August '12)
I have found the class really helpful as I went to the class without any knowledge about graduate school. The class has helped me a lot in looking for suitable graduate programs. Vicky and Tracy introduced a very useful book for looking at different graduate programs in the U.S., and it really helped me to narrow down my focus and it is way easier than looking at different websites one by one. It was also extremely helpful learning how to ask for recommendation letters, and learning different was to approach professors.
Vanessa's options...
I did not apply to any graduate programs in the U.S., but I was accepted to a juris doctor degree at the Chinese University of Hong Kong. I decided that I still want to study Clinical Psychology, so declined the offer.
The Psychology Department is proud of the accomplishments of our undergraduate students. Check out some of the highlights from this year:
The Psychology Honors Poster Session, on May 30, showcased the work of the 15 members of the Honors Program who are graduating this year. The poster session, along with the completion of a senior thesis, marks the culmination of a two-year intensive research program. Congratulations to our honors students: Kristin Aerts, Zeke Barger, Thomas Coleman, Deirdre Edsall, Teague Henry, Leela Holman, Chantelle Kinzel, Paige Peterson, Monica Rapp, Kimberley Sanders, Alice Tattersall, Lin Tu Trinh, Josef Turecek, Ziqin Wang, and Brianna Yamasaki.
Kevin Dofredo received an Undergraduate Research Award from the College of Arts and Sciences. Kevin's faculty advisor is Paul Phillips, in Psychiatry and Behavioral Sciences.
Brie Chun and Denise Dy were both named Future Timeless Award Winners. This was a special award given this year in commemoration of the 150 year anniversary of the College of Arts and Sciences.
Congratuations to the 14 psychology majors (and their faculty sponsors), who were awarded Mary Gates Leadership or Research Scholarships. Our Leadership Scholars are: Taylor Boren (Sharan Brown-Education) and Michael Fujimoto (Jennifer Salk-Dance). Research Scholars are: Zeke Barger (William Moody-Biology), Tom Coleman (Sheri Mizumori), Deirdre Edsall (Raphael Bernier-Psychiatry and Behavioral Sciences), Nile Graddis (Sheri Mizumori), Kelsey Hinton (Jeansok Kim), Sunny Hothi (Michael Murias-Psychiatry and Behavioral Sciences), Joon Kim (Sean Murphy-Surgery), Chantelle Kinzel and Josh Larkin (Sheri Mizumori), Nathan Ma (Randy Kyes), Josh Matlock (Maria Razumova-Bioengineering), Paige Peterson (Corey Fagan), Alice Tattersall (Monique Cherrier-Psychiatry and Behavioral Sciences), and Josef Turecek (John Welsh-Pediatrics).
Alice Tattersall was the recipient of an Undergraduate Research Travel Award. Her faculty advisor is Monique Cherrier, from Psychiatry and Behavioral Sciences.
Caitlin Handron received an Undergraduate Research Conference Award from the Undergraduate Research Program, as well as a Psi Chi Regional Award for a poster she presented at the Western Psychological Association convention. Caitlin's faculty advisor is Sapna Cheryan.
Teague Henry was named a Levinson Emerging Scholar in fall 2011. Teague's faculty advisor is Kevin King.
Zeke Barger was the Psychology Department's nominee for the Arts and Sciences Dean's Medal in the Natural Sciences Division. Zeke is a member of the Psychology Honors Program, is completing a double major with Psychology and Neurobiology, and graduates Summa Cum Laude.
The following students were invited to join Phi Beta Kappa: Amanda Brumley, Hilary Cohen, Rebecca Emery, Brian Eschels, Dayna Feller, Kelsey Frost, Leela Holman, Hannah Krajnik, Tamar Mentzer, Harrison Owens, Gabrielle Paras, Paige Peterson, Alison Ponce, Clara Roberts, Kimberley Sanders, Aziza Seykota, Jordan Standlee, Jingqing Tang, Andrea Vernon, and Yuan Zhuang.