UW Autism Center Director Wendy Stone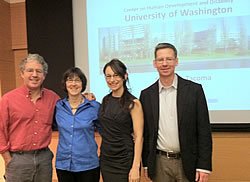 Photo: UW Autism Center researchers John Welsh, Wendy Stone, Shanna Alvarez, and Michael Murias present their research at the Autism and the Brain Conference in Portland, Oregon.
Wendy Stone, Professor of Psychology and Director of the UW Autism Center, has been busy educating the community about the Center's research and clinical activities. In recognition of Autism Awareness Month, the UW Autism Center clinicians and researchers provided ten free community presentations during the month of April. Presentations included topics such as managing challenging behaviors, preparing for adolescence and puberty, and teaching emotion regulation to children, as well as research updates and a multidisciplinary "ask the experts" panel. There were over 200 attendees across the Seattle and Tacoma sites, consisting of families, educators, and service providers. The feedback from participants was excellent, including one comment expressing the wish that Autism Awareness Month could be every month!
Professor Stone and her team have also been actively advising statewide, regional, and national organizations concerned with autism. Autism Center team members recently participated in the statewide meeting of the Washington Autism Advisory Council and presented research findings at the "Autism and the Brain" conference in Portland, sponsored by the Autism Society of Oregon. Finally, Professor Stone found her way to Sesame Street, to serve on an advisory panel to help producers and their teams explore potential roles for promoting awareness and education about autism.