Marguerite Weis: A Longtime Supporter of Psychology Research
In 2001, Marguerite Weis read an article describing Psychology Professor and now UW Provost Ana Mari Cauce's research addressing the needs of homeless youth in Seattle's University District. Weis, a nurse at Harborview Medical Center (HMC), and an avid gardener and trainer of dachshunds who lives with her husband on Whidbey Island, was drawn to Cauce's research project. She notes, "Too many folks ignore the needs of children." Not so Weis, who made a commitment to donate to the Cauce's Research Fund. For the past eleven years she has made regular payroll deductions to the fund. When asked why she makes her donations through payroll deductions, Weis notes "I have always felt it was important to give something back to the community and the manner that the funds are set up at HMC make it easy to do. I donate via payroll deduction so I don't forget about it."
Weis's monthly donations have helped support Cauce's research projects. Cauce continues to carry out research on at-risk youth, including work on a study following 500 Latino families with adolescent children. She still finds time to write about her research and talk to both professional and lay audiences about her work. She is also an active member of the Gordon Commission on The Future of Assessment in Education and participated in their meetings at the College Board in the spring. However, first as College of Arts and Sciences Dean and now Provost, she also has a chance to develop national and international partnerships.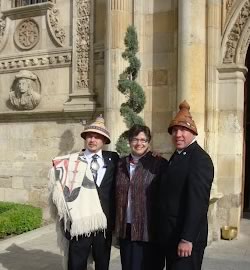 Photo: Ana Mari Cauce (center) and members of the Makah Tribe during their trip to Leon, Spain.
The Cauce Research Fund, because it is discretionary, is especially important in helping her carry out this work. For example, last year she used Cauce Research Funds to help pay for her travel to Spain which included touring a new experimental elementary school in the Madrid area. Joining her were leaders of the Makah tribe who are considering replicating this model of education in Neah Bay, Washington. She also visited several restaurants that were founded by Father Lezema for the purpose of developing work skills and employment opportunities for street youth. While is Spain she also signed a memorandum of understanding with the Madrid school district which has resulted in placements for close to 100 UW graduates in the Madrid school system. Because this trip took place during a time where there was a freeze on travel using state funds, without the Cauce Research Fund it would have been difficult for her to go or to bring along members of the Makah tribe.
Donors like Weis play a pivotal role in enabling members of the Psychology Department to engage in teaching, research, and outreach activities that make significant contributions to science and society. These donations prove especially valuable in these challenging times of reduced state and grant funding. Every donation, no matter its size, plays an important role in making UW Psychology what it is today and what it can be in the future. We extend our thanks to Marguerite Weis, and to all of our donors, for making UW a priority in their giving. If you would like to find out how you can help to promote our research across a number of areas, please contact our Department Chair, Sheri Mizumori (mizumori@uw.edu).