Outreach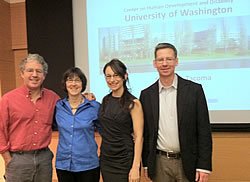 Photo: UW Autism Center researchers John Welsh, Wendy Stone, Shanna Alvarez, and Michael Murias present their research at the Autism and the Brain Conference in Portland, Oregon.
Wendy Stone, Professor of Psychology and Director of the UW Autism Center, has been busy educating the community about the Center's research and clinical activities. In recognition of Autism Awareness Month, the UW Autism Center clinicians and researchers provided ten free community presentations during the month of April. Presentations included topics such as managing challenging behaviors, preparing for adolescence and puberty, and teaching emotion regulation to children, as well as research updates and a multidisciplinary "ask the experts" panel. There were over 200 attendees across the Seattle and Tacoma sites, consisting of families, educators, and service providers. The feedback from participants was excellent, including one comment expressing the wish that Autism Awareness Month could be every month!
Professor Stone and her team have also been actively advising statewide, regional, and national organizations concerned with autism. Autism Center team members recently participated in the statewide meeting of the Washington Autism Advisory Council and presented research findings at the "Autism and the Brain" conference in Portland, sponsored by the Autism Society of Oregon. Finally, Professor Stone found her way to Sesame Street, to serve on an advisory panel to help producers and their teams explore potential roles for promoting awareness and education about autism.
In partnership with The Evergreen School, a preschool-8 independent school in Shoreline, the Psychology Department co-sponsored a speaker series to provide opportunities for reciprocal engagement and dialog between psychological scientists and educators. Psychology Professor Yuichi Shoda spearheaded this partnership five years ago, and we have since hosted six well-attended and thought-provoking events featuring top researchers and scholars in psychological science. A central focus of this Speaker Series is on setting the foundation for the life-long development of cognitive, social and emotional skills, and education of highly capable learners in diverse and underserved populations, building on and translating research-based knowledge into use in the classroom and beyond.

This year, Sian Beilock, Professor of Psychology at the University of Chicago, presented the state of science investigating why people sometimes "choke" under pressure. She brought together brain imaging, laboratory experiments, and real-life observations to uncover just what is happening in people's minds and brains when they fail to perform at their best in situations where it matters the most (e.g., a real SAT, rather than practice SAT; golf putting and basketball free throws in front of fans). A large audience at Kane Hall, including many teachers, parents, UW students, and school administrators, was so engaged by her presentation that the Q&A session following her talk went well over 30 minutes! This presentation was followed by a workshop during which teachers recounted "choking" situations they witnessed and, along with Professor Beilock, discussed how research findings can be used to help achieve optimal performance in such situations.

The Speaker Series aims to serve as a community resource by facilitating a direct and mutually beneficial dialogue between educators, parents, and researchers. We hope it will help educators and parents better understand the science behind behavior and develop and refine strategies in light of research findings. We also hope it will help researchers discover the factors that affect translation of research-based knowledge into practice and identify new and important questions to examine in the laboratory. We are grateful to The Evergreen School for their expertise, encouragement, and highly generous financial support, without which this Speaker Series would not have been possible.



In 2001, Marguerite Weis read an article describing Psychology Professor and now UW Provost Ana Mari Cauce's research addressing the needs of homeless youth in Seattle's University District. Weis, a nurse at Harborview Medical Center (HMC), and an avid gardener and trainer of dachshunds who lives with her husband on Whidbey Island, was drawn to Cauce's research project. She notes, "Too many folks ignore the needs of children." Not so Weis, who made a commitment to donate to the Cauce's Research Fund. For the past eleven years she has made regular payroll deductions to the fund. When asked why she makes her donations through payroll deductions, Weis notes "I have always felt it was important to give something back to the community and the manner that the funds are set up at HMC make it easy to do. I donate via payroll deduction so I don't forget about it."
Weis's monthly donations have helped support Cauce's research projects. Cauce continues to carry out research on at-risk youth, including work on a study following 500 Latino families with adolescent children. She still finds time to write about her research and talk to both professional and lay audiences about her work. She is also an active member of the Gordon Commission on The Future of Assessment in Education and participated in their meetings at the College Board in the spring. However, first as College of Arts and Sciences Dean and now Provost, she also has a chance to develop national and international partnerships.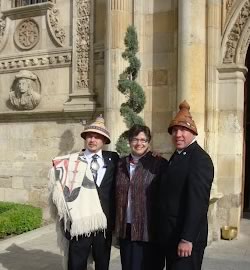 Photo: Ana Mari Cauce (center) and members of the Makah Tribe during their trip to Leon, Spain.
The Cauce Research Fund, because it is discretionary, is especially important in helping her carry out this work. For example, last year she used Cauce Research Funds to help pay for her travel to Spain which included touring a new experimental elementary school in the Madrid area. Joining her were leaders of the Makah tribe who are considering replicating this model of education in Neah Bay, Washington. She also visited several restaurants that were founded by Father Lezema for the purpose of developing work skills and employment opportunities for street youth. While is Spain she also signed a memorandum of understanding with the Madrid school district which has resulted in placements for close to 100 UW graduates in the Madrid school system. Because this trip took place during a time where there was a freeze on travel using state funds, without the Cauce Research Fund it would have been difficult for her to go or to bring along members of the Makah tribe.
Donors like Weis play a pivotal role in enabling members of the Psychology Department to engage in teaching, research, and outreach activities that make significant contributions to science and society. These donations prove especially valuable in these challenging times of reduced state and grant funding. Every donation, no matter its size, plays an important role in making UW Psychology what it is today and what it can be in the future. We extend our thanks to Marguerite Weis, and to all of our donors, for making UW a priority in their giving. If you would like to find out how you can help to promote our research across a number of areas, please contact our Department Chair, Sheri Mizumori (mizumori@uw.edu).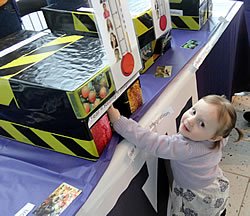 Mystery boxes to study fear. A demonstration of fecal sample collection, with fake 'pooh." At the Pacific Science Center's PAWS-on Science event, held March 30 through April 1, Psychology professors Lori Zoellner and Randy Kyes shared their research, making it engaging for visitors of any age. Close to 10,000 people attended the event, which showcased almost 50 UW research groups. Read more.
We are pleased to recognize the following for their much appreciated contributions during the period of November 16, 2011 through May 15, 2012. Their gifts help strengthen our Department and support a wide range of important research and instructional work by our current students and faculty as well as recruitment of the very best new faculty and graduate students. Please let us know if we have accidentally omitted or misspelled your name by contacting the Psychology Office (psyofc@uw.edu).
Nadine R. Anderson, Ph.D. | Blaise Aguirre | Dr. and Mrs. Raymond Baird, Jr. | Ms. Kristina L. Bostrom | Dr. Mark Bouton and Ms. S. Legault-Bouton | Prof. B. Brewer & Ms. J. Van Raalte | Jeffrey and Gail Bromberg | Dr. Victoria Cane | Mr. and Mrs. James A. Carlsen | Mr. and Mrs. David A. Clifford | Mr. and Mrs. James Mazza | Dr. Haleh Ghanizadeh | Mr. and Mrs. Michael F. Ducey | Dr. and Mrs. Richard W. Elwood | Mr. Steve Birge and Ms. Tiffany English | Ms. Madoka Etoh | Dr. Michael S. Fanselow | Mr. Peter M. Fogliano | Ms. Stephanie J. Fohn | Mr. Melvin H. Fujino | Mr. and Mrs. David G. Gilbert | Mr. and Mrs. David G. Gilbert | Lori and Jon Grande | Dr. and Mrs. Anthony Greenwald | Profs. Renee and James Ha | Mr. and Mrs. Robert T. Hamilton | Dr. Jean and Mr. Thomas Heestand | Ms. Susan A. Heuer | Dr. and Mrs. Albert R. Hollenbeck | Dr. and Mrs. Kenneth L. Hoving | Mr. Kurt A. Ing | Andre M. Ivanoff, Ph.D. | Mr. West Kelley | Mr. and Mrs. David M. Kendrick | Ms. Donna L. Klein | Kelly D. Koerner, Ph.D. | Cedar R. Koons, L.I.S.W. | Zinaida Koroleva | Marsha M. Linehan, Ph.D. | Prof. Geoffrey R. Loftus | Mr. and Mrs. Rodney L. Loveless | William J. Luecke, Ph.D. | Dr. Cindy Mancini | Ms. SueAnn T. Manipon | Dr. and Mrs. Michael M. Matsushima | Dr. D. Mooney-Corcoran & Mr. K. Corcoran | Mr. Jan Eric Nordmo | Mr. John M. Pangborn | Karen Pavlidis, Ph.D. | Mr. James M. Picicci | Dr. and Mrs. Richard D. Prince | Clive Robins, Ph.D. | Ms. Beth Rogers | Ms. Jennifer L. Schulze-Aguirre | Dr. Ed Shearin & Dr. Naomi Tomoyasu | James A. Sherman, Ph.D. | Dr. David N. Shorr | Mr. David C. Siphron | Mr. Charles Swenson | Ms. Deborah Taheri | Ms. Mary Jane Thompson | Mr. Mathew Alexander Tkachuck | Ms. Becky A. Ward | Dr. W. S. Warrenburg & Ms. Gail Kolflat | Ms. Elizabeth Y. Webster | Dr. and Mrs. David G. Weight | Ms. Marguerite M. Weis | Ms. Jennifer G. Wheeler | Mr. Randall J. Wolbert | Rebecca L. Wong, Ph.D. | Dr. Jesine Xavier
Behavioral Tech, LLC | Gracie Enterprises, LLC
Estate of Robert C. Bolles
In Honor of Marsha Linehan: H. Joyce Morano, M.D. | Joan C. Russo, Ph.D.
In Memory of Cindy Sanderson: George H. Davis, Ph.D.
In Memory of Prof. G. Alan Marlatt: Martin J. Stern, Ph.D. | Mr. Patrick K. Ching
In Memory of Donald Justin Barker: Ms. Gail Duplessis
In Memory of Ted Sakuma: Prof. J. Diaz & Ms. M. Claudio-Diaz
In Memory of Allan Gordon: Ms. Nancy Gordon
Matching: AARP