Lauren Hudson: Enjoying a Busy Life
"I connect the things I learn from the psychology major to things I see in real life almost daily."
Lauren Hudson (BA student)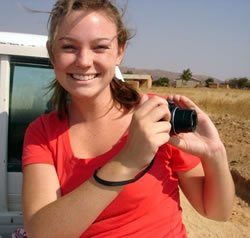 Photo: Lauren Hudson
Lauren Hudson is busy. She is a full time student, majoring in both psychology and anthropology, with minors in history and human rights. She is an honors student, this year completing an independent research project under the mentorship of psychology professor Sapna Cheryan, whose lab team Lauren has been a part of for the past two years. She also works 20 hours a week and commutes to UW. And, according to her faculty mentor, "Lauren is THE BEST undergraduate I've worked with in my careers at both UW and Stanford."
A Seattle native who grew up in nearby Mukilteo, Lauren chose psychology as one of her two majors because she is fascinated with people and with figuring out why they do what they do. She says that when she first looked at the list of possible classes for the major almost every one interested her. That interest has paid off, as Lauren is poised to graduate this June, Magna Cum Laude (indicating that she is in the top 3% of students in the College of Arts and Sciences). Lauren is also the Psychology Department's nominee for this year's Dean's Medal, a prestigious honor awarded to one student in each of the College's four academic divisions.
On June 1, Lauren and 20 fellow psychology honors students presented the results of their research in a poster session. Lauren's honors project focuses on understanding the social factors that might contribute to women's underrepresentation in the traditionally male-dominated computer science field. She appreciates the hands-on experience and level of responsibility that she has enjoyed as a member of the lab team. For her part, Sapna Cheryan couldn't be happier with this particular team member. "Lauren is a stellar student and an amazing individual," says Dr. Cheryan, "not only has she shown herself to be an amazing student, but she is poised to make a real difference in psychological literature and in society more broadly."
Following graduation, Lauren plan to spend the coming year volunteering in underprivileged communities in Southeast Asia. Her goal is to then attend law school to study international, environmental, and human rights law. It looks like she will be sticking to that busy schedule!