Spring Ahead with the Clinical Program
Child clinical:Rick Cruz, Kate Sullivan, Marissa Corona
Clinical students in their fourth year participate in a spring research symposium, the Science-Informed Clinical Case Presentations (or SICP). Similar to the Department's Research Festival, where clinical students present research talks during their second year, the students present case studies that integrate empirically-supported case conceptualizations, treatments, and outcome measures. Each case presentation is followed by discussion.
Clinical faculty, students, and outside supervisors attend and participate in an informal reception after the case presentations. It is a great opportunity for faculty to provide support, input and modeling for students in the seamless integration of science and practice.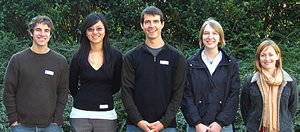 Adult clinical: Eric Pedersen, Sharon Hsu, Joel Grow, Erin Ward-Ciesielski, Sam Yard
Due to the sensitive nature of the case studies, non-clinical guests are unable to attend. However, acknowledging the accomplishments of our clinical students is very important to the Department, and we applaud you for your continued work!
Link to Department's Research Festival:
https://psych.uw.edu/graduate/current-students/research-festival
Link to the Clinical Area of the Department: