Accomplishments
On June 1, 21 psychology honors students presented the results of their research at the Honors Poster Session. The posters, along with an honors thesis, represent the culmination of two years of intensive work. Honors students initially work as a member of a faculty's lab team and then spend at least a year designing and carrying out an independent research project under the guidance of their faculty mentor.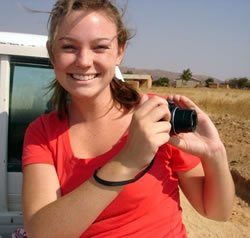 Dean's Medal Nominee Lauren Hudson
Each spring, the College of Arts and Sciences awards the Dean's Medal to the top graduating senior in each academic division. Lauren Hudson was nominated by the Psychology Department for a Dean's Medal in Natural Sciences. Lauren is a psychology honors student, graduating Magna Cum Laude with majors in psychology and anthropology, as well as minors in history and human rights. Read more about Lauren here.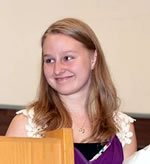 Monica Burns, Gonfalonier
Graduating senior Monica Burns was selected by the Arts and Sciences Dean's Office to represent the College at Commencement as a gonfalonier. The gonfaloniere (as they are called collectively), are outstanding graduating students who represent their colleges by carrying large banners - gonfalons - into the Commencement Ceremony. Monica is an exceptional student - a member of the honors program and the recipient of an Arts and Sciences Undergraduate Research Award, a Mary Gates Scholarship, and an Undergraduate Research Travel Award.
Each year, the Mary Gates Endowment provides scholarships that enrich students' learning, with particular focus in the areas of research and service. This year, the Psychology Department is proud to have eight students who were selected as Mary Gates Research or Leadership Scholars. They are:


Monica Burns (Research)
Can 12-month-old Infants be Primed to Help?
Faculty sponsor: Jessica Sommerville

Tom Coleman (Research)
The Role of Phasic Dopamine on Learning and Memory Function
Faculty sponsor: Sheri Mizumori

Elliot Collins (Research)
Neurobiology of Learning Language
Faculty sponsor: Lee Osterhout

Kelsey Gordon (Leadership)
COASST High School Science Outreach
Faculty sponsor: Jane Dolliver, Aquatic & Fishery Sciences

Lauren Hudson (Research)
Femininity Assertion and Women's Interest in Computer Science
Faculty sponsor: Sapna Cheryan

Felix Lu (Research)
Development of the Rat Visual Cortex
Faculty sponsor: Jaime Olavarria

Katie McCorkell (Leadership)
Active Minds at the UW: Changing the Conversation about Mental Health
Faculty sponsor: Julie Villegas, English

Josef Turecek (Research)
Circuitry of Intrinsic Horizontal Projections in Rat Primary Visual Cortex
Faculty sponsor: Jaime Olavarria
The College of Arts and Sciences provides funds to support the research of a few exceptional undergraduates. Departments nominate select students for Undergraduate Research Awards. This year's recipients from the Psychology Department are Monica Burns (sponsored by Jessica Sommerville) and Rebecca Emery (sponsored by Kevin King).

Albet Han, McNair Scholar
The Ronald E. McNair program prepares undergraduates for doctoral study through involvement in research and scholarly activities. Graduating psychology major Albert Han is a McNair Scholar.

Anna Gorn, Undergraduate Research Travel Award winner
A trio of psychology majors from Jessica Sommerville's lab were awarded Undergraduate Research Travel Awards. Sarah Shin and Monica Burns will present a poster at the 2011 Biennial Meeting of the Society for Research in Child Development, in Montreal. Anna Gorn will present a poster at the Cognitive Neuroscience Society's Annual Meeting, in San Francisco.
Congratulations to the psychology students who were invited to join Phi Beta Kappa this year. Invitation is based upon the students' excellent academic record and interest in the liberal arts. The students are: Charles Casazza, Katie McCorkell, Sarah Schleimer, Shanshan Tan, Sarah Thramer, Kathleen Torello, Kalyuan Xu, Brianna Yamasaki, and Jasmine Yeh.