Forward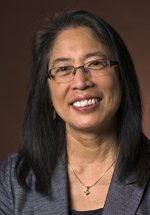 Photo: Sheri Mizumori, Department Chair
It is my pleasure to welcome you to the Summer 2011 edition of our e-newsletter. The past 2010-2011 year has been another very busy and productive one for the Department. We continue to shine in terms of the outstanding accomplishments and recognition received by our record number of graduating undergraduate and graduate students. Congratulations to the Class of 2011!! I look forward to hearing about your new lives and achievements.
Our Department was ranked number one for the second year in a row in terms of research funds secured from the National Institutes of Health by a Psychology Department (over $11M), and our groundbreaking research continues to receive significant media attention, both locally and nationally. In this newsletter, we feature one of our research programs, that of our newest faculty, Chantel Prat. Dr. Prat studies the basis of individual differences in language function. To find out about more of our research initiatives, please visit our departmental website. You will see that our Department's interdisciplinary research effort continues to grow.
During this past year, we continued to make our research findings come alive for our local and national communities. As examples, Dr. Randy Kyes (Animal Behavior Psychologist) traveled to the first National Science Fair in Washington DC to demonstrate to local school age children how one studies natural animal behaviors. Dr. Sapna Cheryan (Social Psychologist) discussed with Garfield High School issues related to gender stereotyping in the classroom. Dr. Lori Zoellner (Clinical Psychologist) worked with the U.S. military on issues related to posttraumatic stress disorder. The laboratories of Drs. Lori Zoellner and Lili Lengua were featured at the recent Paws on Science event at the Pacific Science Center. Their laboratories demonstrated to children, parents, and educators how one's emotional state can impact attention, and how self control develops in children. Our sixth annual Allen L. Edwards Public Lecture Series provided examples of how our research on Diversity and Culture can impact our everyday lives, business operations, career choices, and one's view on mental health. These can be viewed on UWTV. Also, significant progress was made on establishing the Department's new Center for Child and Family Well Being. We look forward to the official opening of the center this fall.
The ability of our Department to move forward on its instructional, research and community missions is possible only because of the outstanding support from our superb staff, faculty vision and hard work, and the impressive accomplishments of our students. For this reason it is difficult when we lose one of our family. Dr. Alan Marlatt, a faculty member in our Department for almost 40 years, recently and unexpectedly passed away. He left a legacy that will be long lasting in his research area of addictive behaviors and his work has already impacted numerous individual lives. A memorial tribute was held May 15, 2011. Dr. Marlatt was a true pioneer; the challenges that he faced in his career were not only about developing an effective cognitive and behavioral treatment for addiction, but also going up against dogmatic views about how addicts should be treated. His particular blend of courage and compassion is something this Department will miss. In addition to losing Dr. Marlatt, we will be saying best wishes to two impactful faculty who will be retiring in June 2011. Drs. Ilene Bernstein and Beth Kerr have been for decades highly valued colleagues and leaders, each forming essential pieces of the core fabric of our Department. They leave a legacy that will continue to strengthen the Department for years to come. We look forward to continuing to work with both as Emeritus faculty.
Before wishing you well in the warm months ahead, I want to send a heartfelt thank you to our Friends of Psychology whose contributions have made a real difference in our ability to continue to move forward in these tough economic times. Your support has made many of the initiatives and accomplishments described in this newsletter possible. I look forward to another year of working with you and new Friends to create the next generation of leaders, and to bring our research closer to your lives. Enjoy the summer and see you next fall!
Best Wishes,
Sheri Mizumori, Chair