Joe Byers
"When I recognized that an education in psychology would prepare me for a number of fields - academic, political, business, you name it - I was instantly attracted." Joe Byers, (BA, June 2010)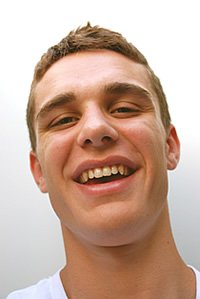 Joe Byers is an explorer. Upon entering the UW, he took some time to find the right academic "fit," enjoying the process of exploration along the way, but worrying a bit about the potential limitations associated with choosing a single major. That was until he hit upon psychology and what he calls the discipline's "universal applicability."
Once he had found his academic home in the Psychology Department, Joe continued the exploration process by becoming involved in a variety of opportunities that are available to psychology majors. Sometimes, even his own choices surprised him. A Comparative Animal Behavior class led to a marathon office hour discussion with psychology professor Michael Beecher. Ultimately, this led to Joe becoming a part of Dr. Beecher's lab team, researching song sparrows. "I never imagined that I would get into studying birds," says Joe, "but I jumped in, and it was one of the most rewarding experiences I have had since coming to UW." Joe recalls that Dr. Beecher and the graduate students in the lab taught him a lot, inspired him to work hard and to have fun doing it.
Joe went on to become a peer teaching assistant in the very class that had started him along the path of studying animal behavior. Joe enjoyed the opportunity to interact with his peers in a new way and also enjoyed the challenge of taking on a teaching role. The experience kept him on his toes, and also provided an additional opportunity to work closely with a psychology faculty member. Joe encourages new psychology majors to get to know their instructors, saying, "my education got a lot more interesting and enjoyable when I made the effort to have a relationship with my professor."
For Joe, the process of exploration included introspection. He says that through his academic pursuits he learned a great deal about himself and how he understands and interprets the world. "Psychology taught me to think critically and creatively and allowed me to really take my education to a more personal and meaningful level."
So, what's next for this explorer? He hopes to find a job. He plans to travel. He will think about graduate school. He's not in a rush. Considering his experiences at UW and his plans for the future, Joe observes: "One of the most valuable things I learned at UW is that there is so much in the world worth exploring and understanding." Off he goes!