Awards and Accomplishments
Congratulations to our Outstanding Students!
Psychology Honors Program
On June 2, 22 of psychology honors students presented their research to faculty, staff, and their peers in a poster session. Take a look at the poster session program to learn more about the students and their work.

McNair Scholars
The Ronald E. McNair Program prepares undergraduates for doctoral study through involvement in research and scholarly activities. The 2009-10 McNair Scholars from Psychology are:
Safia Farole
Albert Han
Kiara Roberts
Spencer Coates (BS, June 2010), and Aditya Ganapathiraju (BA, June 2010), were nominated by the Department for the Arts and Sciences Dean's Medal in the natural sciences. Read more about Spencer, Aditya, and four other graduating psychology majors here.


Mary Gates Research Scholars
These students were 2009-10 recipients of Research awards from the Mary Gates Endowment:
Kellen Andrilenas
Annie Collins
Erin Harrop
Ines Jurcevic
Joshua Newson
Yuet Juhn Tse
Joshua Newson and Hillary Robbins received College of Arts and Sciences Undergraduate Research Awards. Joshua's faculty advisor is Sapna Cheryan and Hillary's advisor is Lynn Fainsilber Katz.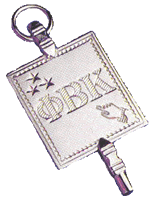 Phi Beta Kappa
The following undergraduate psychology majors were invited to join Phi Beta Kappa. Invitation is based upon the students' excellent academic record and interest in the liberal arts. The students are:
Chloe Angus-Tibbetts
Marie Curatolo
Kendra Dale
Mikaela Gomes
Lauren Hudson
Colin Johnston
Hsueh Lu
Mckinsey Nielsen
Franz Ruijters
Eric Siebert
Christine Sulc
Maria Sunseri
Yuet Juhn Tse
Gregory Wyant III
Christopher Wyszynski