Aditya Ganapathiraju
"I was really engaged in social psychology because of how profoundly social dynamics can affect peoples' behavior." - Aditya Ganapathiraju (BA, June 2010)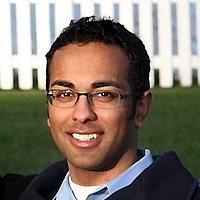 Aditya Ganapathiraju is a student of humanity. A double major with philosophy who is also completing minors in human rights and values, Aditya is interested not only in the individual, but in how the individual behaves in relation to and interacts with larger social groups. One of two psychology majors nominated for a Dean's Medal in Arts and Sciences, Aditya finds psychology to be a useful tool to examine the reasons behind people's behaviors. "Psychology is relevant to almost every aspect of life that concerns human behavior," he says, "so it seemed to me to be a fundamental subject to be studied."
Prior to his arrival at UW in 2005, Aditya studied at Nassau Community College, in New York state. His move to Seattle, following a traumatic spinal cord injury in 2002, was to undergo rehabilitation therapy at UW Medical Center. Several months of introspection and self evaluation followed, as Aditya began to move forward with his life. As an undergraduate at UW, Aditya has taken advantage of a wide range of academic and extracurricular activities. A frequent contributor to The Daily student newspaper, Aditya has also been involved with the Student Disability Commission and serves as an officer for two politcal and social action student organizations.
In addition to his pursuit of two majors and two minors, Aditya has worked with psychology professor David Barash on a number of research and independent study projects. Dr. Barash, who has high praise for Aditya's scholarly commitments to peace and social justice, entrusted him with making suggestions for selections to be included in a book project. "I have been teaching at the UW since 1973," says Dr. Barash, "and can say unequivocally that Aditya is the most remarkable, accomplished and promising undergraduate student I have encountered during the ensuing 37 years!" In turn, Aditya points to Dr. Barash and the courses he teaches as "little known treasures" on campus. Both Dr. Barash and psychology professor Cheryl Kaiser top Aditya's list of 'not to be missed' instructors at UW.
For Aditya, the ability to synthesize his personal experiences with the knowledge that he has gained about human behavior and social interactions will guide him in future endeavors and inform the choices he makes. Ideally, a next step will be a research position with the Rehab Medicine unit that was his first 'home' in Seattle. There, he will no doubt bring to bear his knowledge of and passion for the interface between psychology and philosphy, the fruits of this truly interdisciplinary study of humanity.